RAM is an essential component of a computer. It is a volatile memory that stores all the CPU calculations required to run an app or software. If RAM is damaged, you cannot run your computer. There are some signs that indicate the system's RAM is dying. This post lists some common symptoms of RAM failure.
What are the signs of RAM failure?
The following signs indicate that your computer's RAM needs attention:
Decreasing performance.
Random restarts.
Frequent BSOD errors.
The computer displays incorrect RAM.
Video Card fails to load.
1] Decreasing performance
Decreasing system performance is one of the most common faulty RAM symptoms. If you find that your computer runs perfectly when you first power it ON but with time, it becomes slower, you may have faulty RAM. But, there are other factors too that affect the performance of a system, like a misbehaving program, running multiple heavy software that require more RAM, etc.
So, how can you identify whether your RAM is healthy or not? If most of the apps or software installed on your computer crash frequently or take more time to load, you may have faulty RAM. In addition to this, you will also experience some other issues.
2] Random restarts
When your computer restarts randomly without any warning message, your RAM may be faulty. However, the computer also restarts randomly when the hard drive is damaged. But if you know that your hard drive is healthy and your computer is restarting frequently, especially after your desktop is initialized, it is a sign of bad RAM.
3] Frequent BSOD errors
A BSOD error occurs due to a corrupted software or faulty hardware. Therefore, it is not always an indication of bad RAM. Let's understand it with an example. When you get a BSOD error every time you launch a particular software, it is likely that the software is triggering the error rather than hardware. But if you notice that your system crashes too often, especially when you try to install a new app or software, your RAM may be damaged.
4] The amount of RAM is displayed incorrectly
One of the symptoms of RAM failure is the system displays less RAM than it actually has. You can easily check how much RAM is installed on your system, but the process may differ for different Windows versions. In the case of faulty RAM, your system will display less memory than it actually has.
5] Video Card fails to load
You might have heard a beep sound when turning your computer ON. A single beep sound on starting a computer indicates that it has recognized the Video card successfully. But if your computer fails to load the Video card, you will not hear such a beep sound. You will also get a warning message in this case. The cause for this issue is either a defective system's RAM or Video Card.
Read: Windows Memory Dump Settings on Windows 10.
How to check if RAM is faulty?
If you experience the above problems, your system's RAM may have malfunctioned. But nothing can be said without a proper diagnosis. The following methods will help you diagnose the problem:
Clean the RAM and insert it again.
Run the Windows Memory Diagnostic tool.
1] Clean the RAM and re-insert it
A dirty or corroded RAM also causes many errors in a computer. Hence, if your system is showing the signs of bad RAM, the first step that you should take is to remove it from the slot and see whether it is dirty or not. If you find it dirty or corroded, clean it. You can use isopropyl alcohol to remove the corrosion.
Now, insert it again and check whether you get the above problems again or not.
2] Run the Windows Memory Diagnostic tool
Windows 10 comes with a built-in Memory Diagnostic tool. This tool checks the system's RAM for errors.
To launch this tool, go to "Control Panel > System and Security > Administrative Tools > Windows Memory Diagnostic." Double-click on it to run. You will get a prompt message on your screen. Select "Restart now and check for problems."
The process will take some time. After completion, your system will be restarted automatically. The result of the memory diagnosis will be available in Windows Event Viewer after the scanning gets completed. Hence, you can do another task (if you have) rather than watching the test.
Follow the below-listed steps to view the RAM check report in Event Viewer.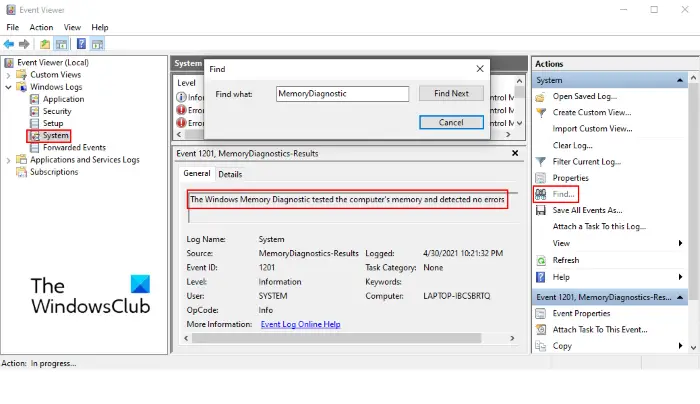 Type Event Viewer in the Windows search and click on the app to launch it.
Expand the "Windows Logs" section on the left side and click on the "System." Wait till the Event Viewer loads all Windows logs.
Click on the "Find" option on the right side. A popup window will appear.
Type "MemoryDiagnostic" in that window and click "Find Next." It will show you the result of the memory diagnosis.
That's it. Let us know if you have any questions.
Read next: Computer Beep Codes list and their meaning.