If your Windows freezes frequently or is encountering frequent Stop Errors or BSOD's then, it is advisable to check if the problem is being caused by a faulty Driver. While in most cases, its usually the unsigned drivers which create problems, one cannot rule out the signed drivers too! Nevertheless, you can troubleshoot, identify & resolve common device driver problems with the help of the built-in Driver Verifier Manager & Device Manager.
Driver Verifier Manager in Windows
Windows has, what is called, Driver Verifier Manager. It's a very useful tool to identify problematic drivers.
To open it type verifier in Start menu search box and hit Enter. The Driver Verifier Manager tests each specified driver at startup. If it detects a problem, it identifies it and then stops it from running.
The tool allows you to verify any category of drivers to verify:
Unsigned drivers
Drivers built for older versions of Windows
All drivers
Select specified drivers only.
To use the Driver Verifier Manager:
Type verifier in the search box and hit Enter to open Driver Verifier Manager
Select Create Standard Settings
Click Next
Select Automatically select unsigned drivers
Click Next.
You will see a dialog box 'Loading driver information' at the end of which you will be presented with a list of unsigned drivers.
There are other options, too, to select at every step. Choose what you think would be most appropriate in your case. I have only mentioned unsigned drivers as they are usually suspect. This way Standard Settings will first be created. This helps you in identifying what might be a buggy driver.
In the last stage of the wizard, you have two options: to click Cancel or to click Finish.
It's best to click Cancel. This way no changes are made to your system configuration. From the list which is presented, you can manually try to Rollback, Update, Disable or Uninstall the Driver.
But if you click Finish, then on the re-start of the PC, you may be presented with an error message. This will include the name of the buggy driver along with an error code. Note down the driver's name and the error code.
Next reboot, but this time in Safe Mode. Now you can choose to Rollback, Update, Disable or Uninstall the particular Driver.
Finally, to disable the Driver Verifier Manager, type the following in Windows Start Menu Search and hit Enter:
verifier /reset
Device Manager in Windows
You can also use the Device Manager to identify a problematic driver. To do so, type Device Manager in Windows search and hit Enter.
If you see a triangular yellow exclamation mark, then this driver could be a suspect. Here is an example: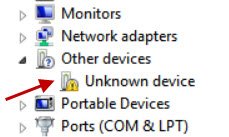 Right-click on it to open its Properties.
This will give the current status of this Driver. You can also check for Solutions online under the General tab.
If you feel that this Driver could be the cause, then under the Driver tab of the Properties box, you have the option to either Rollback, Update, Disable or Uninstall the Driver.
Additional resources:
List of Windows Device Manager Error Codes & their solutions
Identify computer hardware problems with Hardware Identify software.
See this post if your Device Manager is empty & and not showing anything.