If Avast SecureLine VPN is not working, installing responding or connecting on your Windows 11/10, then this post will help you. Some PC users have reported encountering various error messages, issues, and problems with the Avast SecureLine VPN installed and in use on their Windows 11 or Windows 10 devices. This post provides applicable fixes and troubleshooting instructions for different case scenarios.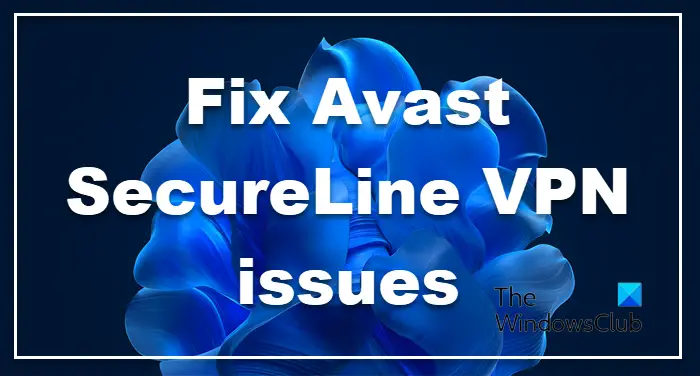 Avast SecureLine VPN not working or connecting on Windows 11/10
If your VPN is not working and depending on specifically the Avast SecureLine VPN error codes, messages, issues, or problems you have encountered or experienced on your Windows 11/10 PC, refer to the relevant section below for the applicable resolutions or mitigation.
General Troubleshooting
1] If you suspect that your VPN location is not properly hidden, or if a website reports that your location is incorrect, you can do the following:
Check your IP address at avast.com/what-is-my-IP after connecting to Avast SecureLine VPN to verify if your IP address and location have changed. The IP address displayed on the page should match your virtual IP address as shown on the main Avast SecureLine VPN screen. You can try connecting to a different server location by clicking Change on the main application screen if you are connected to Avast SecureLine VPN. However, your real IP address is still visible.
Disable location services which will prevent some websites and servers to use geolocation tracking to discover your real location, even when you are using a VPN.
Use the browser Incognito mode so that you can surf the web without leaving any traces on your device, such as cookies, temporary internet files (cache), or browsing history that can be used to track your real location.
You can disable Geolocation in Firefox, Chrome, and Edge browser and/or clear your cache and cookies in your web browser to resolve any remaining location tracking issues.
Read: Use Location-based apps without enabling Location Service on Windows
2] You can prevent Web Real-Time Communication (WebRTC) leaks in your browser by blocking or disabling WebRTC. These leaks can cause your IP address to be visible, even when you are connected to Avast SecureLine VPN. Similarly, you can stop Domain Name System (DNS) leaks that can sometimes still occur even when you are using Avast SecureLine VPN.
To block or disable WebRTC in your browser, you can either: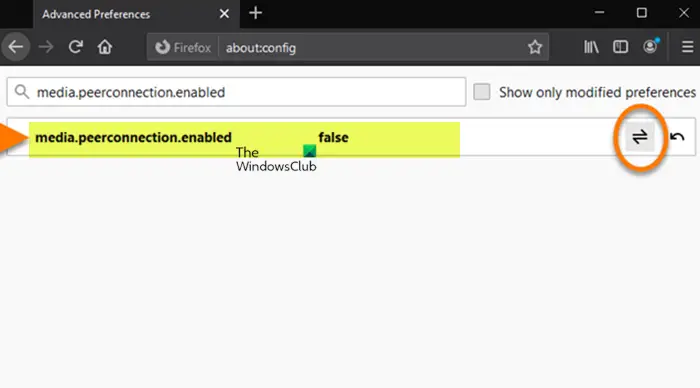 Get the Avast SecureLine VPN browser extension at the Chrome Web Store or Firefox Browser Add-ons and enable the WebRTC Blocker feature.
Get the following free third-party extensions that block or disable WebRTC or extension that blocks all scripts available at their respective Web Store. Keep in mind that blocking scripts increases privacy but may significantly decrease browser functionality due to many websites relying on scripts to load properly.

WebRTC Network Limiter
WebRTC Leak Shield
ScriptSafe
Disable WebRTC
WebRTC Control
NoScript Security Suite

Manually block WebRTC in Firefox settings via the about:config page by setting the media.peerconnection.enabled entry to false.
If you use Avast Secure Browser, it is not necessary to install the Avast SecureLine VPN browser extension, because Avast SecureLine VPN controls are already integrated into the browser. When WebRTC is blocked or disabled, some video chat or file-sharing applications that depend on WebRTC functionality may not work properly.  As an alternative, you can avoid the vulnerability by using a browser such as Internet Explorer or Safari that does not apply WebRTC.
To prevent DNS leaks in Avast SecureLine VPN, do the following:
Update/Use Avast Antivirus
if you already use (otherwise, install Avast Free AntiVirus for Windows PC) a version of Avast Antivirus, make sure the software is up to date as the latest version actively prevents DNS leaks on IPv4 for Windows PCs. 
Turn off smart multi-homed name resolution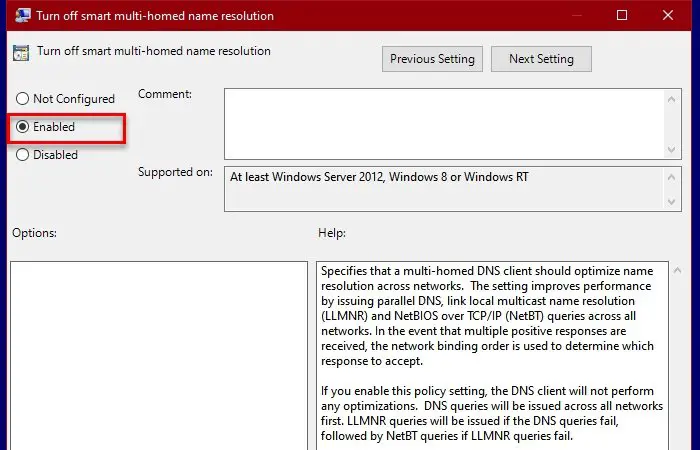 The smart multi-homed name resolution setting prevents DNS leaks in newer versions of Windows. This setting is intended to optimize DNS queries and improve performance. However, when enabled, it can leave you vulnerable to DNS hijacking and DNS leaks. To disable this setting, follow the instructions in the guide on how to disable NetBIOS and LLMNR Protocols via GPO in Windows 11/10.
Read: Use Free VPN Test to check if your VPN is working or leaking data
3] If Avast SecureLine VPN is unable to establish or maintain a connection, see if any of the suggestions below helps.
Disconnect Avast SecureLine VPN and then check if your internet connection works normally or not. If your internet connection isn't working, check your network configuration.
Select a different Avast server location.
If you are connected to another VPN, likely, Avast SecureLine VPN won't work properly. If this is the case, disconnect other VPN services that may be running on your PC.
Restart your PC and try connecting to Avast SecureLine VPN again.
Check your Windows Firewall configuration. For third-party or dedicated firewalls, refer to the vendor/manufacturer documentation for information about running a VPN.
Confirm that your Avast SecureLine VPN subscription is active by navigating to the app Menu > My subscriptions > Subscriptions on this PC.
Reinstall Avast SecureLine VPN.
4] If you can't access your email when Avast SecureLine VPN is connected using email clients such as Microsoft Outlook, Mozilla Thunderbird, et al, you can see the troubleshooting for sending emails in the guide Cannot send Email when connected to VPN helps you resolve the issue at hand.
5] If you can't browse the internet when connected to Avast SecureLine VPN, you can do the following:
Try using a different browser.
Ensure that your DNS resolver is working properly by disabling the smart multi-homed name resolution service as described above.
6] If certain websites show that you're connected to a different city other than the city you selected as your VPN location, that's because websites often attempt to identify the location of their visitors from their IP address using a process called IP geolocation. IP geolocation uses a database that pairs together IP address ranges and geographical information. However, the information in this database can be inaccurate for several reasons. That said, you can make sure your IP address isn't leaking.
7] If your internet connection is slower when connected to Avast SecureLine VPN, it is because a VPN encrypts traffic and data before sending it to a server. Depending on the distance and capacity of the server, this process may cause a slightly slower, but safer, internet connection. So, you can take internet speed tests to evaluate the quality of the internet connection and if need be, fix slow internet speed on your PC.
8] If when you connect to the internet and use Avast SecureLine VPN with a different location, your email service provider (like Gmail) may detect this change and you may receive an email reporting suspicious activity asking you to change your password. If you think someone in a different location has accessed your email, you can change your password – otherwise, you can ignore the email.
9] If Avast SecureLine VPN is not working or opening, or disconnecting and reconnecting on your Windows 11/10 PC, the following suggestions can help you resolve the issue.
Change VPN Location.
Verify your Avast SecureLine VPN subscription is still Active.
Disable any third-party antivirus software on the system.
Run the Internet Connections Troubleshooter to resolve any internet connection that can cause the Avast SecureLine VPN Disconnected error.
Reinstall Avast SecureLine VPN.
Read: Fix VPN Connection, Can't connect to VPN connection error
Avast SecureLine VPN error messages with Fixes
The following are some of the error messages (with the applicable fix) PC users may encounter while using the Avast SecureLine VPN on their Windows 11/10 device.
Sorry, it is not possible to establish a connection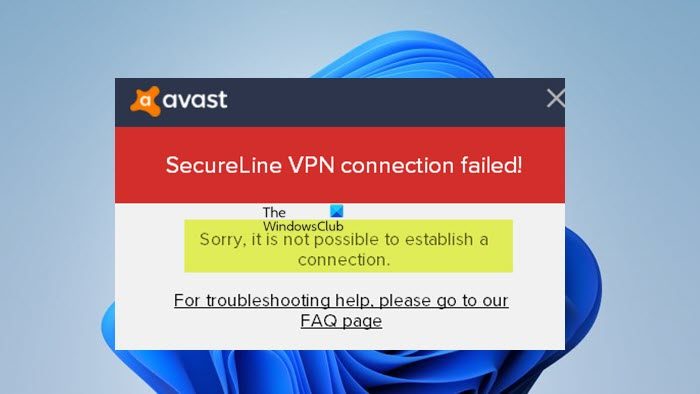 This error message is thrown when the Avast SecureLine VPN is unable to create a connection with the selected servers. You can do the following to resolve this issue on your device.
Restart PC & try connecting to Avast SecureLine VPN
Check for multiple device connections. Depending on the license you purchased either 1 or 5 devices can use the VPN license. If you are trying to run the license on the 2nd or 6th device, then you may get the Max connections reached error (see the section below for the fix) in addition to the SecureLine VPN connection failed! error message.
Additional troubleshooting. The solutions outlined in 3] and 9] above under General Troubleshooting also applies in this case.
We've got something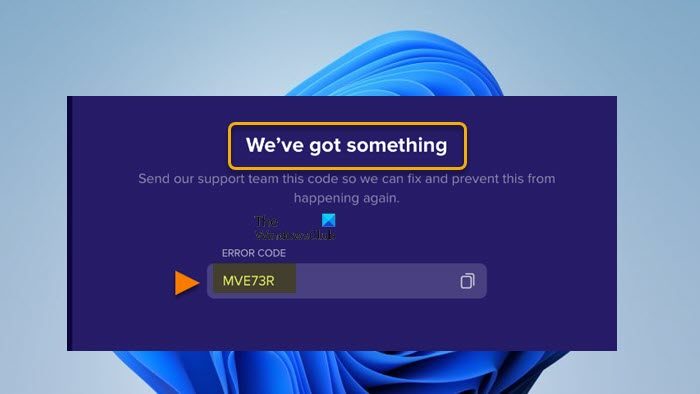 This error occurs when the VPN connection fails. When this error message is displayed, it usually contains a 6-digit error code or multiple 6-digit error codes. The applicable fix, in this case, could be any of the following:
Test your VPN connection by changing your server location.
Temporarily disable any third-party security software (firewall or antivirus which sometimes interrupts VPN connections) then try connecting to the VPN again.
Test your Wi-Fi network by connecting to a different Wi-Fi network, or by setting up a mobile hotspot.
Change your DNS settings on your Windows 11/10 PC.
Reinstall Avast SecureLine VPN.
Read: VPN connection failed due to unsuccessful domain name resolution
Max connections reached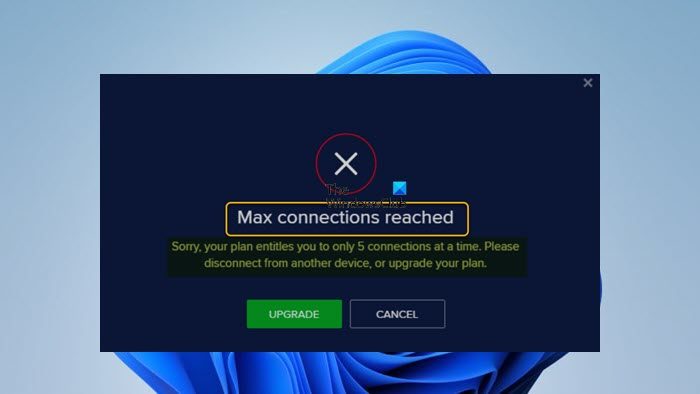 This error is likely to occur due to the following reasons.
You have accessed the VPN from too many devices.
Your subscription plan comes with a limited number of device usage facilities.
You have shared the license with someone else.
Avast has put a limit on your license.
To resolve the issue, the following fixes apply:
Verify and deactivate the license from other devices. You can verify how many devices your subscription is valid for by signing into your Avast Account linked to the email address you provided during the subscription purchase, then click the Subscriptions tile and verify the device limit for the relevant subscription next to Available for. Alternatively, open the order confirmation email that you received after purchase, and scroll to the Your products section to verify the device limit for each product next to Devices. In the case, you have already reached the device limit, but want to start using the subscription on a new device, you can transfer the subscription from one device to another by first uninstalling the product from the original device, then installing and activating the product on the new device.
Upgrade your license. If you get an activation code from a third party or purchase a mobile phone, the subscription may allow you to use the VPN on 1-5 devices, depending on the plan. On the other hand, if you purchase any plan through the standard channel, you should get up to the ten-device limit. So, make sure to upgrade your license to use the Avast SecureLine VPN on a maximum number of devices per your requirement.
Reset your license. If you cannot do either of the above or the case scenario doesn't apply to you, but the issue isn't resolved, then, you can contact Avast to reset your license or fix the problem. To avoid this type of issue, avoid sharing your license with someone else. And always try to get the subscription from the official source.
Read: We can't activate Windows on this device as we can't connect to your organization's server
SecureLine has encountered a technical issue
If you get this error message and in addition, the Avast SecureLine VPN screen is blank, do the following to resolve the issue:
Restart your PC and try connecting to Avast SecureLine VPN again.
Reinstall Avast SecureLine VPN on your device.
Your Avast SecureLine VPN is over
You'll get this message if your Avast SecureLine VPN subscription has expired. You can click the Renew Now button to purchase a new subscription while signing into your Avast Account.
Read: Your Antivirus protection has expired. What next?
Sorry, the SecureLine server has refused your license file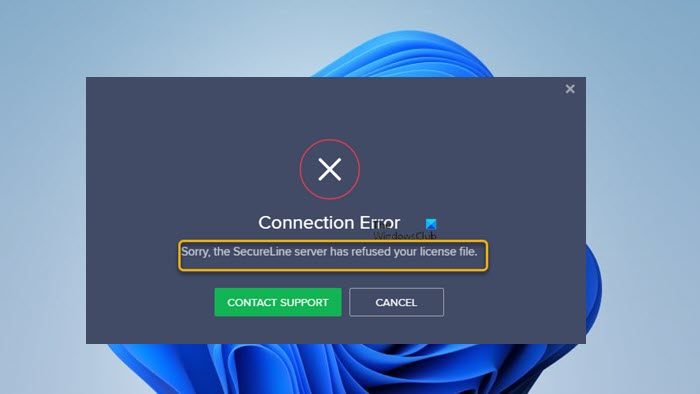 If your account has been temporarily suspended for violating the terms of your product End User License Agreement, this error will occur and you will need to reactivate your account by contacting Avast Support. However, if you can confirm this isn't the case, but the error persists, then it could be due to other reasons including:
The Internet connection is down or very poor.
Slow VPN server due to too many users on that particular server
You have other VPN clients installed on your PC hence conflict issues.
In this case, the suggestions provided in 3] and 9] above under General Troubleshooting are applicable here.
Sorry, Avast SecureLine Service is not responding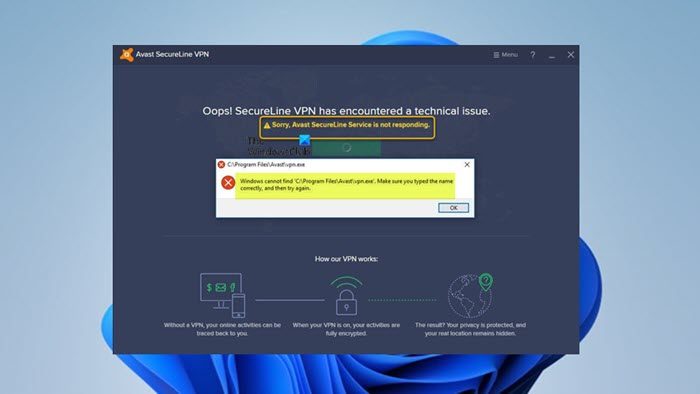 This error occurs due to third-party app interference or if the VPN locations are overloaded. To resolve the issue in this case, apply the following fixes:
Restart PC.
Make sure the Avast service is configured properly in Windows Services Manager.
Troubleshoot in Clean Boot state.
Change the Avast SecureLine VPN server location.
Read: Fix Avast Service High CPU and Disk Usage on Windows
I hope you find this post helpful! If not, you can contact Avast Support for any additional assistance or you can switch to an alternative VPN solution.
Read next: VPN causes the computer to crash or freeze
Why has Avast SecureLine VPN appeared on my computer?
If you have uninstalled Avast SecureLine VPN from your system, but the software is still present, you can check to see if the app is now being used by another VPN client. You can also check the file path of the process to see what app it belongs to. If you initially uninstalled the app via the Windows Settings app or Programs and Features applet in Control Panel, then we suggest you use an Uninstaller Software for clean removal.
Why is my computer blocking my VPN?
You may experience this issue due to temporary problems with your network connection. If you were able to connect to VPN before on the same Wi-Fi network, wait for some time and try connecting to VPN again. Also, check your network or firewall settings as VPN access may have been restricted because some Wi-Fi networks do not allow VPN connections.