If your VPN is causing your computer to crash or freeze, then this post will help fix the issue. It's frustrating to have the PC crash or freeze when you're in the middle of something important. A VPN may cause Windows to crash due to several reasons. An improperly configured VPN, a buggy VPN client, traffic overload, poor internet connection, and a faulty driver can all trigger a VPN to crash or freeze Windows.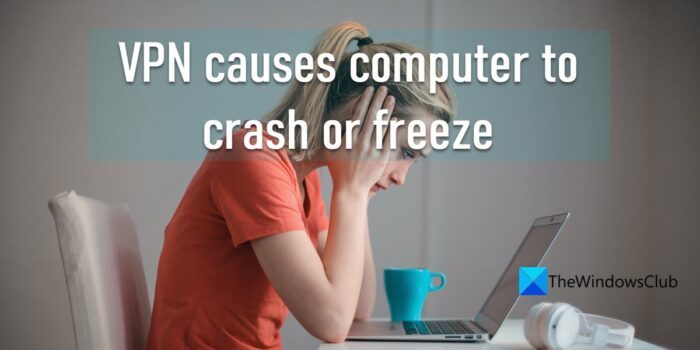 A few Windows users have also experienced the Blue Screen of Death while using a VPN.
VPN causes computer to crash or freeze
If VPN causes your Windows computer to crash or freeze, then here are some of the fixes you can try to resolve the issue:
Change your system settings to allow incoming VPN connections.
Update network drivers.
Reinstall VPN.
Run a malware scan.
Troubleshoot in Clean Boot State.
Before you begin, ensure that you have not misconfigured your VPN software. It is best to start with its default settings.
1] Change your system settings to allow incoming VPN connections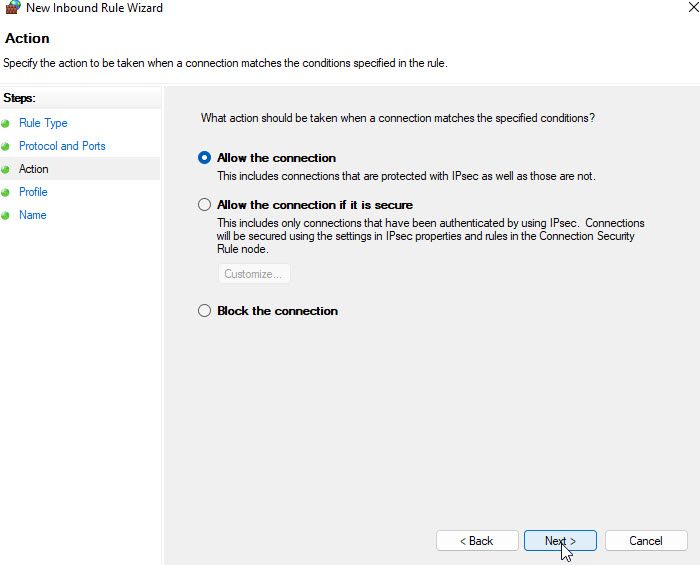 One possibility that your computer freezes up while using a VPN is that your computer's security settings are too high. If that's the case, they may prevent all incoming connections, including connections from the VPN, from causing Windows to freeze or crash. To fix this, change your security settings to allow incoming VPN traffic.
2] Update network drivers
Another possibility could be a software issue, such as an outdated driver. Some VPNs install additional drivers with them, which may cause the entire system to crash if not updated to the latest version. Try updating the network drivers and see if it fixes the issue.
Right-click on the Start menu icon located in your taskbar area.
Select Device Manager.
Click to expand the Network adapters option.
Right-click on a driver and select Update driver.
3] Reinstall VPN
An outdated, buggy or poorly configured VPN may sometimes cause Windows to crash. A simple fix to this is to completely uninstall the VPN through the Control Panel, then remove all its associated files (registry entries) using a reliable third-party software uninstaller, and then reinstall the VPN again.
Click on the Search icon in your taskbar.
Type 'control panel' and then select it from the search results.
Click on 'Uninstall a program'.
Select VPN and click on Uninstall.
Use a trustworthy third-party uninstaller to scan and remove all residual VPN client files, directories, and registry entries.
Download and reinstall the VPN afterward.
4] Run a malware scan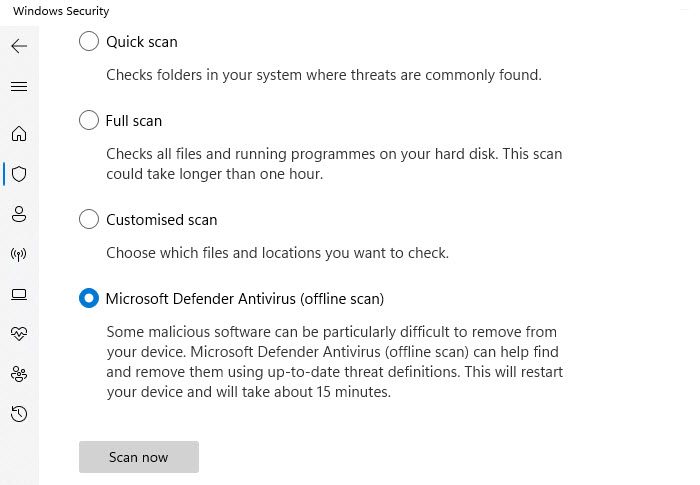 There may be chances that your PC or the VPN client you're using is being affected by malicious software. In that case, running a malware scan could potentially fix the issue. We recommend performing a full scan or an offline scan using the Windows Security app.
5] Troubleshoot in Clean Boot State
Clean Boot State launches the Windows OS with limited applications and features, allowing administrators to identify and fix issues occurring in the system. It helps detect malware exploits, corrupt software, and other programs that cause serious system conflicts. Launch Windows in Clean Boot State and see if the VPN freezes your system this time. If not, then you need to manually identify the 3rd-party offender and disable the process.
If nothing helps, you should uninstall and then fresh install your VPN software.
Read: Windows keeps freezing or crashing
If the problem persists, it's time for you to switch to a more reliable VPN. In the case of a low-quality VPN service, the VPN server may fail to handle the amount of traffic you are trying to send through the client, causing your computer to crash or freeze up as it tries to process the data.
Is VPN safe for PC?
Yes, of course! A paid VPN is often more secure than a free VPN. However, no VPN can guarantee to keep you safe in all scenarios, even if it tends to come at a premium cost. So if you are concerned about the safety of a VPN, it's better to opt for a trustworthy VPN service.
What is the best VPN for PC?
ExpressVPN, and NordVPN are some of the better paid VPN services being offered. Some also offer VPN browser extensions for Chrome, Edge, and Firefox. PrivadoVPN Free offers 10GB free traffic every month and so it's worth checking out too.
Read Next: Common VPN error codes and solutions for Windows.