As the concerns related to internet security have been raised, it also leveled the number of VPN providers in the marketplace. It has become difficult for users to find out what works for them. The guide is designed to help you determine whether PrivadoVPN is an excellent option to pick in or not. PrivadoVPN is a new marketplace VPN provider that offers users 10GB of free data usage with its free version. Due to the many features, absolute privacy, security and generous free offering of 10GB pm, this Switzerland-based VPN service has gained popularity within three years of its release
PrivadoVPN Free Review for Windows PC
PrivadoVPN is a free VPN software that offers you the best services despite a few minor issues and limitations. The platform features P2P-friendly servers in about nine countries, such as France, Mexico, the US, and much more. Whether it is about unblocking TV streaming services or accessing geo-restricted websites, many things make this platform the best in the series.
Read: What is a VPN, and Why should we use a VPN?
PrivadoVPN Features
PrivadoVPN brings up a new vibe to the world. The platform is based on a simple approach that mainly focuses on providing excellent VPN services without failure. Although it is a secure VPN service to pick in, it is still slim pickings in terms of features included. The platform features a pretty standard feature set that includes things like:
Automatic start and connect
PrivadoVPN features automatic start and connection features that make it easier for you to keep your device protected throughout the access.
Kill-switch technology
The platform is also featured with kill switch technology. It keeps your data and activities protected even in the case of extreme conditions. It cuts out your internet connection to protect the data leaks successfully.
Split Tunneling
It ensures that apps get complete protection using Split Tunneling. You can choose which apps to use the VPN, while others can use the standard internet on your PC. For example, Games do not need VPNs and hence can be excluded. It will also save the bandwidth of the VPN plan.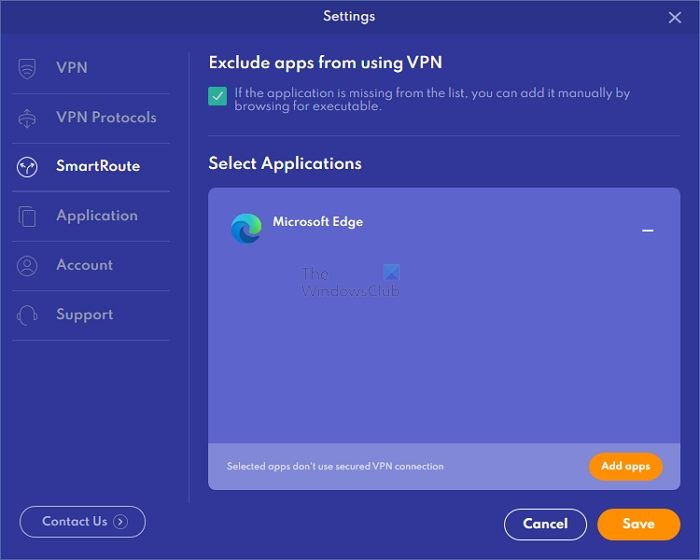 IP and DNS leak protection
IP and DNS leak protection in PrivadoVPN makes it highly beneficial to the users. This protection feature ensures users keep their data secure from hackers or the wrong hands.
SOCKS5 proxy scrambling
The presence of SOCKS5 proxy scrambling increases the privacy and security of your data, even in case you are using some illegal website or are torrenting.
PrivadoVPN lacks advanced features; whether it is about to kill switch technology or split tunneling or its malware blocking of dark web scanning, the majority of the services are lacking here.
VPN Encryption Protocol
The service uses VPN protocols such as OpenVPN, IKEv2, and Wireguard. It ensures you get a balance between speed and security. The free version also offers users to customize this option.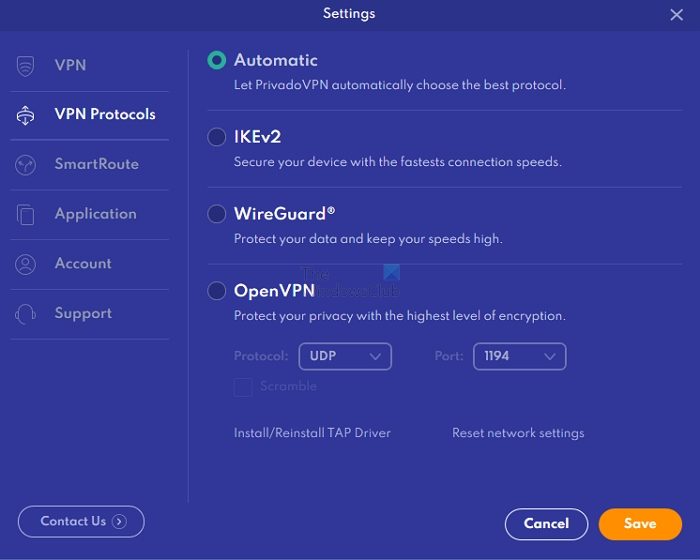 PrivadoVPN Free version features
PrivadoVPN is a freemium service that offers a very generous offering compared to the other free services available in the marketplace. The best thing here is that it doesn't change its privacy policy for free users. The free version of PrivadoVPN offers:
10 GB of free data for every 30 days
1 connection
Provides 12 different server locations
Zero logs
Unlimited devices
Ensured peer-to-peer torrenting support
It doesn't include any VPN cloaking.
PrivadoVPN Pros & Cons
Pros:
Browsing speed is quite good
Features kill switch technology to keep data secure
Client apps are quite functional
Ensured high-end privacy and logging policy
Secure VPN protocols
Streaming performance is quite good
Provides  physical servers
Cons:
The premium services are a bit higher when it comes to cost.
10GB limit is only for casual surfing and will soon run out.
PrivadoVPN Privacy & Logging
It is a secure VPN connection with an automatic kill switch feature that disconnects your internet connections quickly in case any leaks or compromise is detected. One can also trigger this feature manually as well if required. The VPN service has undergone rigorous privacy tests that ensure users that their data is not tracked, logged, or compromised anywhere.
The platform has been ideally tested for any DNS leaks and also has triggered a kill switch to ensure whether it is a secure or quick VPN or not. PrivadoVPN is a trusted and tested option that doesn't compromise the safety of your data.
PrivadoVPN still hasn't subjected itself to independent logging or security audits despite having many facilities. It is a Switzerland-based VPN security that keeps your personal information and internet browsing history confidential. It is a zero-logging option tested and trusted by millions of people globally.
Read: Best free VPN extensions for Chrome and Firefox browsers
PrivadoVPN Streaming & Performance
It offers a complete solution to enable seamless streaming. It perfectly unblocks different streaming services and also features many free services for users. Whether you have to watch out for your favorite shows on Amazon Prime or search Netflix or Disney Plus, the platform runs efficiently on all platforms.
It is a high-performing platform that aims to provide seamless and secure access over various platforms. Everything served here is high quality, whether it is about speed or security. PrivadoVPN provides an email service that offers decent response time to users.
PrivadoVPN Platform availability 

It is designed to be entirely compatible with the majority of the operating system. One can efficiently run this VPN service on most devices from Windows to Android, from macOS to iOS, Fire TV, and Android TV. Absolute security offers effortless security to your device without any failure.
PrivadoVPN is a complete VPN security solution that suits the requirements of small commercial places well. The platform keeps your data secure and offers access to a wide range of restricted content. One can easily opt for the freemium option for this VPN security to enjoy basic VPN security. It is a high-end solution that keeps you safe throughout this world wide web.
You can go here and download PrivadoVPN from its official website.
Is PrivadoVPN secure?
PrivadoVPN is offered by a is a Switzerland-based company and maintains zero logs. It ensures that apps get complete protection using Split Tunneling. The presence of SOCKS5 proxy scrambling increases the privacy and security of your data, even in case you are using some illegal website or are torrenting.
Read: How to choose the best VPN?
Is PrivadoVPN free to use?
PrivadoVPN is free to use! It offers 10 GB of free data every 30 days, after which the speeds may drop. You can visit its website to download and install it on your device.
Read next: Use Free VPN Test to check if your VPN is working or leaking data.