Amongst various VPN connection problems and issues you may encounter on your Windows 11 or Windows 10 PC could be the general error message Can't connect to VPN connection with the full error message as follows:
VPN Connection, Can't connect to VPN connection, A connection to the remote computer could not be established. You might need to change network settings for this connection.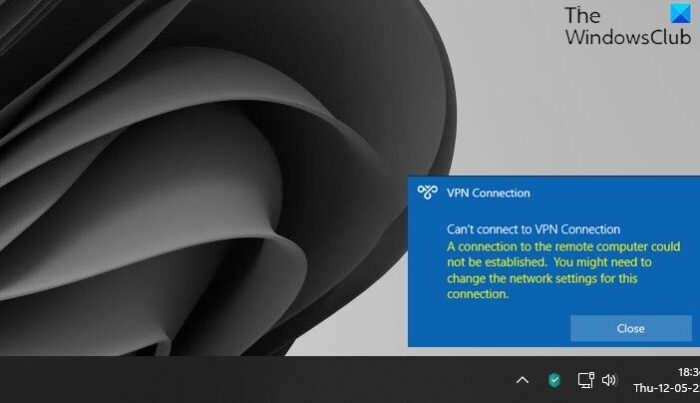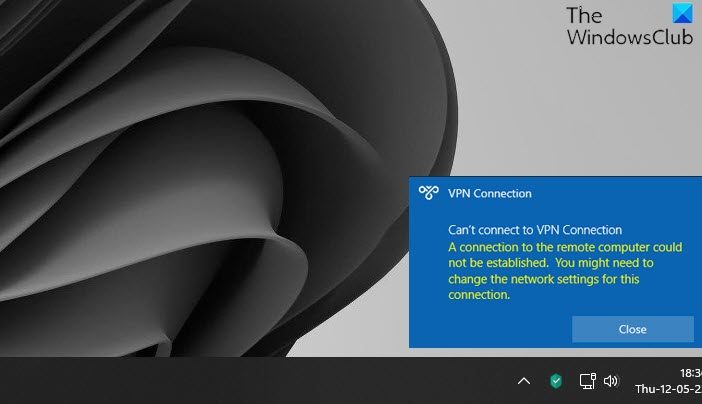 In most cases, if not all, VPN connection issues are often software or browser-related. So basically, resolving VPN problems or issues is mostly a process of elimination. The following are the most likely reasons you may experience VPN woes on your computer;
An overloaded VPN server
Running out-of-date VPN software
Using the wrong VPN protocol
VPN Connection, Can't connect to VPN connection error
If you're getting the Can't connect to VPN connection error message on your Windows 11/10 computer, regardless of your VPN service provider or software installed, you can try our recommended and comprehensive general fixes as presented below to resolve the issue on your system.
Restart the VPN software
Check and update VPN software and browser
Check your internet connection
Verify your VPN login credentials
Check your preferred VPN server connection
Check your Firewall
Check your router settings
Reinstall the latest version of the VPN software
Change the VPN Tunneling Protocol
Change the connection port
Contact your ISP and/or VPN Service Provider
Let's take a look at the description of the process involved concerning each of the listed solutions. Keep in mind that the location of some settings you may need to configure varies by the VPN product, device, or operating system.
1] Restart the VPN software
You can first restart the VPN software, and not just disable or disconnect from the VPN server; quit and restart the software. You can also restart your browser plugins by fully closing down and reopening the browser. In addition, you may need to clear your browser cache to get the plug-in working again.
2] Check and update VPN software and browser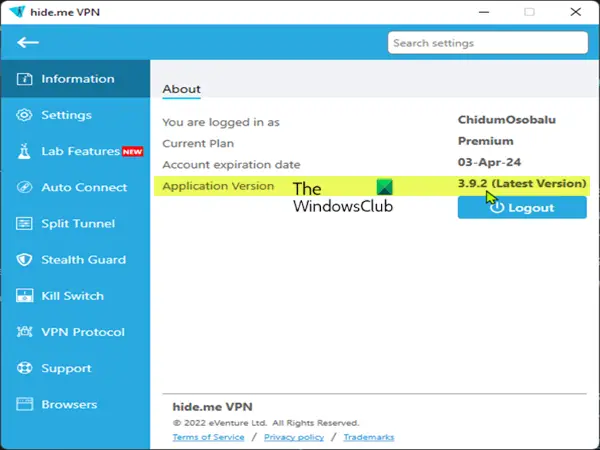 Yet again score one for outdated programs or software installed on your device, as you're more likely to encounter issues. So, to eliminate the possibility of bugs and to maximize performance, make sure your VPN software is updated by manually checking for updates under the VPN menu, but we recommend you set your VPN to update automatically in the VPN settings. Similarly, to avoid common browser-related issues, use a browser that's supported by your VPN provider and make sure the browser is updated.
3] Check your internet connection
You can check your internet connection by loading up a few pages without a VPN connection and see whether the pages open up normally. If you can't connect to the internet, you can fix network and internet connection problems to resolve network connectivity issues at your end. You can also use the Network Reset feature or run the inbuilt Internet Connections Troubleshooter for Windows 11/10.
4] Verify your VPN login credentials
If after you tick all boxes for a stable internet connection but still can't connect to VPN, your next line of action is to verify your VPN login credentials. So, if you run VPN software on your router, make sure you enter the right credentials for the VPN account to be able to connect to a VPN server. Keep in mind that not having the correct or up-to-date login credentials can prevent you from connecting to a VPN. So, if you use a free VPN service, check the website to see if the credentials supplied by the VPN service have changed or if your password needs to be updated.
5] Check your preferred VPN server connection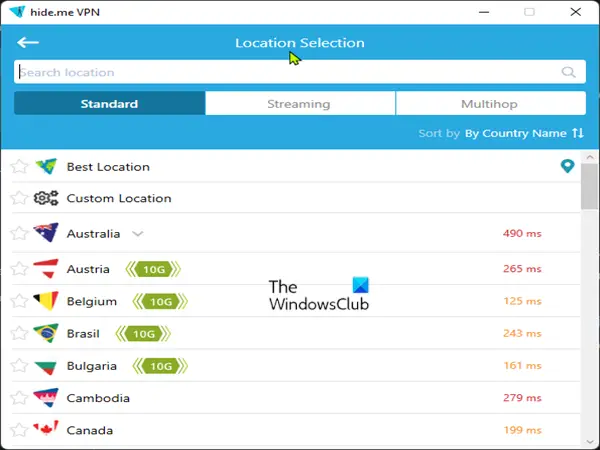 If you have verified your VPN login credentials are valid but still can't establish a connection, then the problem might be with the VPN provider's infrastructure, specifically the VPN server. So, first, check if your VPN is working, and then check if the preferred server you are connected to or trying to connect to is working. Some servers can reject new connections if they're overloaded. If you're using a premium VPN you should have access to tons of servers. In this case, if you're struggling to connect to a VPN for a particular region, just try disconnecting and then selecting the region again – having done that, you'll be sent to a different VPN server, and that may solve the problem.
Read: How to create a public VPN Server on Windows
6] Check your Firewall
You need to make sure your firewall does not block VPN connections and you can do this by adding the VPN software to the list of exceptions in your firewall settings. You can configure Windows Firewall to allow or block a program on your device. For third-party security software integrated with a firewall or dedicated firewall programs, you can refer to the manual.
7] Check your router settings
When it comes to routers, some routers don't support VPN passthrough – a feature on a router that allows traffic to pass freely to the internet. So, check your router and personal firewall settings for these options on your home network. If any changes are required, you may have to connect to the router as an administrator (refer to the internet device instruction manual). The options that may available for you depending on your router could be:
An option in the security settings to enable IPSec or PPTP (two common types of VPN protocols) Passthrough.
Your firewall in the router and any installed firewall programs may need to have specific ports forwarded and protocols opened. In particular, IPSec VPNs need to have UDP port 500 (IKE) forwarded and protocols 50 (ESP) and 51 (AH) opened.
Read: Windows IPsec VPN Client: Security, Validation & Administrative Guide
8] Reinstall the latest version of the VPN software
Another viable solution, assuming if the current issue is still not resolved, it could be that the VPN software itself has issues; likely a temporary glitch – in this case, you can reinstall the VPN software and see if that helps. You can use a third-party software uninstaller to uninstall the VPN software, then to get the latest package, go to the VPN provider's site and download and reinstall the latest software package for your operating system or device. Make sure to uninstall any old packages first to make sure you start with a clean slate.
9] Change the VPN Tunneling Protocol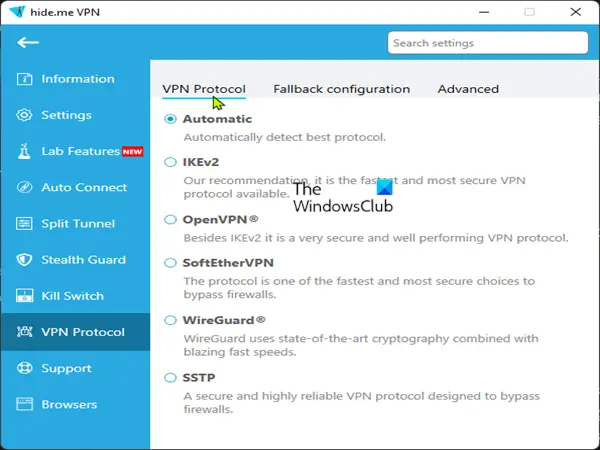 For some VPN connection issues, the problem could be with the VPN Tunneling Protocol in use. In this case, you can go into the VPN or network settings and try using different protocols: OpenVPN, L2TP/IPSec, or IKeV2/IPSec. Whenever possible, avoid using the PPTP protocol, as it's not considered secure.
10] Change the connection port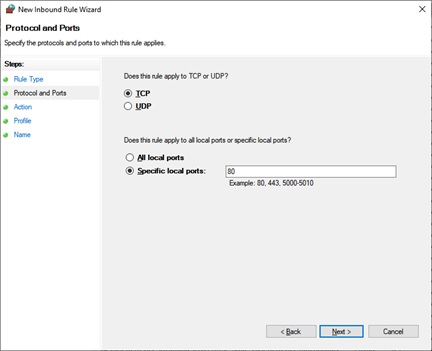 You might not know that some ISPs and networks block traffic on specific ports. So, make sure to check the VPN's documentation to see if it recommends using a particular port number. If so, using a different port may solve the problem. For some VPN software to work, the 443 and 1194 TCP and UDP ports respectively need to be open. Your firewall or router must also allow passthrough for VPN as already mentioned, but note that some VPN service does not support port forwarding – all ports will be blocked except the ones your VPN software needs to operate; as open ports create lots of security risks for your internet connection.
11] Contact your ISP and/or VPN Service Provider
If the VPN is still not connecting, there also could be issues in your VPN settings. In this case, to see if the issue will be resolved, you can easily reset the VPN settings on the software to default. If the issue persists at this point, you need to contact your VPN provider for additional assistance – depending on your VPN software, you can do so via the Support section within the app and you can copy and send the connection log to the technical team, which can be analyzed to help with the troubleshooting. Similarly, you may have to contact your ISP to rule out possible VPN software usage restrictions on their network.
Hope you find this post informative and helpful enough!
Other common VPN errors you may encounter on your device could be the following:
What does unable to connect to VPN mean?
If your VPN won't connect, this could indicate that your app has a bug, or maybe its setup is corrupted. Check this out by removing or uninstalling your VPN, then downloading and reinstalling the latest version.
Why does my VPN say connected but not working?
One of the most common reasons why the VPN is connected but not working is a DNS configuration issue. So, you can try flushing DNS on your Windows 11/10 PC and see if that helps resolve the issue for you.
Why does VPN keep disconnecting from internet?
The most likely cause of this particular issue could be that the VPN protocol you are using is blocked in your country/region. You can try changing the VPN protocol and check whether you are able to access the internet on your PC.
Can VPN crash WiFi?
Depending on the device and the configuration, VPN can be set up either alone or together with other devices. In some cases, a VPN can cause connectivity issues. For instance, your WiFi may drop after connecting to a VPN.