Windows Defender Firewall with Advanced Security, a Microsoft Management Console (MMC) snap-in, in Windows 11/10 is a stateful, host-based firewall that filters incoming and outgoing connections based on its configuration.
Windows Defender Firewall with Advanced Security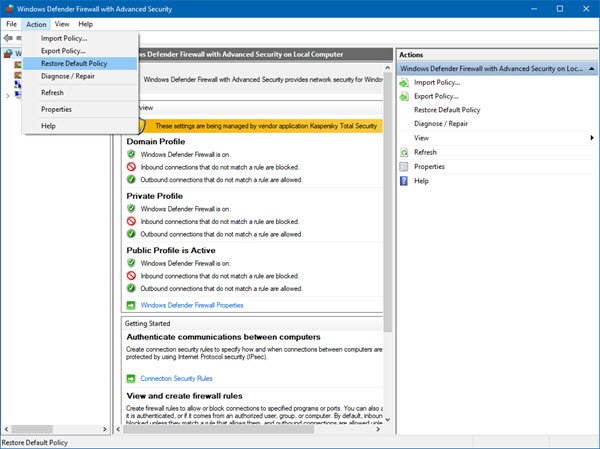 Windows Defender Firewall with Advanced Security also supports an RFC-compliant implementation of Internet Protocol security (IPsec), IPsec and firewall configuration can now be done together in this snap-in.
To open it, click Start, type Windows Defender Firewall, and then press Enter.
You can also open Windows Defender Firewall from a command prompt, by running the following command:
wf.msc
This document from Microsoft describes how Windows Firewall with Advanced Security works, what the common troubleshooting situations are, and which tools you can use for troubleshooting. It illustrates how to deploy Active Directory® Group Policy objects to configure Windows Firewall with Advanced Security.
It is a very exhaustive document and its contents, among other things, include:
Tools and Procedures Used to Troubleshoot Windows Firewall
Troubleshooting considerations for firewall rules
Viewing Firewall and IPsec Events in Event Viewer
Configuring Firewall Log Files
Verifying that Key Firewall and IPsec Services are Working
Capturing Firewall and IPsec Events with Netsh WFP
Windows Firewall Is Blocking a Program
Verify that Windows Firewall is enabled for your network location
Group Policy does not allow local rules to be applied
Rules that require connection security might be blocking traffic
Windows Firewall Is Turned off Every Time I Start My Computer
Cannot Configure Windows Firewall with Advanced Security
Nobody Can Ping My Computer
Nobody Can Access My Local File and Printer Shares
Cannot Remotely Administer Windows Firewall
IPsec Troubleshooting Situations.
Download Page: Microsoft.
Applies to: Windows 11/10/8/7; Windows Server.