CyberGhost VPN is an anonymity software for Windows, that will help you hide & protect your online identity & privacy. Today, on the Internet, anything is possible – even your computer getting hacked and your data were stolen. As a result,  anonymity over the internet has become a must! When you are an anonymous user, you can hide your IP address, and no one can steal your private information from your PC, and consequently, you can protect your online identity and protect your computer from being hacked!
There are different ways on how to surf the web anonymously. One is by using a proxy, and the other is by changing your DNS servers.  These procedures are not very easy for non-geek users. But here is a free VPN software that can provide you with anonymity with just a single click.
Read: What is a VPN, and Why should we use a VPN?
CyberGhost VPN Review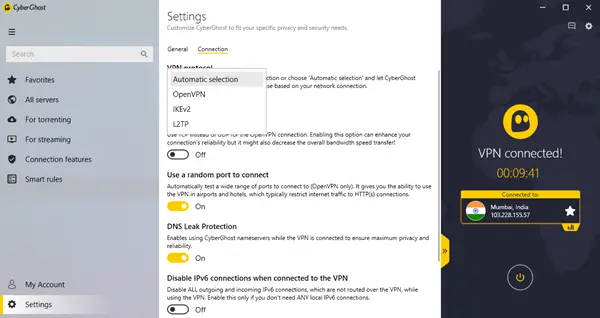 CyberGhost is an anonymity VPN solution for Windows that completely hides and protects your identity online. CyberGhost is available in two variants, CyberGhost Premium, and CyberGhost Free. The features are as follows:
CyberGhost VPN Features
CyberGhost VPN is a package for frequent surfers and permanent Internet users to satisfy every desire in terms of surfing, downloading and streaming. For anyone who wants to use the Internet without constraints.
Unlimited Traffic
Additional protection for mobile devices (PPTP)
Access to Free servers, Premium servers, and VIP servers
Guaranteed availability without any waiting times
Includes Premium support
To get started, you need to do is create an account with CyberGhost. When you download and install CyberGhost, you will be asked to create an account with CyberGhost. You can create an account and save the highly confidential PUK code from that page itself. When you've successfully created the account, and you've logged in with it, you will see a button, which says "Connect to VPN". After you click on the button, you will be connected to the CyberGhost Servers and your online identity would be completely hidden. Remember connecting to a VPN might take a minute or a two.
CyberGhost has now added new streaming services unblock for SkyGo, BBC One, Player.pl, ORF and Comedy Central, as well as brand-new server locations in Strasbourg, Berkshire and Barcelona.
Features in a nutshell:
Easy to set up
Excellent user interface
Unlimited access to 3,500+ servers in 60+ countries
Apps for Windows, Mac, iOS, Android, Amazon Fire Stick, Linux & more
Simultaneous connections for up to 7 devices with one subscription
45-days money-back guarantee
Automatic Kill Switch
High speed streaming for Netflix apps
Secure access to global content
Doesn't keep logs
Located outside of the Five Eyes (Based in Romania so no government spying!)
Unlimited Data – Peer-to-peer (P2P) torrenting allowed
Extra layer of protection when connected to public WiFi
Includes safety features that block malicious websites and tracking.
TIP: Download this VPN to give your Windows the Ultimate Privacy Shield.
Anonymity Test
The app works really well in anonymizing my computer. It completely changed my IP address.
At the time of testing, I was in India, and I was connected to the North America Servers. I checked my IP (www.whatismyipaddress.com) before connecting to VPN and after connecting to VPN. Both the IPs were different.
Email Test
My guess was right – this app doesn't support email protocols. I mean, you can't send emails anonymously with this software. You would need to add an exception for your email protocols or else you wouldn't be able to send emails from your PC!
After you add an exception for your Email Provider, you will be connected to the email service with your own IP only and NOT with any other anonymous IP.
To add an Exception, open CyberGhost and click on the Settings option. Under the "Exceptions" tab, click on the "Adding e-mail server" button. Here you can add exceptions to your emails.
If you are a privacy-conscious individual who would like to keep your location private and secret, I would like to strongly suggest that you check CyberGhost, which is fast and considered to be one of the best software.
Buy CyberGhost VPN
CyberGhost Premium VPN for 7 devices costs $63 for 1.5 years, but other options are available as well. You can buy CyberGhost Premium VPN from their online store and stay safe & private.
The USD prices are as follows:
$12.99/mo
$3.69/mo – billed $88.56 every 2 years
$2.75/mo – billed $99 every 3 years
$5.99/mo – billed $71.88 every 12 months.
They offer a 45-day money-back policy.
I use CyberGhost on my Windows Desktop, laptops as well as my Android Phone and iPhone.
UPDATE: Cyberghost has discontinued the Free version.
Stay safe, surf anonymously!