Windows Activation errors are one of the most common errors users face post-upgrade, or even switching to a new Windows 10 PC. This is of course problem from the Windows Activation server which either fails to validate or recognize the license tied to the digital account.  In today's post, we are looking at the activation error in an organization.  The exact error message says "We can't activate Windows on this device as we can't connect to your organization's server, Error code 0x8007007B".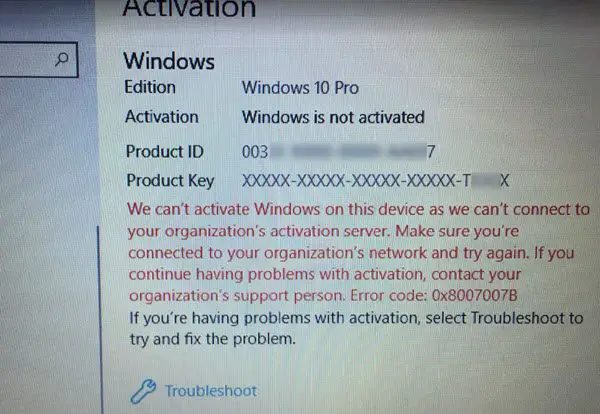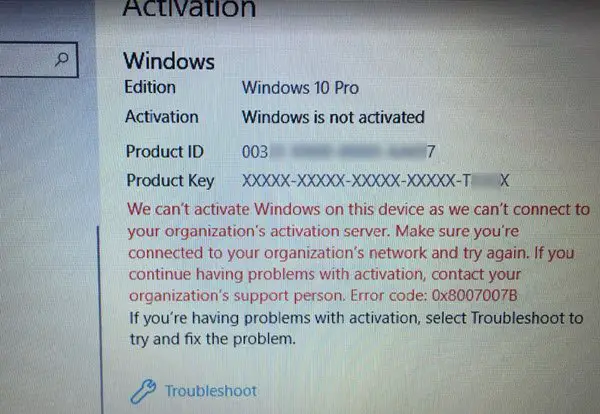 This error message further details into:
We can't activate Windows on this device as we can't connect to your organization's activation server. Make sure that you're connected to your organization's network and try again. If you continue having problems with activation, contact your organization's support person. Error code 0x8007007B.
We can't activate Windows on this device as we can't connect to your organization's server
In organizations, multiple computers are activated through KMS licensing (Key Management Server). Computers activated through this process do not get a permanent activation. Instead, they need to stay connected with the organization at least once in 7 months or 180 days.  Usually seen in Pro and Enterprise version which are deployed in bulk at least in thousands or hundreds of computers. Imagine somebody using a Personal computer at the office, and after he leaves the organization, he will have an activated Windows Key. The above method makes sure this doesn't happen. Another possible reason for this error message is in case somebody used an organization key. Later the PC went through an upgrade or downgrade to a version which is not appropriate for that copy of Windows.
How to fix this message:
1] Connect to the network and activate it
If you are aware that this PC belongs to an organization, you need to connect to the network and activate it. To check if this actually belonged to an organization, run this in an elevated command prompt:
slmgr.vbs /dlv
Check if the Product Key Channel says GVLK – In this case, your system activated via volume licensing.
2] Change the license key
If you have left the organization, it's time you buy another copy of Windows, and change the license key. However, make sure the key is for the same version of Windows. If it's different, you will have to format your PC.
3] Activate via Phone
Try activating Windows 10 via Phone.
4] Run Activation Troubleshooter
If you think it's merely because of a hardware change, you can use the Activation Troubleshooter to see if it can fix the issue for you.
Many a time,  people get their hands on these keys and activate Windows. It works for a while but starts showing these errors after a few days and gets the owner into a problem. If somebody is trying to sell you a key, posing that it's genuine, you can try the command mentioned above to check if this key was from an organization.
Resources that may help you: