Windows Activation Error 0x8007232B, 0xC004F038, 0x8007007B, 0xC004F074 can occur in multiple scenarios. It could be because you are using an incorrect version key or you are not connected to a work network or you need to connect with your organization to resolve the issue. Let's take a look at each of them individually to resolve the issue.
The accompanying messages could be:
You are using incorrect version key of Windows
You are not connected to your workplace network
We can't activate Windows on this device as we can't connect to your organization's activation server.
Activation Errors 0x8007232B, 0xC004F038, 0x8007007B, 0xC004F074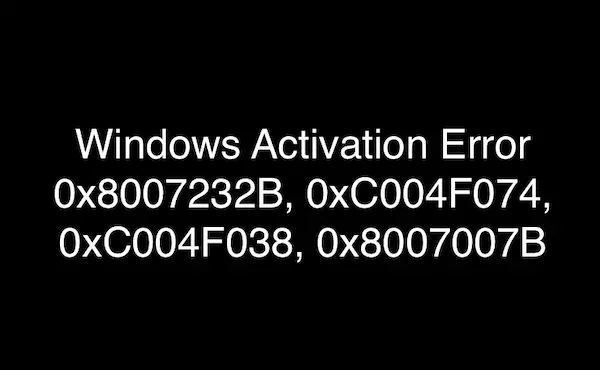 Follow these suggestions to fix error codes 0x8007232B, 0xC004F038, 0x8007007B, 0xC004F074 on Windows 11/10:
1] Incorrect Version Key
Every Windows Product key is associated with a version of Windows.  In this case when you enter a product key for the Enterprise edition of Windows to activate Windows 11/10 Home or Windows 11/10 Pro. Since Enterprise ISO is separate from Windows 11/10 Home and Pro version, make sure to download the right ISO from Microsoft Server.
In case you are still having trouble, make sure to connect with Microsoft Support team. If there is a genuine issue, the team can offer you a new key, and block the one you are having a problem with,
2] You are not connected to your workplace's network
Computers activated through Volume licensing in a company need to pass through the Workplace's network. While the check is not made daily, but when it does, you have to be connected to your work network. However, if you're connected to your work network and still see this error, you might need to change the network settings. Please connect with your organization's support person for more info.
If it is not possible to connect with your Support team, but if you have the key, then you can activate Windows yourself. Go to  Settings  > Update & security  > Activation, and then Change product key, and then type your 25-character product key. You might be asked for an admin password or to confirm your choice.
Microsoft doesn't check for activation all the time unless there is a necessity or when there is a major hardware change. Devices activated in companies if unchecked can be used by the person even after he or she lefts the organization.
3] Use WMIC to find the original key
Open an elevated CMD window and execute the following command:
wmic path SoftwareLicensingService get OA3xOriginalProductKey
This displays the Windows product key. This will display the original Windows key embedded in the computer's firmware that shipped with the device.
Now use this key to activate Windows and see if it helps.
Related: Volume Activation Error Code 0x8007232B, DNS name does not exist.
Let us know if this helped you to fix the problem.