Microsoft has set up a webpage where you can download the latest available Windows 10 ISO or Disc Image files from. You can now download the latest Windows 10 ISO Disc Image Files from here.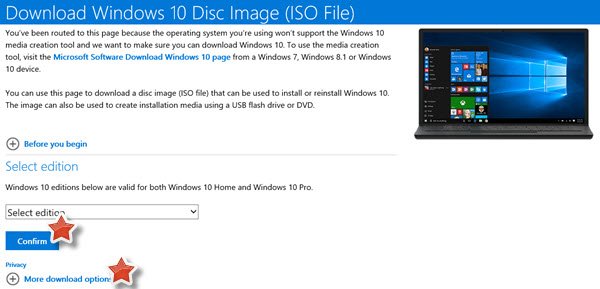 Download latest Windows 10 ISO files
If the other methods to upgrade to the latest Windows 10 build fail, you can use this Windows 10 ISO to fresh-install, reinstall or upgrade.
Once you have downloaded the ISO, you can use it to create your own installation media using either a USB flash drive or a DVD.
TIP: You can also download Windows 11 Disk Image (ISO) file from Microsoft.
Before you begin to download, make sure of a few things:
You might want to first backup your important data to an external drive before you proceed with the upgrade process.
Make sure you have your Windows login password ready.
You won't need it during the upgrade process, but it might be a good idea to find and down your Windows product key somewhere.
Make sure you have a proper internet connection
Sufficient space available on your storage media or hard disk
A blank USB or DVD with at least 4 GB space
Check if your computer has a 32-bit or 64-bit processor
You meet the minimum system requirements
Check the Language you currently use and download the ISO for the same language
Confirm the edition of Windows you currently use and download the same edition. You get the choice from the drop-down menu. The editions currently offered are Windows 10, Windows 10 N and Windows 10 Single Language.
Read: How to upgrade to Windows 10 using Windows 10 ISO.
Volume Licensing customers, TechNet & MSDN Subscribers, Academicians, and Windows Insiders, may click on the More download options link to visit the appropriate links.
Once you have taken care of these details, visit Microsoft.com and click on the blue Confirm button to download the Windows 10 ISO.
You will be asked to select the edition, the language, 32-bit or 64-bit before the download commences. The download links you create will be valid for 24 hours from the time of creation.
You can also download ANY version of Windows 11/10 ISO from Microsoft.
Did this post help you? Or were you looking for any of these?