Microsoft has released a 90-day free evaluation version of Windows 11 Enterprise. The Enterprise edition of Windows 11 is aimed at large businesses and the features which it offers differ significantly from Windows Home or Windows Pro. While the free Windows 11 upgrade wipes off your existing Windows installation1, the evaluation version of Windows 11 Enterprise can be tried for a period of 90 days alongside your Windows 10.
Windows 11 Enterprise free download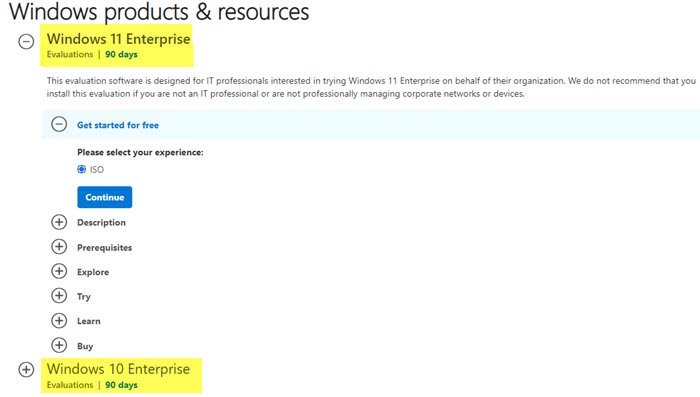 Test-drive the new OS before deciding if you want to upgrade from Windows 10 to Windows 11. Windows 11 Enterprise edition caters to the needs of large and midsize organizations by providing IT professionals with:
Enhanced protection against modern security threats
Flexible deployment, update, and support options
Comprehensive device and app management and control
The Windows 11/10 Enterprise LTSB edition gives its customers access to the Long Term Servicing Branch as a deployment option to handle mission-critical devices and environments.
The trial version of Windows 11/10 Enterprise gives you 3 months of time to thoroughly check the OS and its functionalities without having to leave your existing Windows 7 or 8.1 environment for your everyday tasks. However, the Enterprise edition is mainly geared for midsize and big businesses and it does not offer the same features which are found in Windows 11 Home and Windows 11 Pro editions which are available as a free upgrade from Microsoft.
Built-in applications like Mail, Calendar, People, Photos, Cortana, and many such apps are not available on Enterprise edition. Also, the Enterprise users would not be able to use Windows Store for downloading apps, but one could evaluate and experience the enterprise-grade quality of Windows 11.
Install Windows 11/10 Enterprise Trial on your System
Follow the below steps to install the trial edition of Windows 11 Enterprise or Windows 10 Enterprise on your computer:
To get started with a 90-day evaluation edition of Windows Enterprise, make sure your system meets the above hardware requirements and go to Microsoft TechNet Evaluation Center and start the download.
Download Windows 11 Enterprise or Windows 10 Enterprise by clicking on the sign-in button and log in with your Microsoft account credentials.
Click on the "Register to continue" button to register for the Windows 11/10 Enterprise edition.
Choose between the 32-bit version or the 64-bit version while downloading. If you know that you are not using a very old computer, then choose the 64-bit version.
Choose the language of your choice.
You would soon be prompted to download the installation file, which is formatted as an ISO file that can be copied to a USB drive or can be burnt directly onto a DVD. Make sure you have selected the "Save file" option and then click OK.
Once the file has finished downloading, use any software program to copy the ISO file to a USB stick or to burn it onto a DVD.  The free Windows USB/DVD Download Tool can be used for this purpose. Download and install this program.
Using the USB/DVD Tool, you can either copy the ISO file to a USB stick or burn it to a DVD. Once you have completed the process, use the USB stick or DVD to install the Windows 10 Enterprise edition.
System requirements for Windows 11/10 Enterprise
Processor with speed 1 GHz or faster or SoC
1 GB (32-bit) or 2 GB (64-bit) RAM
16 GB (32-bit) or 20 GB (64-bit) of free hard disk space
Graphics card with DirectX 9 or later with WDDM 1.0 driver
Display resolution 800×600
Did this post help you? Or were you looking for any of these?