Many a time you need to download Windows 10 ISO file to install Windows 10 fresh on your PC. The reason to do that could be because your Windows 10 Upgrade didn't go well or your existing installation got corrupt, and the only way out is to install the operating system again. Microsoft offers you to download ISO files from their website, but only in the form of Media Creation Tool. This tool lets you create bootable USB. The drawback of this method is you will have to re-download the files, again and again, every time you need it. In this post, we are talking about a procedure to download Windows 10 ISO files directly from Microsoft servers, without using the multimedia tool.
Download Windows 10 ISO without using Media Creation Tool
Microsoft for some reason has restricted the download of ISO files for the Windows system. If you use any other operating system i.e. MacOS, you can easily download the ISO file. In this guide, we will share how you can tick the Microsoft servers so it allows you to directly download the Windows 10 ISO file. You can later create a bootable USB device using any tool.
Open Microsoft Edge Browser and go to  Edge options by clicking on the three dots at the top, and Development Tools. You can also invoke it by using F12 on your keyboard.
Next, open the official Windows 10 ISO download page here. It offers to download Media Creation Tool. Right-click on a point on the page, and then choose Inspect Element.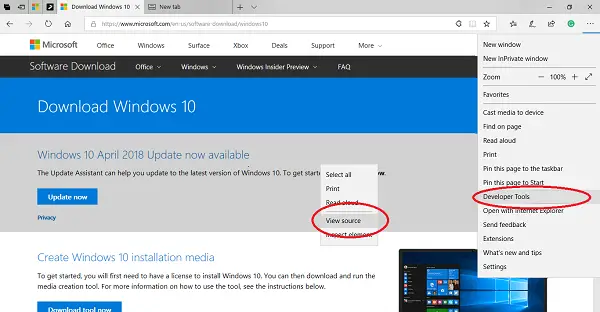 This will open the Debugger tool. In that tool, look for Performance menu, and look for an eject like icon. Select Emulation from it.
The list of options will appear in a stacked window. Here you need to change User Agent String to Apple iPad (Safari).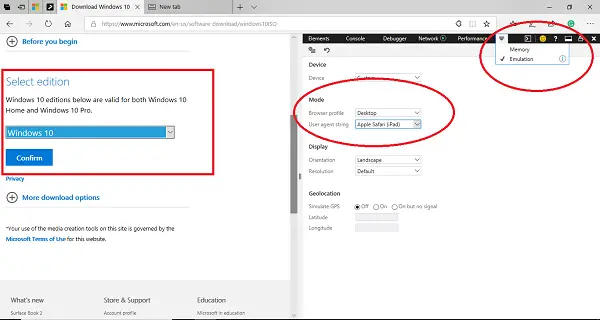 As soon as you do that, the page will reload. Instead of Media Creation Tool option, it will let you directly download files on your Windows 10 PC. You might get the option to download the latest Windows 10 Update.
That said, the process is completely legal, and we are doing it so we don't have to download the ISO again, and again.
However, do note that the Media Creation tool has its own advantage. It always gets you the latest & updated files. It is possible that if you use an old ISO file, you will have to update your Windows 10 to the latest version.
However, if you are updating a number of PCs or a PC that doesn't have direct access to the internet or is restricted, this will come in handy.
Did this post help you? Or were you looking for any of these?