Sometimes, you need to perform a quick task in Windows 11, in that case, assigning a separate drive to it won't be lucrative use of your Hard Drive. Therefore, we create a portable version of Windows, in this article, we are going to see how to create a Windows to Go version of Windows 11, that's the portable version, so that, you can just plug your USB and use this new iteration of Windows.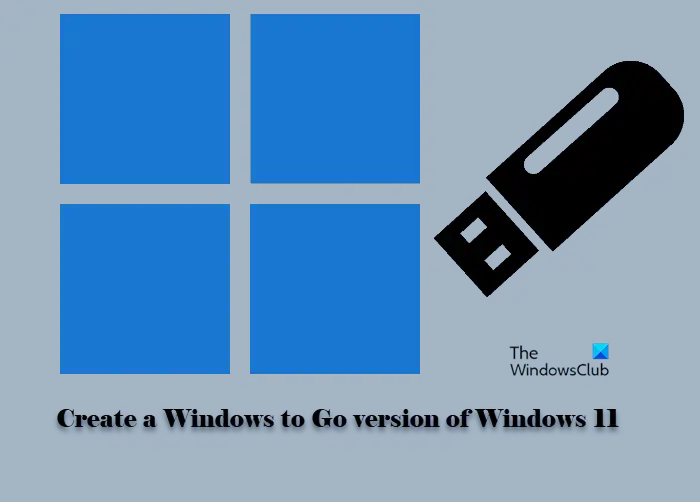 Create a Windows to Go version of Windows 11
To create a Windows to Go Version of Windows 11, you need to do the following steps.
Download and Install Rufus
Download Windows 11 ISO file
Make 'Windows To Go' Bootable USB
Let us talk about them in detail.
1] Download and Instal Rufus
Rufus is an excellent tool to make a bootable drive and install an Operating System. It has an easy-to-use interface and is lightweight. So, download Rufus from rufus.ie.
2] Download Windows 11 ISO file
Next up, we need to download Windows 11 ISO file that we need to run. So, download the Windows 11 ISO file from Microsoft, and move to the next step.
3] Make 'Windows To Go' Bootable USB
This is the most important step and hence, requires your utmost attention. To make 'Windows To Go' Bootable USB follow the given steps.
Plugin a USB Stick with storage, equal to or more than 64 GB.
Open Rufus. It will automatically detect the connected USB drive.
Click on the Select button from the Boot selection option. Then navigate to the location where you have stored the ISO file and then select it.
Click on the drop-down menu from Image options and select Windows To Go.
Then click Start.
You have to wait for minutes as Rufus will write that disk and make it bootable.
After completion, you can plug the USB into any computer and make sure it boots from the USB.
How to use Portable Windows 11 on a USB?
When you plug the USB into any system with Windows To Go, you will be asked to do some verification, use the given tips to do the same.
After booting from the USB, click Set up my PIN.
Log in with your Microsoft Account's credential.
Click Continue when asked to reset the PIN.
Now, set up a PIN and click Ok.
The only caveat here is that when you connect this USB to another computer, you have to do all these steps again.
How to update Windows 10 to Windows 11?
If your computer is eligible for a Windows 11 update, then you can easily update it to Windows 11 from the Settings app. To do that, open Settings by Win + I, go to Updates & Security and then click Check for update. If Windows 11 update is available for you, you can download it from there.
Is Windows To Go discontinued?
The development of Windows To Go was discontinued by Microsoft in 2019. It is no longer available with the operating system as of Windows 10 version 2004. But you can use Rufus to create a Windows to Go version of Windows 11 or Windows 10.
Can you still use Windows To Go?
Microsoft discontinued the Windows To Go feature in Windows 10 version 2004 and Windows 11. Even if you create it using an old ISO file, it will not be updated, and there will be a way you will be able to stay on the latest version. Microsoft also states that since it works with specific USB devices, the OEMs will also not support it. However, installing Windows on a USB device may be possible using third-party software.