This post will show you how to download ANY Windows 11 or Windows 10 version ISO from Microsoft. Microsoft provides its own Media Creation Tool to download Windows 10 ISO, but it always generates ISO file of the latest version of Windows 10. If you want to download any other version ISO of Windows 11/10, then this post can help you. Once you get the ISO, simply create a bootable USB, and install Windows 10.
Download ANY Windows 11/10 version ISO from Microsoft
We have covered 3 freeware to help you download a particular version of Windows 11/10. For example, you will be able to download the ISO file for Windows 10 Anniversary Update version 1607, version 1709, version 2004, Creators Update, version 20H2 or October 2020 Update, etc. The ISO file is fetched directly from the servers of Microsoft. The tools are:
Fido
Rufus
Universal MediaCreationTool.
1] Fido
Fido is a Windows PowerShell script and using this script to download ISO for previous or newer versions of Windows 10 is very simple. PowerShell 3.0 is required to run this script. Also, you must run Internet Explorer at least once and configure it otherwise the script will show an error.
Grab its zip archive and extract that archive. After that, right-click on Fido.ps1 file, and select the Run with PowerShell option. It will launch PowerShell and then a small box will appear.
In that box, you need to select available options and press the Continue button. You need to select:
Windows 11/10 release from the drop-down menu
Windows 11/10 edition
Language
Architecture.
Finally, press the Download button, and download Windows 10 ISO to any output folder of your choice.
2] Rufus
Rufus is a popular tool to create bootable USB drives but it is also one of the simple options to create any Windows 10 version ISO. It uses the Fido PowerShell script to download Windows 10 ISO. This software is available in portable and installer versions. Grab any version and open its interface. You must also plug-in your USB device. On its interface, select your USB in the Device section.
After that, select the Disk or ISO image option from the Boot selection drop-down menu. Once it is done, select the DOWNLOAD option from the drop-down menu. Now press the DOWNLOAD button.
It will start running the download script and a small box will open just like Fido. There, select Windows 10 and click on the Continue button. Now you can select any of the available versions. Continue for the next steps where you have to select a Windows 10 edition, language, and architecture. Use the Download button and select the output folder to save your ISO file.
3] Universal MediaCreationTool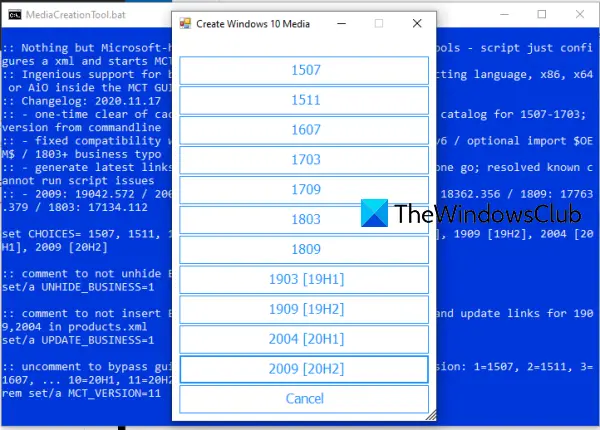 Universal MediaCreationTool is an open-source tool that you can try to create an ISO file of any Windows 11/10 version. Use this link and click on the Download ZIP button to grab this tool. Extract the downloaded zip and execute the MediaCreationTool.bat file. When its interface is opened, you can see the list of available versions. Click on a Windows 10 version and it will start the preparation.
After that, the Media Creation Tool window for that particular version will open. Now you can follow the steps such as create installation media, select Windows 10 edition, language, etc., and you will be able to download an ISO file for that specific version of Windows 11/10.
TIP: Microsoft Windows and Office ISO Download Tool is a freeware that will let you download the genuine ISO Disc Images of Windows 11, Windows 10, Windows 8.1, Windows 7, as well as Microsoft Office versions directly from Microsoft's servers.
If you need to upgrade to some earlier version or skip a particular version and create ISO for a newer version of Windows 11/10, these tools might help you.