Microsoft Windows and Office ISO Download Tool is a freeware that will let you download the genuine ISO Disc Images of Windows 11, Windows 10, Windows 8.1, Windows 7, as well as Microsoft Office versions directly from Microsoft's servers, by acting as an interface to Microsoft TechBench. If you want to install or reinstall a version of Windows or Office, and download its ISO image for it, this is the tool you want to use.
Microsoft Windows and Office ISO Download Tool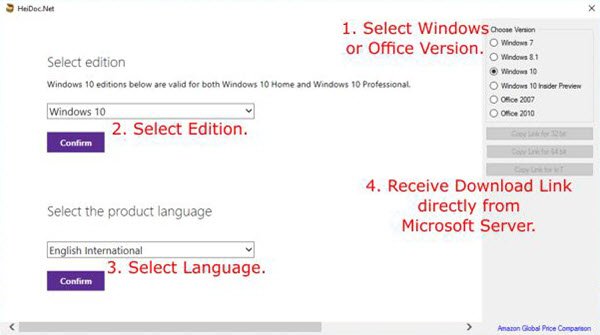 This portable tool solves your Windows download problem. Once you have downloaded the latest version of the Windows and Office ISO Download Tool, run it.
Please note that if your Windows SmartScreen filter warns you against running the downloaded software, ignore the warning and proceed further. The software is safe to use.
Next, select the version of Windows or Office you are interested in downloading.
Now, you will see the Edition selection screen. Here, you need to select the desired edition of the Windows or Office version.
Once you make your selection, click Confirm. Next, select the language and click the Confirm button once again.
You will be prompted to select either 32-bit or 64-bit versions. Chose the desired version and hit the download button to begin downloading the ISO image.
Alternatively, if you want to download the ISO using your web browser, click the 'Copy link' button for copying the link to the clipboard. You can then paste the link in your web browser to begin downloading the chosen ISO image.
Microsoft Windows and Office ISO Download Tool is pretty simple to use – and is rather useful too. Ever since Microsoft pulled the Windows disk images from Digital River, hunting for genuine ISO files has always been difficult – but this tool makes things easy again.
Visit heidoc.net and select the right version and then chose the right edition to begin your download right away. It requires NET Framework 4.6.1. to be installed on your system.