Microsoft Office products have a longer Life Cycle compared to Windows OS. Office 2010 will get support till 13-10-2020, Office 2013 will get support till 2023. So while there is a lot of time for Office 2013, if you still want to use Office 2010, you better download and keep an offline copy of it.  In this post, we will share how you can download earlier versions of Microsoft Office.
Download earlier versions of Microsoft Office
The guide is only for older versions of office for Windows and Mac, which is still supported by Microsoft. For example, the support for Office 2007 has ended, and there is no way to download the installer for the product.
1] Download Office 2010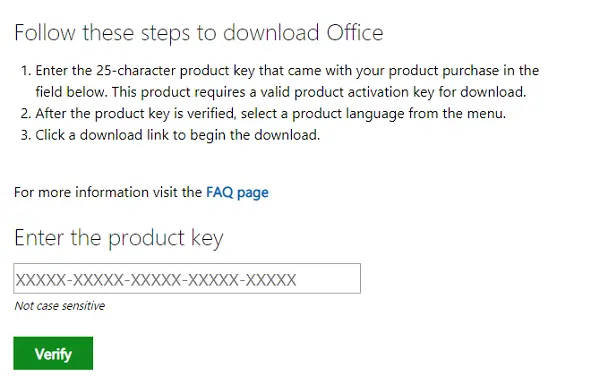 If you have Office 2010 Product key, then visit this page to download Office 2010 for Windows and Office 2011 for macOS. There is a bright chance that the product key is available in your email account, which you had used to buy Office. If you cannot find the product key, but you had it installed, follow our guide to find your product key.
Enter the 25-character product key that came with your product purchase in the text box under "Enter the product key."
Once it verifies the product key, select a product language from the menu.
Click on the download link to begin the download.
Once you download and install it, Office will prompt you to enter the keys again. Enter and validate it again.
Read: How to install Office Offline
2] Download Office 2013 and Office 2016
Both of these products are linked to your Microsoft account. So if you need to download the installer for Office 2013, and Office 2016 for Windows and Mac, you can download it from your Microsoft Account.
Go to the Office section in the Microsoft Account.
Click on Install office link, and then select language, and version (32-bit or 64-bit)
Download and install. Since it is linked to your Microsoft account, it will automatically activate.
You can download an offline installer as well, which is handy for installing on multiple computers.
The same will apply for all future versions of Office, including Office Home 365. The online account will keep track of how many PCs the key was installed on the computer.  If you cross the number of limits, you will be warned about it. To reinstall on a new computer, remove one of the listed machines which you are not using anymore.
I hope the guide helps you to download older or earlier versions of Microsoft Office.
Now read: List of websites to download old version software for Windows PC.