At times you may want to recover your Windows and Office product license keys along with keys of other software or games installed on your Windows computer. While you can always find your Windows Product Key using Command Prompt, PowerShell, VBS, etc, there are also some nice Software Key Finder tools available for download.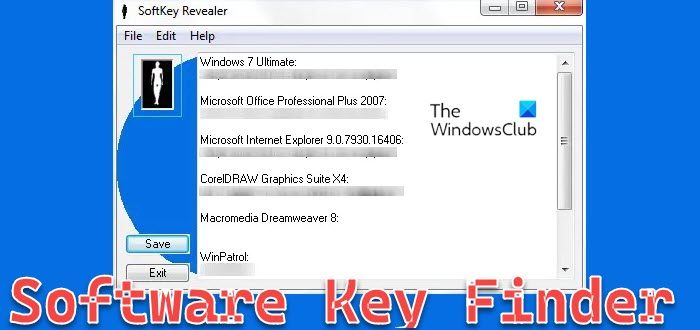 This post looks at some free Software Product Key Finders that will reveal, recover, and save product keys & licenses of Windows, Office, Games & other installed software on your Windows computer.
Software Product Key Finder for Windows 11/10
Some of the best free Software Key Finders to help you recover, and save Windows, Office, Software, Games serial, and license keys have been listed below:
ProduKey
Windows OEM Product Key Tool
Keyfinder Thing
recALL will help you recover lost passwords as well as the product license keys.
SoftKey Revealer
LicenseCrawler
Game Key Revealer
SoftKey Revealer retrieves the CD-Key and Serial for installed software on a computer, including Windows and Microsoft Office. You can download SoftKey Revealer here.
LicenseCrawler is another free tool to retrieve Product Keys and Serial Numbers. You can download it here.
Game Key Revealer will reveal game keys. It is available here.
It is always a good idea to save all your product keys on to a different location, just in case you misplace or lose the keys. It saves time rummaging through your mail or writing to the company.