Have you uninstalled Windows 10 from your computer lately, then reinstalled it and then realized that you did not have the product license keys? Maybe you've lost your product licensing key and have no way of retrieving it. Sterjo Key Finder is a free software key finder that helps you find product keys on Windows 10. It recovers Windows, Office and other software licenses too. So before you decide to uninstall Windows or any other software, it might be a good idea to use it to find and save all your product keys so that you can use them later.
It's a free utility tool that is capable of scanning your Windows 10 computer for the right license key. If the key is there for sure, then Sterjo Key Finder will have no problems locating it. From what we have gathered so far, the keys should come up automatically right after installation and launching the tool. But if it doesn't, then keep reading because we're going to explain a few things. This won't take long at all.
Note that this program works not only for Windows 10/8/7, but Microsoft Office, Visual Studio, and others. It has been an important piece of software for quite a few years now, and that will not change for more years to come.
Recover software licenses & keys with Sterjo Key Finder
From our short use, we can say for certain that Sterjo Key Finder is simple to use, and will definitely aid with finding your keys. Let us take a look at it.
If you have yet to see the keys after launching the tool, then we suggest clicking on the Refresh button to see if that works. It shouldn't take long for the keys to appear, so just sit back and wait for the process to complete.
Your keys for Windows 10 are located deep in your computer Registry, and chances are, you have no idea how to manually find it. With the Sterjo Key Finder program, folks can scan the registry to find any hidden key.
Simply click the button beside Refresh and wait for the completion of the scan. If anything is found, then it will show up in the open area below.
A key can be found in the current Windows directory or an external Windows directory. Gaining access to these directories to find the keys is not an easy task, so that's where Sterjo Key Finder comes into play.
To do this, click on Files, then Recover keys from…, then select the right option for you from the menu.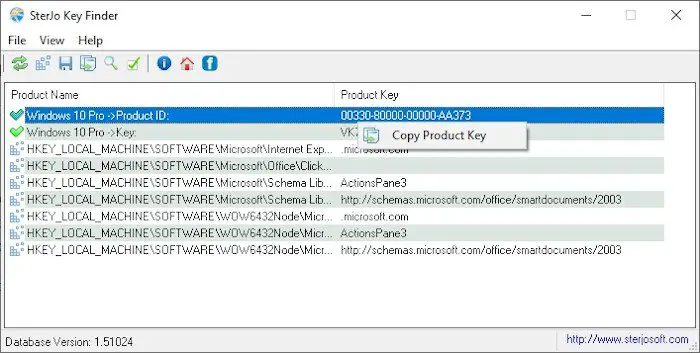 After your keys have appeared on screen, the first thing that comes to mind is to copy the required one. The easiest way to accomplish this is by right-clicking on the key, then hit the option that says Copy Product Key. Or, simply click on the key, and click the copy button at the top, and that's it for that.
Download Sterjo from the official website. It works on Windows 10, Windows 8.1 and Windows 7.