When you buy a copy of Windows 11/10, you get a product key. This key is used to activate Windows on your computer. It's a  25-character product key, and it's important that you keep it noted somewhere. When you switch your computer or reinstall. you will need to find the product key again.
The 25 character Windows 11/10 Key looks like – AAAAA-AAAAA-AAAAA-AAAAA-AAAAA
Windows 11/10 has introduced the Digital Entitlement or license. A lot of consumers upgraded from Windows 7 or Windows 8.1 to Windows 10 or Windows 11 and this is where the digital license was used. The advantage of a digital license is that you do not need any product key. It is linked to your Microsoft Account and the PC.
How to find Product Key in Windows 11/10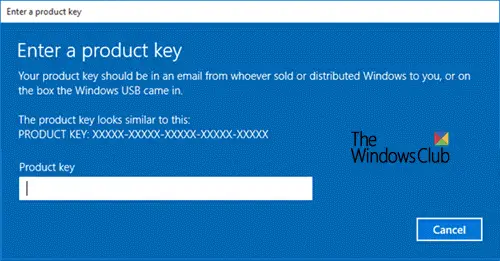 It is possible that you may have forgotten where you made a note of it or have lost the email or the printed copy. Since Microsoft doesn't keep a record of purchased product software keys, the onus is on you to figure it out.  The good news is that the key can be retrieved from Windows 11/10 installation if nothing else works.
Let's first take a look at better ways to find the key.
1] Bought Windows Product Key from an authorized retailer
If you bought the Windows 11/10 PC from an authorized manufacturer, the key must be on a label or card inside the box. Find that box, and you should be able to find the key. In case you cannot, you may want to connect with the manufacturer again and try.
This post will show you how to find out Windows OEM Product Key.
2] Product Key from a new PC running Windows 11/10
If your PC came with a pre-installed copy of Windows 11/10, then the key must be included with the packaging or on the Certificate of Authenticity (COA) attached to the PC. Sometimes OEMs offer a pre-activated copy of Windows 11/10, and in that case, sign in with your Microsoft Account, and it will be tied with your account.
However, you cannot use these keys on another machine. If you perform a major hardware change on Windows 10 PC, you may need to follow the steps to activate it again.
If you lose the key, you have the following ways to find your Windows 11/10 Product Key:
Using a free Windows Key Finder software.
If you do find the key, create an installation media with the key and use that to install Windows 11/10.
3] Digital License Key if you bought a digital copy from a Microsoft website
If you bought the key from Microsoft Website, the Digital License Key is in the confirmation email sent to your account. When you buy from the Windows Store, you'll receive a digital license instead of a product key.
You could also log into the Microsoft Store > Downloads > Product Keys > Subscription page > Digital Content tab. Here you may be able to see the Windows product key. You can use that digital license to activate your Windows 11/10 PC.
You may also visit your Microsoft Account dashboard here to see the details of the orders placed by you.
4] Free upgrade to Windows 11/10
When you upgrade to Windows 10 from Windows 7 or Windows 8.1, or to Windows 11 from Windows 10, a digital license activates the copy of Windows instead of a product key. These digital keys are linked to your Microsoft Account. So after reinstalling Windows, sign in with the same account. Windows will get activated automatically.
In case it doesn't work, you can use the Activation Troubleshooter in Windows 11/10 Update & Security section, and it will fix the problem for you.
5] Call Microsoft Support
Sometimes it's best to contact Microsoft Support, and they may have a way out to activate your copy of Windows. You might have to go through verification. Microsoft can activate your copy of Windows over Phone as well.
Lastly, if nothing works out, it is best that you get a new key and change your existing Windows Key with a new one. If you are buying a new computer, and have crossed the limit of the activation of the digital license, this is the only way out.