ShowKeyPlus is a freeware which helps users to retrieve the product key of the installed Windows operating system. While tech-savvy users might not need any such software, and they can recover keys using VB Script or find out the product keys using CMD or Powershell, users new to computers find it a very useful tool.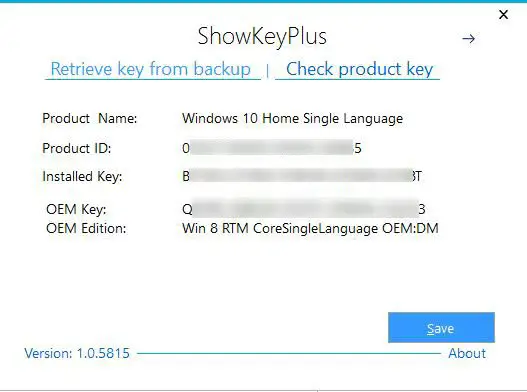 There are many such Software Key Finders out there on the web to help users fining their product key without any problem; ShowKeyPlus is one of them.
ShowKeyPlus for Windows 10
The freeware is portable and can be used without any installation on your Windows PC. You can carry it on any of your removable USB drives and use it on any of your PCs.
It comes with a plain and simple interface, and one doesn't need any technical know-how to use this software. The main overview of the program displays the product key right away.
The freeware also lets you check the edition of a product key.
Not just the product key of upgraded and currently installed OS, but this freeware displays the OEM product key too i.e. the product key of original equipment. This means you can also check the details about the original version of Windows installed on your PC. When you upgrade your OS, ShowKey Plus automatically replaces the product key with the new and upgraded one.
It retrieves the product key from a backup. You just need to browse the location of the backup file in your PC and the freeware will find the product key.
There is also an option to save all your information about the OEM key and the upgraded OS product key. Just click on the 'Save' button and save the .txt file in any desired folder on your PC.
Click the Version link to toggle between light and dark mode skins.
Overall, ShowKey Plus is a simple yet useful freeware to check the original as well as upgraded product key of the Windows operating system on your PC.
You can download it here.  NOTE: Please read the comment below, first.
Know how to deactivate and uninstall Windows Product Key?