Windows 10 makes it easy for you to create a Mobile Hotspot, and change the Mobile Hotspot Name & Hotspot Password as well, easily via its Settings. We have already seen how to turn on Internet Connection Sharing & create a WiFi hotspot in Windows 10/8/7 using the netsh wlan utility, command prompt, and Wireless Hosted Network, and we have also seen a bunch of free WiFi Hotspot creator software like Baidu Wi-Fi Hotspot app, Connectify, Virtual Router Manager, MyPublicWiFi, Bzeek, WiFi Hotspot Creator, MyPublicWiFi, mSpot, etc, to create a WiFi hotspot. Now let us see how to do it via the Windows 10 Settings app.
Create Mobile Hotspot in Windows 10
Open the Start Menu and click on the Settings icon to open the Windows 10 Settings window. Now click on Network & Internet settings and then from the left side, select Mobile hotspot.
To create a WiFi or a Mobile Hotspot, connect your PC to a WiFi Network or Ethernet, and then toggle the Share my Internet connection with other devices setting to the On position.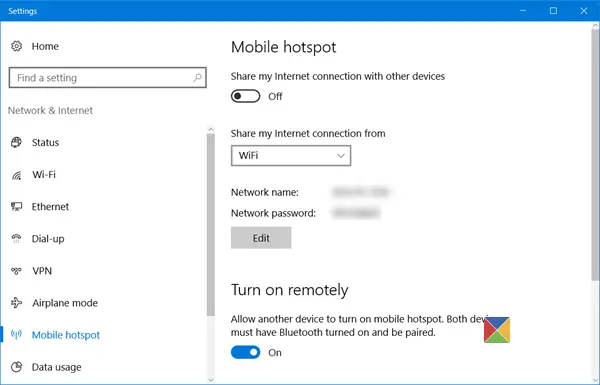 From the drop-down menu, you may select WiFi, Ethernet or Cellular Data connection.
You will also see the Network name and the Network password below that, which you can share with the others.
Read: How to Disable or Enable Mobile Hotspot in Windows 10.
Change Hotspot Name & Password in Windows 10
If you wish, you can change the Hotspot Name & Hotspot Password.
To do this, click on the Edit button to open the following panel.
here you can change the Network name and the Network password – which has to be at least 8 characters. Once you have made the changes, click on Save.
The settings also allow you to let another device turn on the mobile hotspot – but for this, both the devices have to have Bluetooth turned 'On' and they have to be paired.