In this post, we will see how to turn on Internet Connection Sharing & create a WiFi hotspot in Windows 11/10/8.1/8 using the netsh wlan utility, command prompt, and Wireless Hosted Network or using some free WiFi Hotspot Creator software. We will also see how to easily create a Mobile Hotspot via Windows Settings.
I bought a Phone and found that while downloading apps that were greater than 50MB in size, I either needed a Wi-Fi connection or a 3G connection. I was on 2G and I did not have a wireless connection at home.
Turn Windows PC into WiFi Hotspot
While one could always use free WiFi Hotspot creator software like Baidu Wi-Fi Hotspot app, Connectify, Virtual Router Manager, MyPublicWiFi, Bzeek, WiFi Hotspot Creator, MyPublicWiFi, mSpot, etc, to create a WiFi hotspot, I wanted to create one natively in Windows 10/8.
The procedure for creating one on Windows 7 was different. When I tried to do it on my Windows 10 Dell laptop, I found that the settings to Create an ad hoc network via Network and Sharing Center did not exist. The only option then, I thought, seemed to be, by using the netsh utility.
Enable Internet Connection Sharing
To begin, first, make sure that the WiFi is set to ON. Then you will have to open a command prompt as an administrator. Open the WinX menu and select Command Prompt (Admin). The CMD window will open. Type the following and hit Enter:
netsh

 

wlan

 set 

hostednetwork

 mode=allow ssid=DellNet key=asdfg12345
Here DellNet is the name I have chosen and asdfg12345 is the password I have chosen. This has to be at least 8 characters long. You can give your own name and select your own password.
Next, type the following in the CMD window and hit Enter:
netsh

 

wlan

 start 

hostednetwork
What we have done is started the wireless Hosted Network.
The wireless Hosted Network is a WLAN feature supported on Windows 7, Windows Server 2008 R2 and later with the Wireless LAN Service installed. This feature implements two major functions:
The virtualization of a physical wireless adapter into more than one virtual wireless adapter is sometimes referred to as Virtual Wi-Fi.
A software-based wireless access point (AP) sometimes referred to as a SoftAP that uses a designated virtual wireless adapter.
You can get more details about the Wireless Hosted Network and the netsh commands here on MSDN.
Create WiFi hotspot in Windows 11/10
Next, open Control Panel\All Control Panel Items\Network and Sharing Center. Windows offers the Manage wireless networks link on the left side above Change adapter settings.
Click on Change adapter settings.  You will see all your Network Connections.
You can see the newly created DellNet (Local Area Connections 12)  here. Right-click on the connection you are currently using (in my case Ethernet) to connect to the Internet and select Properties.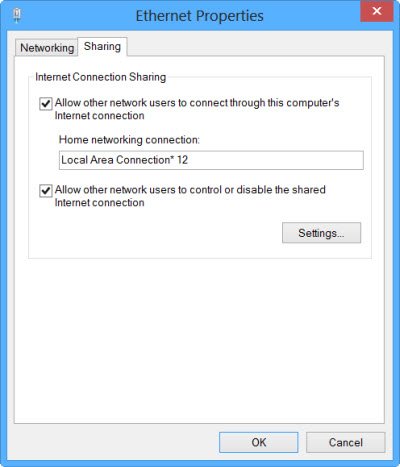 Click on the Sharing tab in the Ethernet Properties box and select Allow other network users to connect through this computer's Internet connection. Under Home networking connection, from the drop-down menu, I selected Local Area Connections 12 and clicked on OK.
Create Mobile Hotspot in Windows 10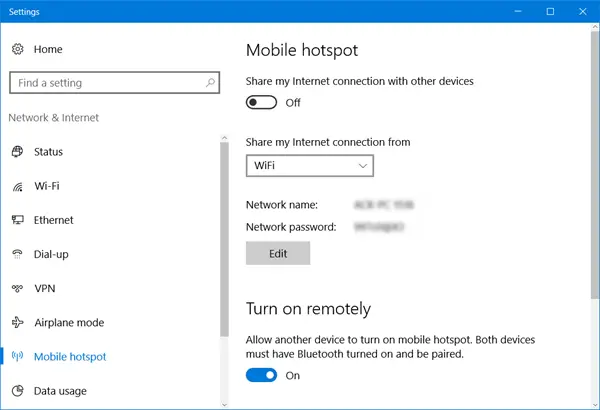 To create Mobile Hotspot in Windows 10, you can also open Settings > Network & Internet > Mobile hotspot. Here toggle the Share my Internet connection with other devices to the On position.
This post will show you in detail how to create Mobile Hotspot, change Hotspot Name & Password in Windows 10.
If you see a We can't set up mobile hotspot because your PC doesn't have an Ethernet, Wi-Fi, or cellular data connection message in red color there, it means that Windows 10 will not be able to create a mobile hotspot. You will have to change your Internet connection accordingly. Using one of the free software mentioned above may help you in such cases.
That's it!
You will have allowed Internet sharing and created a Wi-Fi hotspot of your Windows laptop.
To confirm, I opened Settings on my Nokia Lumia 920, selected Wi-Fi, and was able to connect the phone to my laptop, using the set password.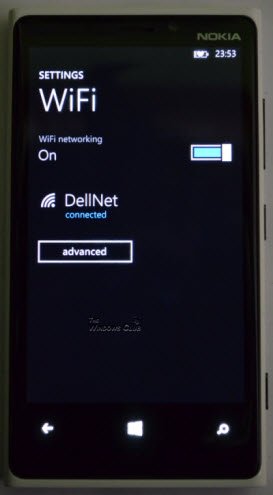 Thus, I created a WiFi hotspot in Windows and I was able to download large apps too on my Phone.
See how to create a Mobile Hotspot in Windows 10, via its Settings.