There are several ways you can share your broadband connection with other people or perhaps with your own mobile or tablet. But the list of available possibilities gets fewer if you want to do that and do not have a WiFi router. But if you use a WiFi Hotspot maker application and a PC containing WiFi equipment, then you can share your Internet connection. MyPublicWiFi is such a hotspot creator that allows you to share your PC's internet connection and the most beautiful thing is you can obtain it for free.
MyPublicWiFi app can be obtained for Windows 11/10/8/7. You'll be able to download and install it on 32-bit as well as 64-bit Windows. The number of options is not too high but each of the available features provides multiple advances over other similar software.
MyPublicWiFi will turn your laptop into a WiFi hotspot
The setup doesn't require much time and understandings. Anybody without having any expert information, can certainly set it up. Anyway, at first, download MyPublicWiFi and install it on your Windows PC. After opening the app, you will get a screen that looks like this:
The first thing to do is to enter a Name and the Network key. This Network Key will be used as a WiFi hotspot password. After that, make a tick in the check box that is positioned before Enable Internet Sharing. Thereafter, expand the drop-down menu and select the internet connection that you want to share or use as the internet connection source of your hotspot. This should be Ethernet. But, you can also use Wi-Fi, DSL, 3G/HSDPA/4G.
Following that, you can hit the Set up and Start Hotspot button. For the first time, it may take a few couples of seconds to verify all entered information and start the hotspot. Otherwise, it starts everything within moments. After starting the WiFi hotspot, you can access your internet connection from any mobile, tablet, or PC.
There are some same software that can help you to set the maximum number of devices to be connected with your WiFi hotspot. However, MyPublicWiFi does not have any such option. However, this is possible to check your connected devices from the Clients tab.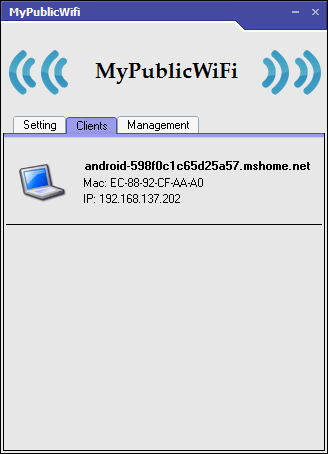 The Management tab contains the following options;
Change language
Allow/block file-sharing – you can block file-sharing by enabling Firewall to prevent the use of file-sharing software or P2P Protocols.
Enable/disable URL log – it will let you track all the URLs that have been opened from connected devices
Allow/block MyPublicWiFi to launch on Windows startup
Considering all the things, MyPublicWiFi seems very useful for those, who do not want to go through a load of settings to just share an internet connection. The signal strength is quite good.
If you like it, you can download MyPublicWiFi from here.
Bzeek, Connectify, mHotspot, and Virtual Router Manager are other good hotspot creators for Windows, you may want to check out.