We have seen how to create Mobile Hotspot, change Hotspot Name & Password, and how you can turn Windows PC into a WiFi Hotspot using Internet Connection Sharing. Now let us take a look at some of the best free WiFi Hotspot creator software for Windows 11/10/8/7 laptops or PC.
Free WiFi Hotspot software
Windows 11/10 users may not find much use for these apps as the operating system lets you natively create a WiFi Hotspot; but Windows 8.1 and Windows 7 users are sure to find them useful, as they make things easier.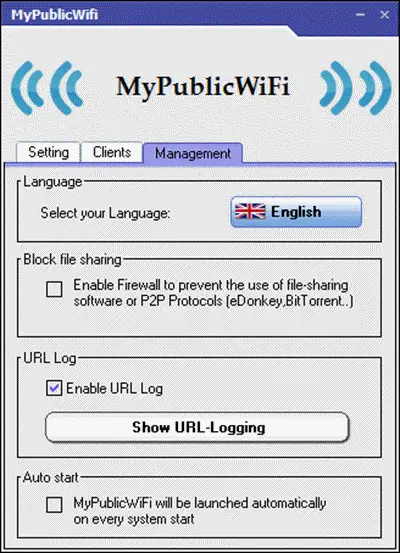 1] Baidu Wi-Fi Hotspot app
Baidu Wi-Fi Hotspot is a basic yet one of the most popular Wi-Fi hotspot apps currently. It comes with many different features and performs the same as the built-in Wi-Fi hotspot in your Smartphone. Once downloaded and installed, Baidu detects the Wi-Fi adapter and creates the virtual network automatically, and connects your available devices. You do not need to set up a password upon installation as it is already set. However, you can change your password and SSID whenever you want. Baidu is a reliable app and shares a secure internet connection.
2] Connectify
Connectify is a fully-featured router that converts your PC into a real-time Wi-Fi hotspot letting you share the connection with your other devices like tablets, Smartphones, and other computer systems. It is one of the most popular portable hotspot software. Once downloaded and installed, this software automatically detects your PC's network and creates a virtual network. It configures the hotspot automatically and generates the login details for you. You can manage the connected devices and can also track their peers. It is now no longer free. Take a look at these free Connectify alternative software instead.
3] Virtual Router Manager
This is again a very simple yet useful tool that turns your Windows PC into a hotspot. Download it, and you can connect your PC with any of your Wi-Fi-enabled devices. This is a very handy tool and requires no typical configuration process. The connection created with this software uses WPA2 Encryption providing you a secure connection. Virtual Router Manager is not only free software but also advertisement free. Furthermore, this program never tracks your web traffic.
4] My Public Wi-Fi
As the name signifies MyPublicWiFi is a software that lets you create your public Wi-Fi. It supports Windows 10/8/7 and can be downloaded in both 34-bit as well as 64-bit Windows PC. Like the other such software mentioned above in this, My Public Wi-Fi is also a simple software with a user-friendly layout. You don't need geeky knowledge to install this program and to start the hotspot. All you need to do is to install the program on your, add your network key, and Start. The program lets you allow or block file sharing and also enables or disables the URL log. If enabled MyPublicWiFi allows you to record and track all visited URL pages using that particular connection.
5] Bzeek
Bzeek is yet another free servers& network program which transforms your Windows PC into a WiFi router and connects your other devices. There is a built-in Firewall in Bzeek to protect your network connection. Bzeek has a built-in Firewall that protects your computer and network. The Bzeek software once installed on your PC shows the wireless network named BzeekSpot. The control panel offers you full control over your BzeekSpot where you can easily manage your connections and devices. It is proved to be safe and secure WiFi Hotspot software for Windows 10/8/7.
6] WiFi Hotspot Creator
WiFi Hotspot Creator is a simple application with an easy-to-use interface. With simple or no major configuration, this software lets you turn your Windows PC into a wireless card or a hotspot. It prompts you to change your browser homepage during installation, but sadly it does not give you the option to opt-out of the crapware linked with the download. It works on the same technology used by mobile broadband cards, DSL, and others, and thus gives you the same kind of shared connection. It is a very handy and useful tool that allows you to share your internet connection with all your internet-enabled devices while you are on the go.
7] mSpot
mSpot is a simple free software that converts your Windows PC or laptop into a virtual Wi-Fi hotspot without even installing it. It can be used by anyone without having any technical knowledge about hotspots. It includes no complicated settings and is best suitable for beginners. It comes as a 400KB file and takes no time to download on your PC. mSpot allows up to 10 devices in a single shared connection and also secures your wireless hotspot with WPA2 PSK password security.
8] Omnify Hotspot Free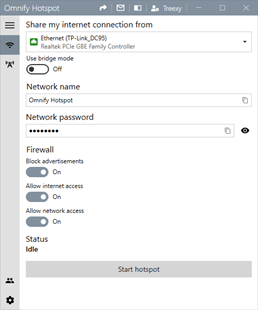 Omnify Hotspot Free allows you to create a wireless access point and share your internet. It's easy to use and quick to start, as you only need to give it a name and password and you can connect your smartphone, tablet, media player, e-reader, printer, laptop, and other wireless devices. Download it here.
Any favorites?