Geolocation is a relatively new feature in the recent versions of most browsers. It allows websites to track your physical location, ostensibly, with a view to offer you location related search results, services, or options.
You may have noticed that whenever you visit any website which requires access to your location the first time, you will see your browser saying that this website requires access to your location. We have the option to allow or disallow access, but we normally allow this. When you allow access, your IP address, along with your device details, MAC address, etc can be sent. These details are saved in Cookies. Other websites will not be able to access this data – only the website you have given access to.
The privacy-conscious among you may not want to disclose their physical location. Such users can tell their browsers to deny access by disabling the Geolocation feature. You can prevent websites from tracking your location, by disabling Geolocation in your browser. Let us see how to do it in Firefox, Chrome, Edge (Chromium), Internet Explorer and Opera browsers.
All the main web browsers are capable of tracking your location due to geolocation features. When the geolocation feature is active, the browser can track its users via Wi-Fi, network, or IP address location. Now, in most instances, having the ability to track is quite useful for some applications, but others do take advantage of this.
Privacy is one of the main reasons why users should think twice before giving websites or apps access to their location through the web browser. Not every website follows the rules, which means they could use your location in ways that compromise privacy in tremendous ways. In this post, we will cover the following:

What is Geolocation all about?

How to fake your web browser location

Disable geolocation in Mozilla Firefox

Disable geolocation in Google Chrome

Disable geolocation in Microsoft Edge

Disable geolocation in Internet Explorer

Disable geolocation in Opera.
What is Geolocation all about?
OK, so, as we mentioned earlier, geolocation is designed to pinpoint the user location and tie to the web browser or application currently in use. Most of these services tend to use the connected network along with the IP address in a bid to get an accurate representation of your location.
Now, we can understand why many users on the internet would want to make use of geolocation. You see, some websites will ask you to provide your location in order to deliver accurate information relevant to your area, and this is great.
However, your privacy should matter more than accurate data from a website, so if you want to learn how to keep things in check, well, we have you covered.
How to fake your web browser location
The best way to fake your location effectively is to use a VPN service and nothing else. But web browsers too allow you to block Location access to websites, although this may not always work. For best results, before you make the changes mentioned below, it is a good idea to clear all your browser cache, cookies, etc. These posts will show you how to do it in Edge, Chrome, Firefox, and Opera. Also, make sure that you have not already given permission to any sites to access your location; and if you have, then remove those sites. You will see these settings under Privacy & security settings.
Disable geolocation in Firefox
Launch Firefox
Open its Settings
Select Privacy & Security
Locate & open Locations Permission Settings
Select Block new requests asking to access your location for the websites
Save Changes and Exit.
Let us talk about this in greater detail.
If you're the type of person who prefers to use Firefox than anything else, then let us explain how to get things under control.
To access the Firefox location settings, please click on the hamburger menu icon at the top-right and then navigate to Options > Privacy Security. Next, scroll until you come across the heading with the title, Permissions, and look for Location.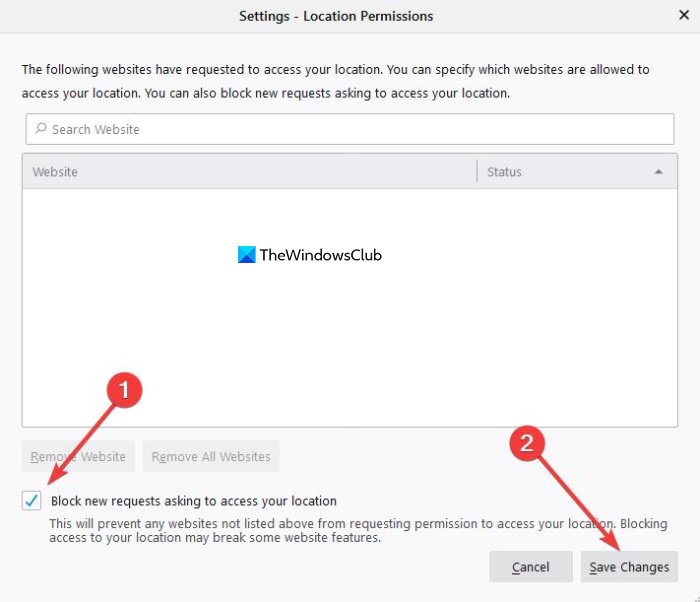 Select the Settings option beside it, and be sure to click the box that says, Block new requests asking to access your location. Finally, hit Save Changes, and that should do it.
Disable geolocation in Chrome
Open Chrome browser
Open Chrome Settings
Select Privacy and security
Click on Site settings
Enable

Ask before accessing

toggle
Restart the browser.
When it comes down to Google Chrome, the task of turning off geolocation features is just as simple. First, the user must click on the three vertical dots menu icon at the top-right to release the drop-down menu.
From there, navigate to Settings > Privacy and Security > Site Settings > Location. You should now see the option to Ask before accessing. Make sure this is toggled on, though it should be on by default, so if it is off, then you or someone else made some changes.
Unfortunately for us, Google Chrome doesn't make it possible to turn off this feature completely, but Firefox does, as we can see from above.
Turn off geolocation in Microsoft Edge
Open Microsoft Edge browser
Open its Settings
Navigate to Site permissions
Click on Location
Enable

Ask before accessing

toggle
Restart the browser.
Since this web browser uses the same rendering engine as Google Chrome, one should not expect a massive difference in how certain features operate, for example, the inability to turn off geolocation completely.
To get things moving, open Microsoft Edge, then click on the horizontal dots at the right-top section of the browser, then from there, navigate to Settings > Site Permissions > Location. After that, move to toggle on Ask before accessing, and that's it for that.
Disable Geolocation in Internet Explorer
Open Internet Explorer > Internet Options > Privacy tab.
Under Location check Never allow websites to request your physical location.
Also press the Clear Sites button to remove old sites that have access to your physical location.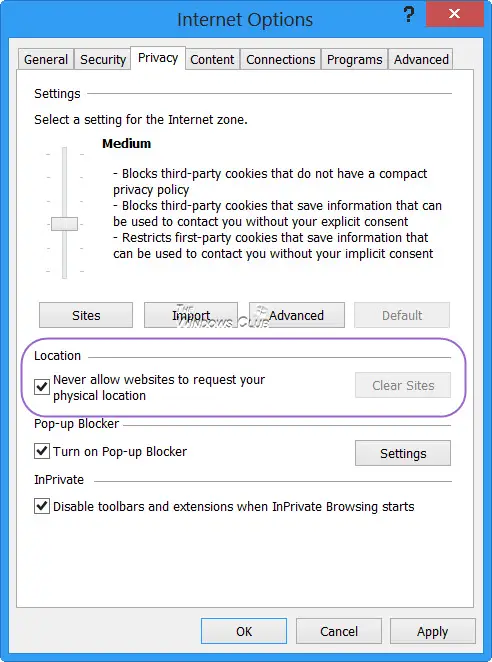 Click Apply/OK and Exit IE.
The registry key affected by the change of this setting is:
HKEY_CURRENT_USER\Software\Microsoft\Internet Explorer\Geolocation
The value of BlockAllWebsites as 1, will mean Do not allow, whereas 0 would mean Allow websites to request your location.
This will block all websites from using Microsoft Location Services to find your computer's approximate physical location.
Disable Geolocation in Opera browser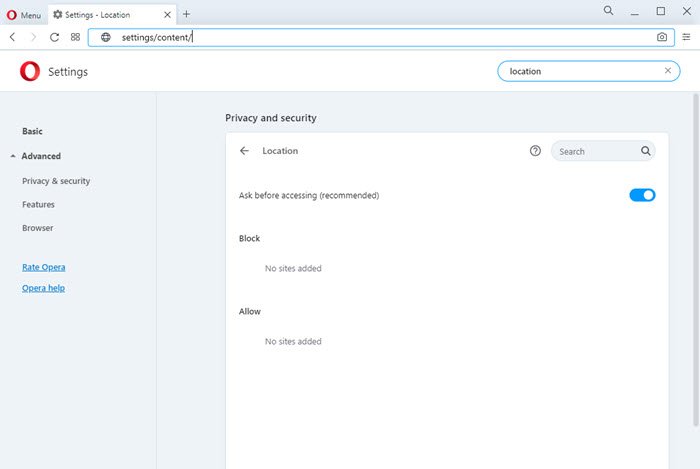 Open your Opera
Navigate to Open Settings > Advanced > Privacy & security
Locate Permissions > Locations.
Toggle the Ask before accessing switch to the On position.
Click OK and exit.
Once you have done this, you should clear your Internet cache, Browser History & Cookies, and restart it, before you start using your browser.
We trust you found the post helpful.
Have a nice day!