Microsoft has bee relaunching its browser, which first started with the EDGE HTML rendering engine and now Chromium. While Internet Explorer is still there on Windows 10, Edge HTML will be called Edge Legacy, the new Chromium-based Edge Browser will soon be delivered through Windows Update. This post offers you some cool Edge Browser Chromium Tips and Tricks that will help you get the best of this new web browser and its features in Windows 10.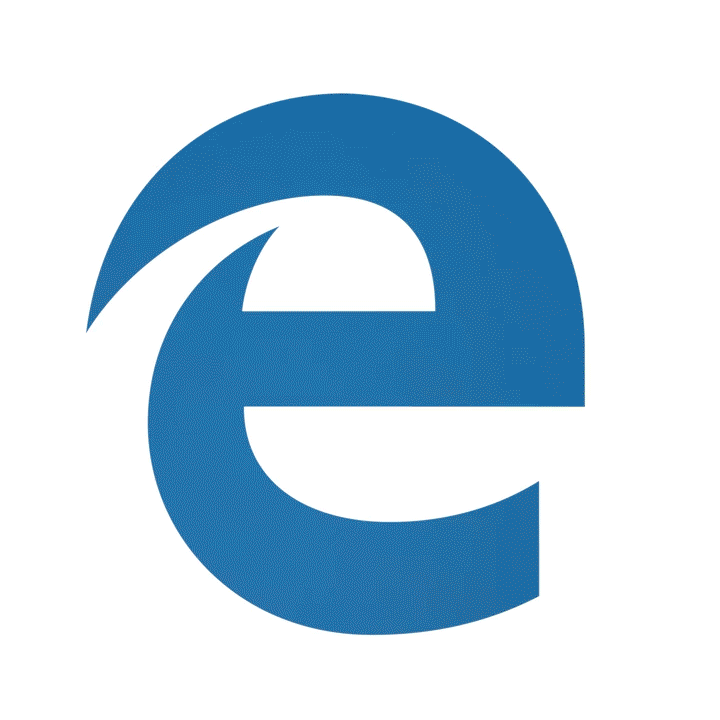 Edge Browser Tips & Tricks
Some of the tips are similar to Edge you were using earlier, and if you haven't been using the Edge Chromium, you will find most of them as new.
Enable Dark Mode
Force Dark Mode for Web Contents
Change default search
Customize Edge New tab page
Manage passwords & autofill
Add a Home button
Import favorites, passwords, history into Edge
Show the Favorites bar
Pin Edge Browser website shortcut to Taskbar
F12 Developer Tools
Open the web page in IE & Edge Legacy
Install Chrome Extensions and Themes in Edge
Enable and manage Data Sync in Edge Chromium
Change default download location of Edge Chromium.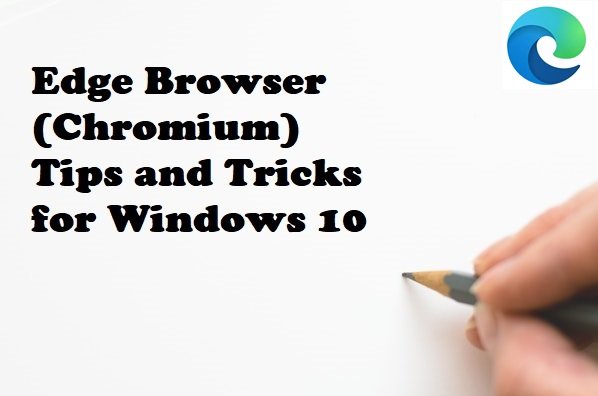 You can quickly access the Edge Chromium Settings either by using "edge://settings/" in the URL or click on the three dots and then click on settings. I have also highlighted the direct path for each of the settings for quicker access.
1] Enable Dark Mode
The default is set to the light theme, but you can change it to Dark or use System mode. The later will automatically enable dark mode when you use Dark Mode in Windows 10.
Go to Settings > Appearance > Theme (edge://settings/appearance)
Click on the dropdown, and choose Dark.
It will instantly enable Dark mode without a restart.
2] Force Dark Mode for Web Contents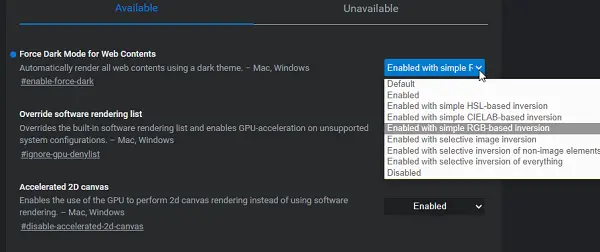 If you want to force websites to become dark, you can force it using a flag—Force Dark Mode for Web Contents. It works on Chrome as well because of the Chromium Engine.
Use edge://flags to open the settings.
Search Force Dark Mode for Web Contents
When you find it, enable it using the dropdown
Restart browser.
You should know that when you force a website to change, it is possible that some of the text will not be visible to you. Chromium Engine offers different ways to force dark mode. Experiment with them to find what works for you. There are various ways like HSL, RGB, and so on.
3] Change default search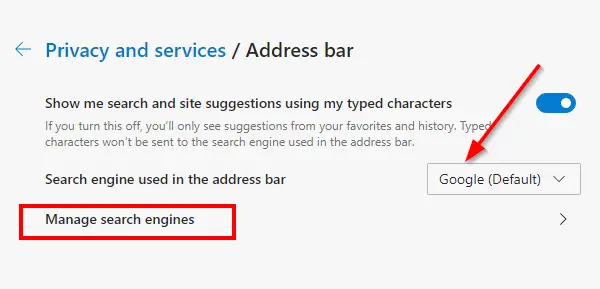 The default search engine in Edge Chromium is going to be Bing, but you can always change it. You can choose to create custom search engines to search on websites directly.
Go to Settings > Privacy and services. Scroll down to find address bar (edge://settings/search)
Under Search engine used in the address bar, click on the dropdown to change from Bing to Google.
Now every time you type on the address bar, it will search on Google. If there is another search engine you want to add, click on Manage Search Engines, and you can add based on some parameters. Read how to find those parameters and add them.
4] Customize New Tab or Home Page
Every time you open Edge Chromium, you should see a new wallpaper as a background. It's a signature feature of Edge that has been there for long. You get a search bar, background image, and a bunch of recently visited pages in the form of aligned boxes. You can change this layout by clicking on the cog icon on the right.
Apart from this, you also have On Startup option (edge://settings/onStartup), where you can choose open a new tab or continue where you left off and open a specific page every time.
5] Manage Passwords and AutoFill
Just like Chrome and Firefox, Microsoft Edge Chromium offers its inbuilt password manager that can sync across devices. Edge is also available on Android and iPhone.
Navigate to Settings > Profiles and click on Passwords (edge://settings/passwords)
Here you can search for saved passwords, export passwords, view, and delete them. There is no way to edit.
If you do not want to use this feature  or secure it, you can

Toggle off option where Edge asks to save passwords. It will also disable autofill.
Turn off the option to Sign-in automatically.
When you turn off sign-in, you will have to enter the password every time you use the password manager to sign in.
6] Add a Home button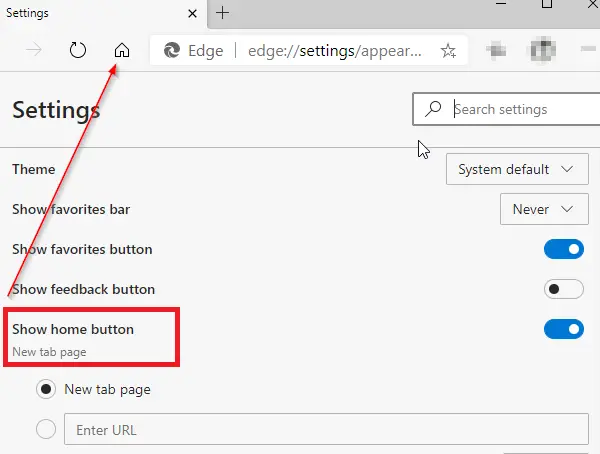 The home button in a browser is a legacy thing which used to take the user back to a new tab and open it as it has been set. It is like the house icon next to the address bar.
Go to Settings > Appearance (edge://settings/appearance)
Toggle on Show Home Button
Set if you want to open a new Tab page or a URL.
7] Import favorites, passwords, history into Microsoft Edge Chromium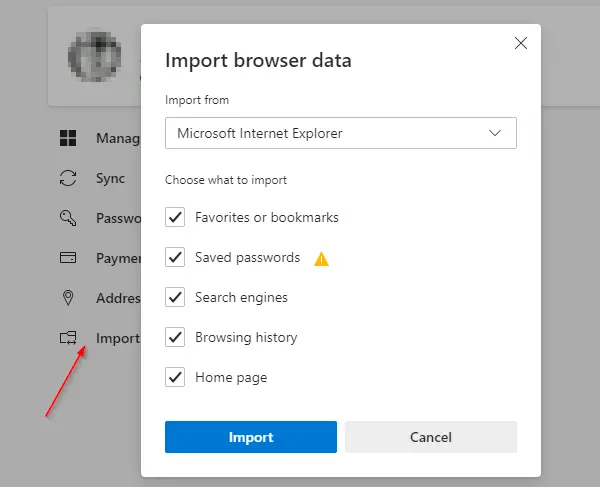 If you are planning to use Edge over any other browser, it would be a good idea to import settings, etc. from the old browser. The Import Feature works with Microsoft Edge (Legacy), Chrome, Firefox, and more.
Go to Settings > Profile > Import Browser Data (edge://settings/importData)
Select the browser from the dropdown, and select what you want to import.
You can import favorites, saved passwords, search engines, browsing history, and Home Page.
Note: Previously imported passwords for the same sites will be overwritten.
8] Show the Favorites bar
Click on the three-dot menu next to the profile icon.
Navigate to Favorites > Show Favorite Bar or use Ctrl + Shift + B
You can choose between Always, Never, or Only on new tabs. The later is useful if you do not want to access favorites from each tab.
In Edge Chromium, you have a better way to access favorites—Favorites Button. It appears at the end, and outside of the address bar. When you click on it, it will reveal all the bookmarked pages and folders. It is better to use the button as it is less intrusive.
9] Pin Edge Browser website shortcut to Taskbar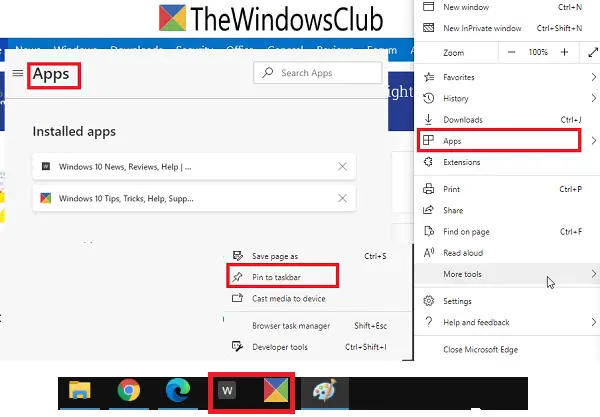 The earlier version of Edge allowed adding websites to the Start Menu. That's not possible with the Chromium version. Instead, you can choose to Pin websites shortcut to Taskbar.
Open the website you want to pin to Taskbar
Click on the ellipse menu (three dots) > More tools > Pin to Taskbar
You should see the Favicon of the website on the taskbar
Interesting to note that all these pinned websites are treated as Apps and are available under Menu > Apps > Manage Apps (edge://apps/)
10] Developer Tools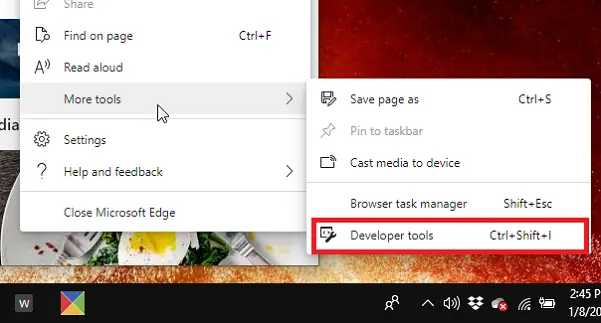 Click on Menu More Tools and then click on Developer Tools. You can use Ctrl + Shift + I to open it quickly.
11] Open the web page in IE & Edge Legacy
If you still need to use IE for some of the websites and applications, follow this method for IE. When it comes to Edge HTML or Edge Legacy, you need to enable it manually. Once done, follow the same steps we have asked for IE.
12] Install Chrome Extensions in Edge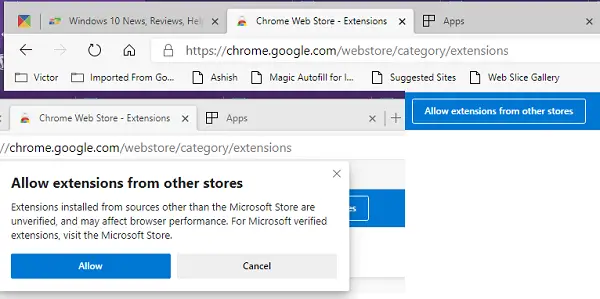 Since Microsoft Edge is now based on Chromium, it supports most of the Chrome extensions. When you visit the Chrome Extension Webstore, Edge will prompt that you can install the extension from here or any third party website. Click on Allow to enable extensions from other stores. You can also install Chrome Themes.
Related: How to manage, add, remove Extensions in new Microsoft Edge browser
13] Enable and manage Data Sync in Edge Chromium
Just like Firefox and Chrome, you can sync data, profile, extensions, and passwords across browser instances. If you use Edge on multiple computers, you can sync data between them. You will have to enable it manually, so follow our guide. It is my favorite of our Edge Chromium Tips Tricks, and I am sure if you love using Edge, you will like it too.
14] Change default download location of Edge Chromium
It is best to set download location separate from the default download folder if you download a lot of things at one place.
I hope these tips and tricks for Microsoft Edge Chromium come in handy for you.