The Microsoft Edge Chromium browser is not just the best version of Edge we have to date, but it also offers turn of customization. You can install Chrome themes, install Chrome extensions on Edge from Chrome Web Store, offers Dark Mode theme and more. In this post, we are looking at yet another feature — how to change the default Search Engine – which is set to Bing. Wealso show you how to change the Search Provider in New Tab of Edge
Change default Search Engine in Edge browser
We will not only learn how to change the default search engine but also learn how to add a new search engine. The default list of search engines includes Bing, Yahoo, Google, and DuckDuckGo.
Change default search engine
Add a new search engine
Change Default Search Engine in Edge
Open the Edge browser, and open a new tab
Type edge://settings/search in the address bar, and hit Enter.
Change to any other search engine by clicking on the dropdown next to the Search engine used in the address bar label.
Choose from Bing, Yahoo, Google, and DuckDuckGo
No more extra steps and you have changed the search engine. If the search engine is not listed, here is how to add your favorite one.
Add a new Search engine to Edge
There are two ways to do it. First is by visiting the search engine and searching for something. The second is manually adding it. We will share both ways.
1] Visit and add the Search engine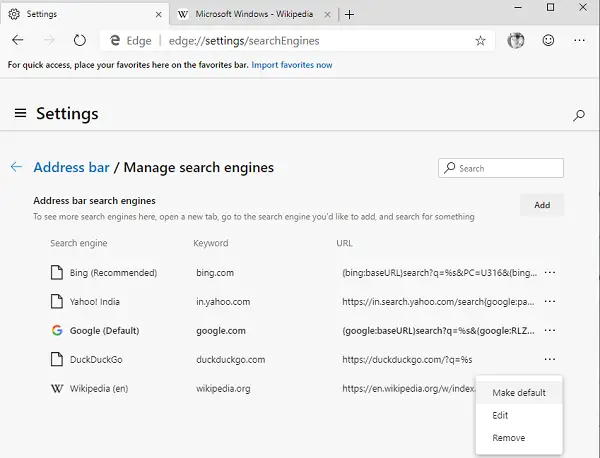 Open the search settings in a new tab edge://settings/searchEngines
Switch to another new tab, and open the search engine you want to add.
Search for something.
Switch back to search settings, and the search engine will appear in the list.
Click on the menu and choose to make it default.
2] Add it manually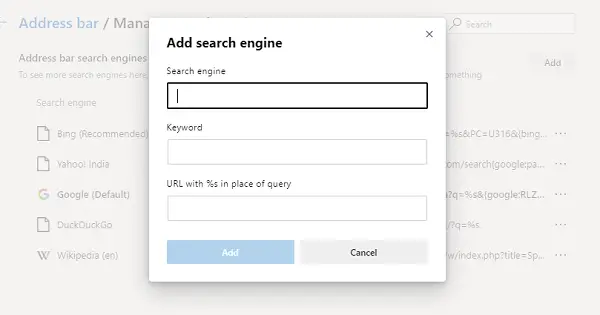 If your Search engine is not detected automatically, you can add it manually.
In the Manage search engine section
Click on the Add button
Here you need to add a name, keyword, and URL with %s in place of query
Once done, click add, and set it as default.
Here is an example.
On Wikipedia, the search result looks like-
https://en.wikipedia.org/w/index.php?search=whateveryouwanttosearch
The italics part is the search page, while the underlined part is the query.  In the URL box above, you need to add
https://en.wikipedia.org/w/index.php?search=%s.
When its the default Search engine, whatever you want to type, will be searched on Wikipedia.
Change the Search Provider in New Tab of Edge
You can also change the Search Provider in New Tab of Edge as follows:
Open edge://settings/search in the Microsoft Edge address bar.
Look for Search on new tabs uses search box or address bar.
From the default Search box (Bing), switch to Address bar option.
This feature is currently available in Edge (Canary) but will be rolled out to all, soon.
TIP: This post will show you change default search engine in Chrome, Firefox, Opera, Internet Explorer.
I clearly remember that's how I used to add a search engine in Edge on Windows 10 Mobile. Good to see it back here.