Windows 11 has come with a new design and many new features. While the entirely new interface is a visual treat, the new features certainly will improve your productivity and browsing experience. Microsoft Edge, the default web browser of Microsoft has also gotten some new features like Voice Typing Support and MS Editor. Let's learn a little more about these two new features and how to use them.
Voice Typing and Speech Recognition are some of the hottest topics. Companies such as Google, Apple, Microsoft, Amazon are trying to make their Speech Recognition algorithm as accurate as possible. In this article, we are going to learn how to use Voice Typing in Microsoft Edge. Before using Voice Typing in Edge, you need to make sure that the Online Speech Recognition feature is enabled on your PC.
To do that, launch Settings by Win + X > Settings and click Privacy > Speech.
Now, use the toggle to enable "Online speech recognition".
Once you have enabled this feature, use the following method for Voice Typing – depending on your version of Microsoft Edge.
Using Voice Typing in Microsoft Edge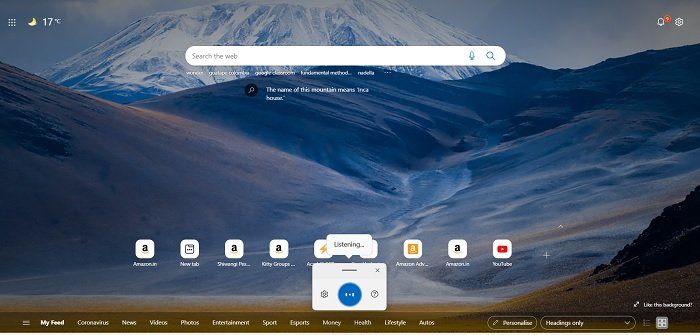 The Voice Typing support which was earlier this quarter released for Google Chrome is now available for Microsoft Edge too. You can now use your Voice Commands instead of typing the text on the browser. The feature is powered by Microsoft Online Speech technology. Remember that your computer needs to have a functional microphone and an internet connection to use this feature.
It is a very useful feature. Whether you want to write long emails, write a blog post, make some report in your school, do an assignment, reply to your customer's tickets, or any other such activities. The feature also includes punctuations, so you do not need to worry at all and just dictate everything you want to write.
To use Voice Typing Support in Edge, launch the browser and press Win+H on your keyboard.
You will see the Microphone Tool open in your browser which is already listening to you.
Speak, and the tool will start typing your words.
Make sure you select a text box before you start speaking, otherwise it won't work.
Simple as that right? The feature so far supports 40+  languages which include English, French, German, Spanish, and more.
To stop voice typing, just give a voice typing command like "Stop listening" or press the microphone icon on your keyboard. (My HP laptop doesn't have one though)
Voice Typing Launcher in Edge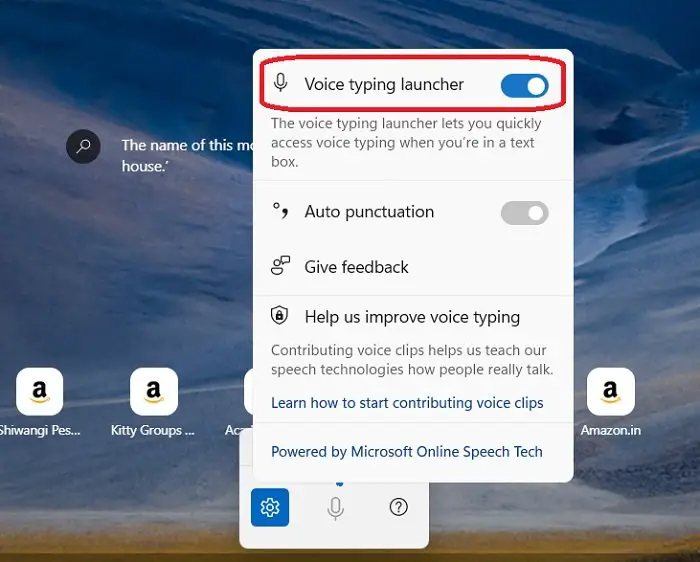 Now since it is a wonderful and useful feature that will ease out your workload, I am sure you will need to use it quite often. Well, there is a setting for you here. You can enable the Voice Typing Launcher and the feature will turn on as soon as you select a text box.
To enable this feature, click on Settings and enable Voice Typing Launcher. Once this is done, the Voice Typing Launcher will automatically appear when you select a text box.
Auto Punctuation in Voice Typing in Edge

Users' experience is the top priority for Microsoft and thus they have added this new Auto Punctuation feature to the Voice Typing Support in MS Edge. To enable Auto Punctuation, launch the Voice Typing Launcher first by pressing Win+H on your keyboard and clicking on the Settings icon.
Enable the Auto Punctuation by turning the button on. Here onwards, you don't need to worry about the punctuations and just dictate the matter.
Microsoft also values your feedback and thus there is also an option given where you can leave your feedback about this new tool added to Microsoft Edge.
Add a New Voice Typing Languagein Edge
While the feature supports 40+ different languages, you can still Install a voice typing language if you want to.
Here's how:
Start -> Settings -> Time & language -> Language & region.
Find Preferred languages in the list and select Add a language.
Search for the language you'd like to install, then select Next.
Follow the steps and you are done.
Important Voice Commands in Edge
Stop or pause typing– Say Pause voice typing/ Pause dictation/ Stop voice typing/ Stop dictation/ Stop listening/ Stop dictating/ Stop voice mode or Pause voice mode.
Delete last spoken word or phrase- Say, Delete that/ Erase that/ Scratch that.
Select last spoken word or phrase- Select that
Contribute Voice Clips to Microsoft

The feature undoubtedly is wonderful and useful but as the team still wants to improve it and make it of better use, they are asking for your voice clips. Your voice clips will be used by the team to build better voice-enabled capabilities that will benefit the users across all their services and products. Your voice clips will help them train their speech recognition technology to be more accurate and precise for everyone who speaks your language and is using this feature.
To contribute your voice clips, press Win+H on your keyboard and open the Voice Typing Launcher.
Click on the Settings icon and click on Learn how to contribute voice clips.
This will open a new pop-up window where you will get the two options – Yes, I'll contribute voice clips and No, I don't want to contribute. Click on Yes if you want to and every time you use the feature, your voice clips will be saved and used by Microsoft. Microsoft assures your privacy while using your voice clips.
Does Microsoft Edge have dictation?
Yes, with the latest Windows 11 upgrade, Microsoft Edge got the dictation feature. You can now enter the text on Edge by speaking.
How do I turn on voice typing in Microsoft Edge?
If you have installed Windows 11 on your PC, the feature will by default be available in the Microsoft Edge browser. Simply press Win+H keys on your keyboard and you can launch the voice typing feature.
How do you dictate in Edge?
Press Win+H keys on your keyboard or simply hit the microphone icon on your keyboard to launch the voice typing feature. You will then see a microphone icon on your screen saying, "listening". You can then start dictating and the tool will automatically type the text.
Read next: How to set up and use Voice Typing in Google Docs.