In this post, we will walk you through the process of disabling Speech Recognition in Windows 10 v1809. Speech Recognition is a technology which is used for controlling computers using voice commands. With Speech Recognition you can say commands that the computer will respond to, and you can also dictate text to the computer, which eliminates the requirement of typing the words in any text editor or word processing software. Speech Recognition feature, allows you to communicate with your computer. You can improve your computers ability to better understand your own voice, to improve upon the diction accuracy.  However, to improve its accuracy, you have to 'train the feature'. If you haven't found its performance satisfactory, follow the instructions given below to disable it.
Disable Speech Recognition in Windows 10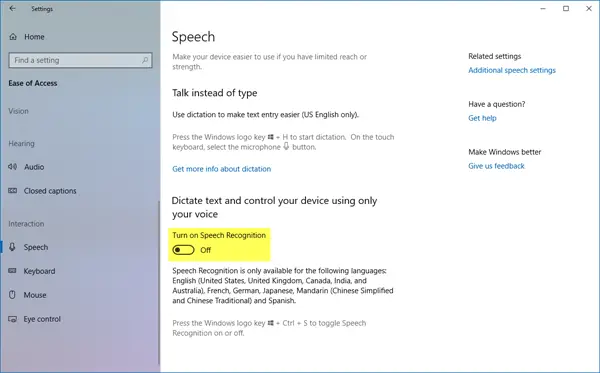 To disable Speech Recognition in Windows 10, open Settings > Ease of Access > Speech, and toggle on or off Turn on Speech Recognition to enable or disable this feature.
Disable Online Speech Recognition feature
Online Speech Recognition lets you talk to Cortana and apps that use cloud-based speech recognition.
1] Via Settings
To disable Online Speech Recognition in Windows 10:
Click on 'Start' and select 'Settings'.
Navigate to the 'Privacy' section.
Switch to 'Speech' and from the right pane slide the toggle to turn off the feature under 'Online Speech Recognition'.
Speech services exist on your device as well as in the cloud. It is because Microsoft collects essential information from these services to improve the user experience. So, to stop this, turn off the 'Getting to know you' option as well under 'Inking and typing Personalization'.
2] Via Registry Editor
Open the 'Run' dialog box by pressing Windows+R in combination. In the empty field of the dialog box type 'regedit' and hit 'Enter'.
Next, navigate to the following address-
HKEY_CURRENT_USER\Software\Microsoft\Speech_OneCore\Settings\OnlineSpeechPrivacy
Check the default value of HasAccepted in the right pane of the window.
HasAccepted = 1,  indicates the Online Speech Recognition is enabled.
To disable the feature permanently, double-click on the key and change the D-word value from 1 to 0.
Kindly bear in mind, even if you are running 64-bit Windows, as in my case, you should still create a 32-bit DWORD value.
Restart your computer again to allow the changes to take effect.
Hereafter, you should not find the Windows Speech Recognition feature enabled in Windows 10.