Google Chrome web browser is one of the popular browsers for Windows PC. However, it has always been in news because of its privacy issues. Rather than just visiting a website, you can do a lot more using the Chrome browser on your device. It might be working with tabs, saving the web page as PDF, pinning the tabs and much more can be done in Google Chrome. There might be many things that we do not know that we can do with Chrome and in this article, I will try to cover some Chrome tips and tricks for Windows users.
Best Chrome Tips and Tricks for Windows PC users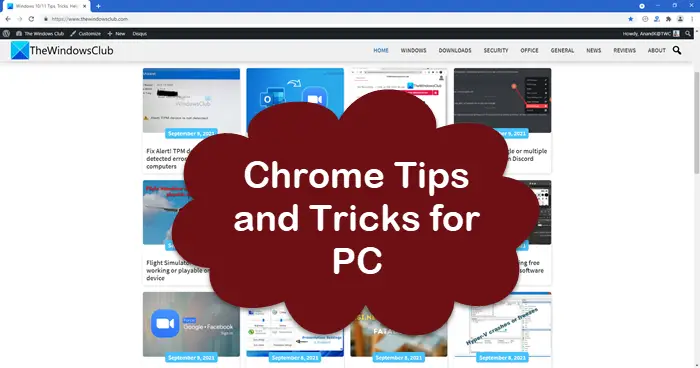 Today in this post, we will learn how we can get the best out of Google Chrome. Let's start with some basic and common tips and then move forward to the lesser-known best Chrome Tips and Tricks for PC users.
Google Chrome Incognito Mode
Open multiple pages in one go
Chrome with Guest Mode
Cast your screen with a TV
Create a shortcut on Desktop
Drag and drop media directly in Chrome
Quick Search
Auto-fill
Search your tabs
Reopen closed tab
Change Font Size
Use Chrome as a multimedia player
Using Chrome Task Manager
Use other search engines in Chrome
Chrome Keyboard Shortcuts.
1] Google Chrome Incognito Mode

If you don't want the world to know what you are browsing on the internet, use Chrome in the Incognito Mode. Chrome cannot track any of your browsing habits, your history, etc if you are using the incognito mode. Please note that the websites you visit can still track your IP address and other details.
To open Chrome in an incognito (hidden) mode, click on the three-dots appearing on the top right corner of your page and select the New incognito window from the dropdown menu.
Read: How to set a minimum width for Tabs in Google Chrome
2] Open multiple pages in one go

If you work online and need to open a certain set of pages every day to work, you can adjust the settings in Chrome and open multiple pages in one go. Furthermore, you can also continue from where you left.
Click on the three-dots on the top right corner of your page and go to Settings. Select Start Up from the left panel and then adjust the settings according to your own preferences.
Read: Windows 11 Tips and Tricks.
3] Chrome with Guest Mode

We normally keep our passwords and bookmarks saved on our computer system, in fact, Chrome syncs all our details across all our devices. But what if you have to share your PC with someone. What if someone wants to use Chrome on your PC? No one would want to share the passwords, bookmarks, and browsing history with others, right? You can make them use Chrome in Guest Mode.
To launch Chrome in guest mode, click on your profile picture on the top right corner of your browser, and select Guest from the menu. This will launch Chrome in a new Guest Mode window wherein none of your passwords, bookmarks, or history will be accessible. Also, the pages you visit in a Guest window won't leave any traces of history or cookies on your PC. It will all go as you close the Guest window.
4] Cast your screen with a TV
Do you know you can cast any of your tabs with TV in a single click? Provided you have a smart TV with a built-in Chromecast. You can easily and quickly cast your screen with your TV and watch your favorite content on TV directly. You can do it in two ways-
Right-click anywhere on your open tab and select Cast or click on the three-dot menu on the top right corner of your page and select Cast. It will instantly start sharing your screen.
5] Create a shortcut on Desktop
If you visit some apps or websites regularly on the web, you can create a quick shortcut on the Desktop. It will be placed on your desktop and you can directly open that particular app or page with a single click.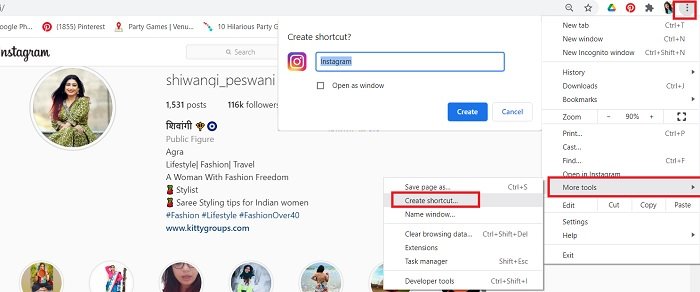 6] Drag and drop media directly in Chrome
You can open any of your images in Chrome directly with drag and drop. Simply go to your Desktop and drag and drop the image in the Chrome icon. It will instantly open the image in a new window.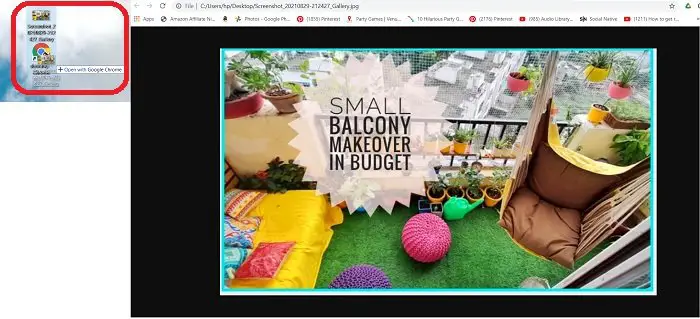 7] Quick Search
You can quickly search for any term, phrase, or even image on Google Chrome directly from a webpage. For example, you are reading an article on the web and need to check the meaning or search about it on the web, you can do that directly. Simply select the term you want to search about, right-click and select 'Search Google for" and it will open the search results in a new tab. Similarly, if you want to search about an image on any website, simply go to that image, right-click and select "Search Google for image".

8] Auto-fill

Most of the users know about it and have been using this very helpful feature of Google Chrome. With this feature, you can record and store your personal data on Chrome and the browser will then auto-fill it whenever asked for.
To save your personal information for the auto-fill option-
Go to settings  >select Autofill from the left panel > Click on Address and more and fill in your details.
9] Search your tabs
We sometimes open multiple tabs while working and get lost in them. What do you do when you need to find that one tab among many others open. You can't literally open every tab and check, neither can you remember what's open in which tab, right? Google Chrome has a fix for this so that you can quickly jump to the tab you need.
Omnibox or the Address Bar is the fix actually. When you have multiple tabs open and want to go to any particular one, simply go to the address bar in any tab and type what you are looking for. It will show you a button to directly jump on that tab, as shown in the screenshot above.
10] Reopen closed tab

For absolutely no reason, this feature is now removed from our beloved Chrome web browser. They earlier had a quick button to open the 'Recently closed tab' which was pretty helpful when we accidentally close any important tab. Well, now you can do this only via your history. To open the recently closed tab, click on the three-dots on the top right corner of your page and go to History, select Recently Closed from the context menu and there you are.
11] Change Font Size
If the small letters are difficult for you to read, you can easily change the font size in Chrome. Although you can anytime zoom in or zoom out the page by pressing Ctrl and + or Ctrl and – but increasing the font size is a better idea if you have some eyesight issues.
Go to Settings from the three-dots menu on the top right corner of your page and click on the Appearance tab from the left panel. Go to Font Size and adjust it accordingly.
12] Use Chrome as a multimedia player
Just as we can open any image in Chrome with drag and drop, we can play any video too in Chrome. You simply need to drag and drop the video to the Chrome icon placed in your desktop or taskbar and it will instantly start playing your video.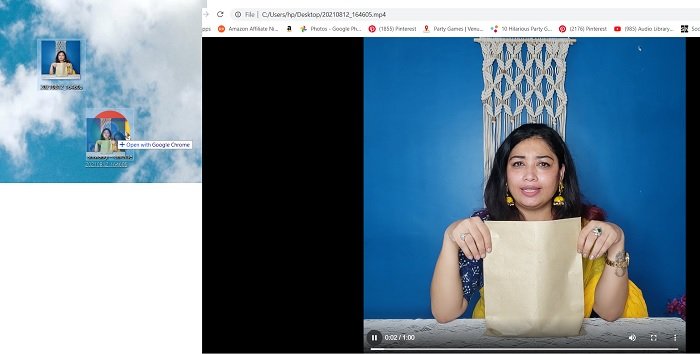 13] Task Manager
Just like our computer system, Google Chrome also has its own Task Manager wherein you can check that which program is using the maximum of your internet connection. You can also check if there are some unwanted pop-ups are open in the background and end them instantly. To open the Google Chrome task manager, press the Shift + Esc keys on your keyboard.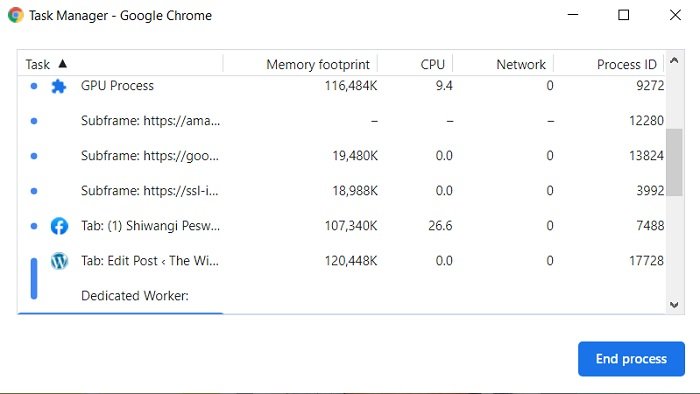 14] Use other search engines in Chrome
While Google.com is one of the best-known search engines, you can still use any search engine of your choice. You can change the search engine in Chrome via its Settings easily.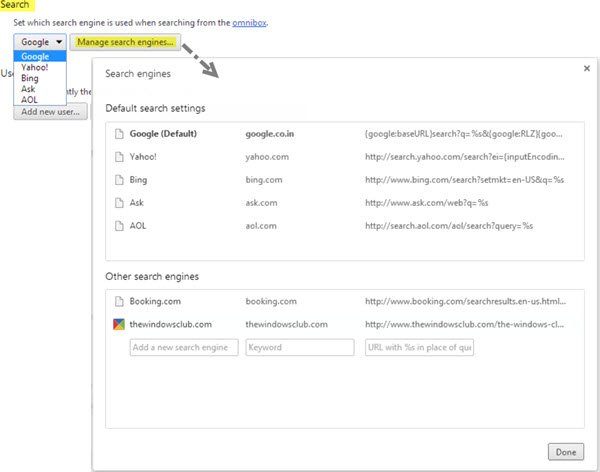 This post will show you how you can add Custom Search Engine to Chrome.
15] Chrome Keyboard Shortcuts
Other than these interesting tips and tricks, there are some really useful Chrome shortcuts too which you must know and start using them because it really helps to improve your productivity.
Ctrl+N – to open a new window
Ctrl+T – to open a new tab
Ctrl + Shift + N- to open a window in incognito mode
Ctrl+Shift+T- open recently closed tab
Ctrl + Tab or Ctrl + Page Down- go to next open tab
Ctrl-H- to open page history
Ctrl+1 if you want to open the first tab, Ctrl+2 for the second tab, and so on
Ctrl+J- open the downloads
Shift+Esc- Task manager
F5- Reload
Ctrl+F5- Hard Refresh
That's not all, there are many more and we will take a look at them too!
1. Pin Tabs in Chrome
When you have the Chrome browser with multiple tabs opened, then it would be very hard to see what websites you have opened. To get rid of this problem, right-click on a tab and select "Pin tab" and you could see that tab has been reduced to the size of the favicon. Now, do this for all the tabs opened and you could see all tabs easily and can access them quickly. To expand the tab to its original size, right-click on the tab and select "Unpin tab" again.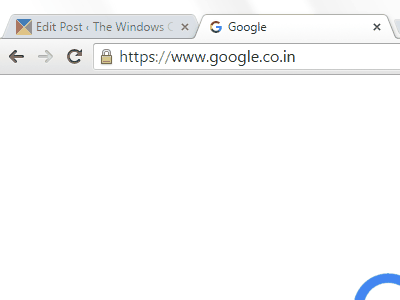 2. Bookmark a Website with Favicon
Whenever you bookmark in Chrome, it saves with the text. This would also take place on the toolbar of the Chrome browser. To save space, you can bookmark the website with its Favicon. To do so click on the star or press CTRL + D and remove the text present in Name text box and click "Finished" button. This would bookmark the website with a Favicon.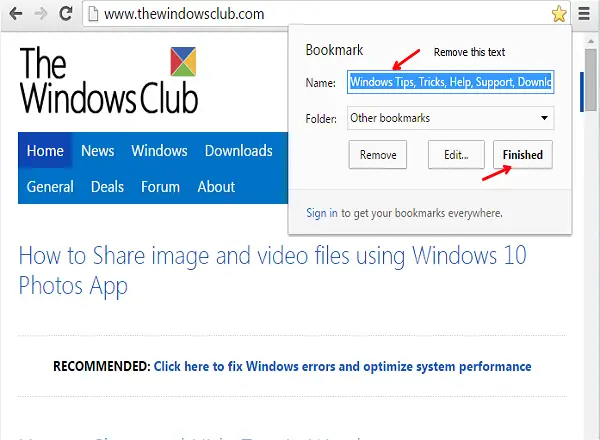 3. Remove Password from PDF Using Chrome
Say that you have the password-protected PDF file, and you want to share it with others without the password. You can use Chrome to remove the password from that PDF file. To do so, drag and drop the password-protected PDF file in the Chrome browser and enter the password to open the file. Now, press CTRL+P on the keyword, and the Print dialog box gets opened. Now, click on "Change" under "Destination".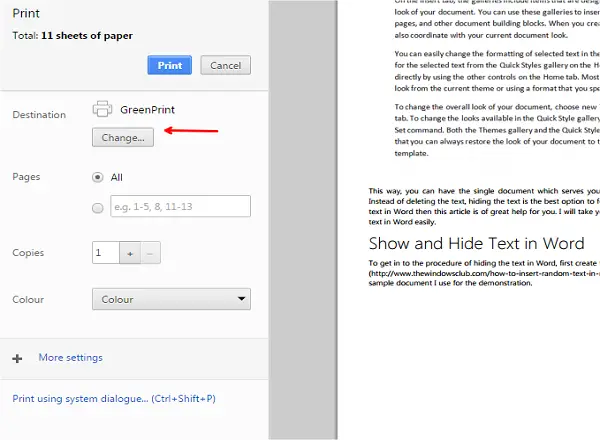 Click "Save as PDF" under "Local Destination".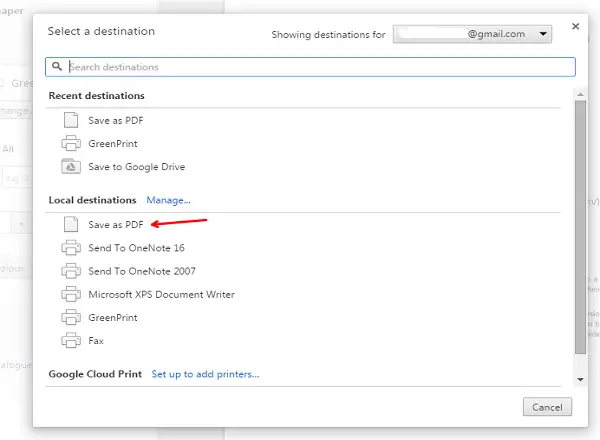 Now, you can see that the destination has been changed to "Save as PDF" and click "Save" button to save the PDF file.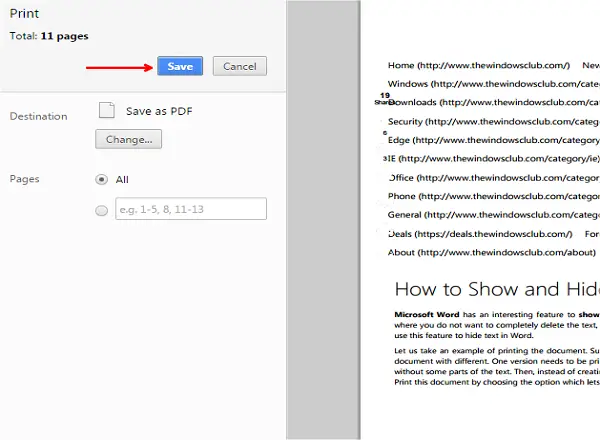 Now you can share this PDF File with others who do not require any password to open it.
TIP: How to display the full URL in Chrome always.
4. See Recently Viewed Pages in Chrome
We all know that the History page in Chrome shows us the websites which we have visited. But, for this, we need to open the history page by pressing CTRL+H. We can reduce the time of going to history page with this small trick. Without going to History Page, to view the recently opened pages just hold and press the back button of Chrome Browser. It shows you the recently viewed ten pages. Click on the one which you want to revisit.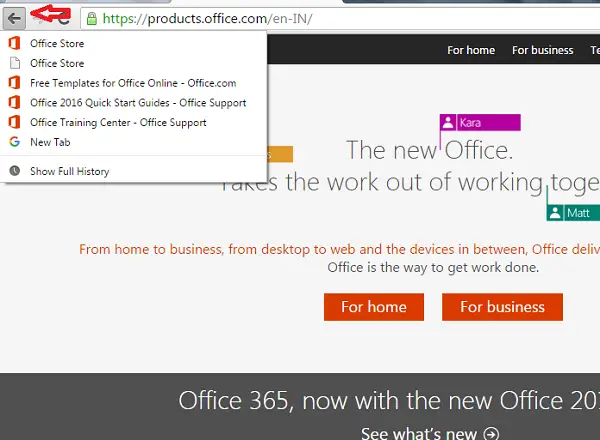 5. Search for the Selected Text with Drag and Drop
When we want to search for some text while reading an article in Chrome, we just select the text, right-click and select "Search Google for". To save time, drag and drop the text to the address bar or Omnibox of the Chrome browser. That is it. Now, your search for the selected text will be shown.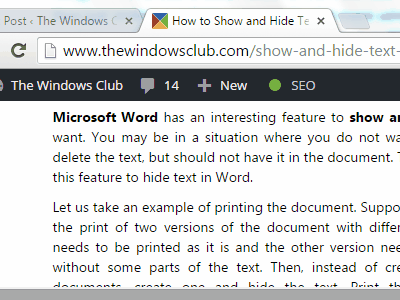 6. Carry out Calculations in Chrome Omnibox
Apart from just being the address bar, Chrome's Omnibox acts as a basic calculator. Instead of looking at Google Calculator or Wolfram Alpha, just enter the basic calculation in the Omnibox and in the auto-suggestions, you could see the result. This is really a time-saving Chrome tip. You can also perform unit conversions easily in the same way.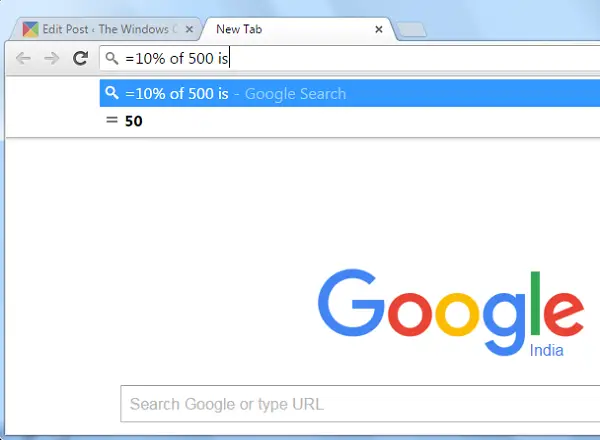 7. Save any Webpage as PDF using Chrome
If you want to save any web page as PDF, then there is no need of any extra software to be downloaded. Just open the web page in Chrome and hit CTRL+P on your keyboard to open the "Print" dialog box. Just change the print destination to "Save as PDF" as we did in Tip.3 to remove the password from the PDF file. Just hit the Save button and your required web page is saved as a PDF.
Read: How to save Images using Chrome to your PC, when right-click is disabled
8. View Cached Version of a Website using Chrome
Google Chrome creates the cached version of every web page regularly. If you are facing a problem with your internet speed and taking a lot of time to load a single web page, viewing the cached version of web page comes handy. To get so, type "cache: website" in the address bar of Chrome and hit enter. You could see the latest cached version of that particular website.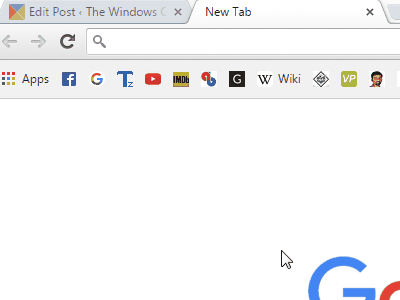 9. Enable Do Not Track option in Chrome
As we already know, Google Chrome will have the data of every website you visit, and that is the reason why you could see ads of your interest. We can enable the 'Do Not Track' option in Chrome if you do not want your data to being sent to Google. To get that done, click on the menu button on the top right corner of the toolbar and select "Settings".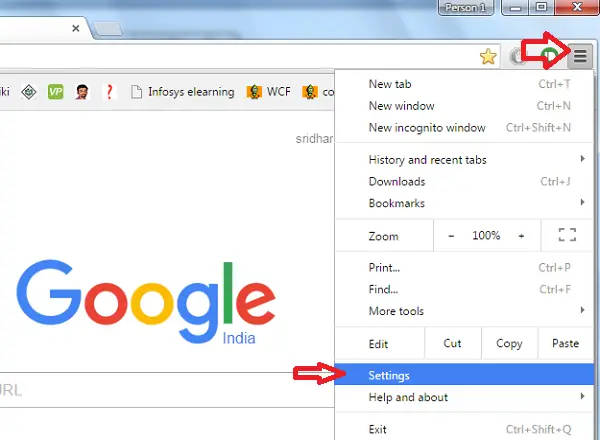 Go to the bottom of the page and click "Show advanced settings".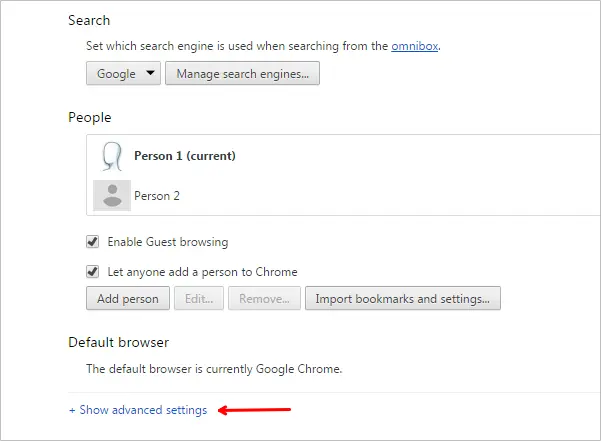 Under Privacy, check the box next to Send a 'Do Not Track' request with your browsing traffic and click "OK".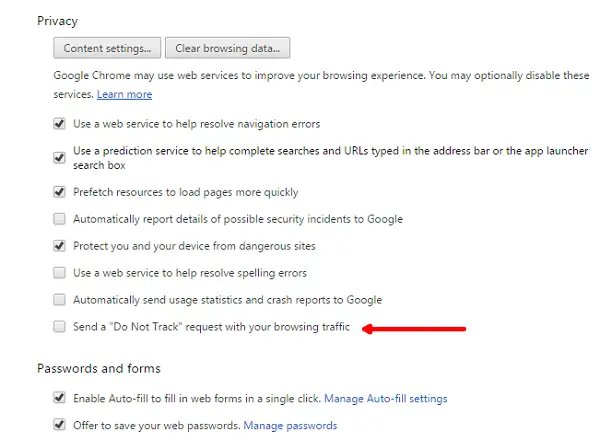 10. Take Notes in Google Chrome
Now, there is no need to install any note-taking extensions in your Google Chrome browser. Just copy and paste data:text/html,<html contenteditable> in the address bar of Chrome and hit enter. Now, you could see that the entire window under that tab is editable. Place the cursor and start typing. Is not it exciting?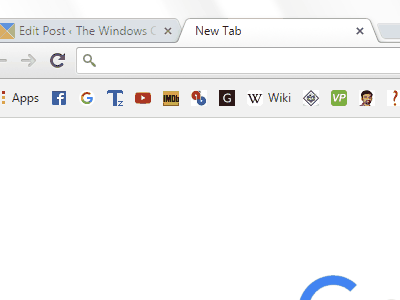 These were some cool and interesting Chrome Tips and Tricks for PC users. The list however is endless, we have tried to cover the best ones here. Do let us know via comments which one did you like the most and also if we have missed any of your favorite Chrome tricks.
If you need more, you can always use the Chrome flag settings.
These tips on using the Inspect Element of Google Chrome may also interest some of you. Want your Chrome to perform better? Speed up Google Chrome browser using these tricks!
Is Chrome good for PC?
It depends on you which web browser you like to use on your PC. Some users like Firefox, whereas, some like Microsoft Edge. Google Chrome is also a good web browser. It is developed by Google and it is the only web browser with wide extension support. Because Google developed it, you can surf the internet securely. Chrome blocks malicious websites by default. But you will not get 100% protection against online threats. You can rely on a good antivirus for n increased protection.
What does the F12 key do in Chrome?
Pressing the F12 key in Google Chrome opens the Developer Tools in Chrome. You can also open the Developer Tools in Chrome by clicking on the three vertical dots on the top right side. Now, go to "More Tools > Developer Tools." Apart from F12, Ctrl + Shift + I is another shortcut to launch the Developer Tools in Chrome.
Need more? Take a look at these posts:
If you know any more such interesting and useful Chrome tips and tricks, then please do share with us through comments.