With the recent addition of extensions and Greasemonkey scripts, Google Chrome has entered the world of fully-extensible browsers. But along with them comes the unavoidable problem of frequently crashing browsers.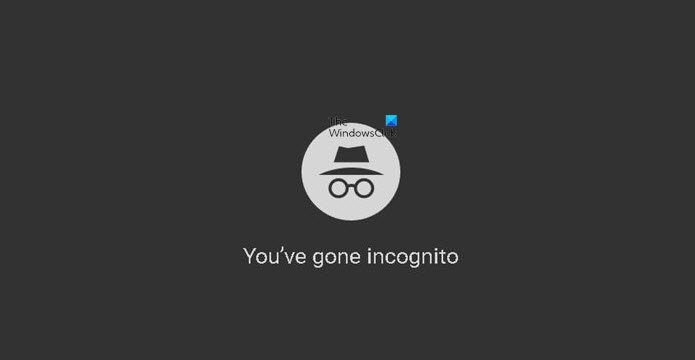 Is your Google Chrome crashing regularly or not working properly? Then probably you may need to start the browser in Safe Mode and troubleshoot the issue. The Incognito Mode is used if you want to stay private on the Internet and do not want to be tracked.
In this post, we will see how to run Google Chrome browser in Incognito Mode to stay private, and open Chrome in Safe Mode with add-ons & extensions disabled to troubleshoot problems in Windows 11/10.
Can you run Chrome in safe mode?
Yes, you can run Chrome in safe mode. To do so, you should open it in incognito mode. This will automatically disable all add-ons and extensions. Click File from the menu and choose New Incognito Window. You may also click the three dots in the top right and choose the same option.
Start Chrome in Incognito Mode
Chrome's Incognito Mode protects the users' privacy when they browse the Web. At the same time, it is very useful for troubleshooting purposes.
Pages you view in incognito tabs won't stick around in your browser's history, cookie store, or search history after you've closed all of your incognito tabs. Any files you download or bookmarks you create will be kept. However, you aren't invisible. Going incognito doesn't hide your browsing from your employer, your internet service provider, or the websites you visit.
To start Chrome in an Incognito window
Open Chrome browser and click the wrench icon in the top-right corner of the screen.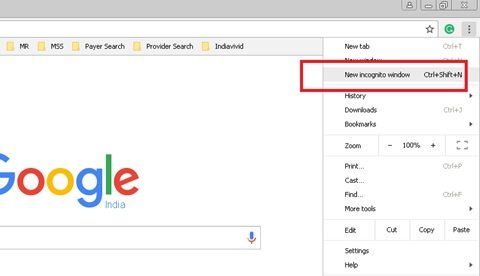 Click New Incognito Window and start browsing.
Alternatively, you can press Ctrl+Shift+N to bring up a new incognito window without entering the Chrome settings menu.
Create a shortcut for Chrome Incognito Mode
To create a desktop shortcut that opens Chrome in incognito mode, duplicate an existing Chrome shortcut, right-click on the shortcut, select "Properties" and append this flag to the target value: -incognito (don't forget to add a space to separate the flag). Now, simply double-click on the edited shortcut to enter Incognito Mode.
While browsing in an Incognito window, users can safely surf the web without the fear of having their information saved to the computer. Google Chrome doesn't keep any record of the browsed sites while using incognito windows. However, the downloaded material and bookmarks will be saved.
Read: Difference between Guest Mode & Incognito Mode in Chrome.
Run Chrome in Safe Mode with add-ons & extensions disabled

We know how to run Firefox in safe mode with add-ons disabled – but in Chrome, there is no button or switch that lets you start it in Safe Mode.
In Chrome, the Incognito Mode disables all add-ons and extension – but you can also enable or disable extensions & add-ons if you want to run Chrome in Safe Mode, manually as follows:
Click the "Menu" button in the top-right corner of the window, and then select "Tools" and "Extensions."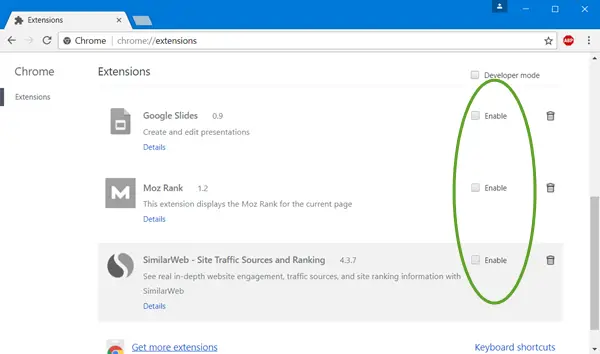 Uncheck all the Enabled checkboxes and restart the browser. This lets you start Chrome without extensions. This is useful for testing extensions if you think one is causing errors in Chrome.
If you are troubled with Chrome performance and need to troubleshoot, then activating the "Incognito Mode" is the best way to do it.
Why does my Google Chrome not have incognito?
In a few cases, the incognito mode may disappear if you have played around with the browser settings. The easiest and shortest trick is to move back to the default settings to fix this. Resetting the browser setting is the best way to do so. To always open Chrome in safe or incognito mode on your PC, create a shortcut for Chrome Incognito Mode. Open its "Properties" and append this flag to the target value: -incognito.