Not many of you may know this. Google Chrome browser includes a built-in Password Generator, which can generate complex passwords for you when you sign up for new online services. Currently, it is not enabled by default; you must enable it first to use this helpful feature.
Chrome Password Generator
For this feature to work, you must be signed in to your Google Account. If you are not, open your Chrome web browser, type chrome://settings in the address bar, and hit Enter. Here, under Settings, you will see the option to Sign in to Chrome.
Ensure that the Password box is checked. It allows Chrome to sync the passwords that you generate using Chrome.
Once you have done this, type chrome://flags in the address bar and hit Enter.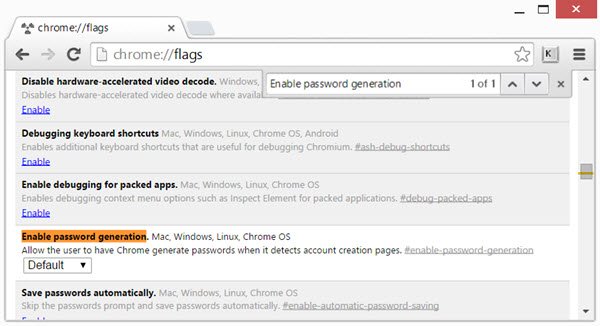 Click Ctrl+F to open the search bar and search for Enable password generation.
You will find the setting as Default. From the drop-down menu, select Enabled. Scroll down and click on the Relaunch Now button. This will enable the Chrome Password Generator.
How to generate a password in Google Chrome
Now the next time you go on to sign up for any online service when you click inside the Password box, Chrome will suggest a password.
The password will be a strong password. If you select it, it will also save and sync your password using your Google account. You do not need to save the password that is generated. It happens automatically.
Read Google Chrome tips & tricks.
This feature will work for sites with Password Managers and Autofill.
Read this post if you are looking for some good free Password Managers for Windows 11/10/8/7.
Where are my passwords stored in Chrome?
In Chrome, the browser locally stores the password and can be accessed by going to Settings Autofill > Password. Here you can search for a password, see all details, and even check for any compromised password. You can also access them online using a browser and across devices if the sync is on.
Should You Use the Chrome Password Manager?
There is no harm in using any password manager of any browser. They are secured and bring in Mac or Windows security when you try to view the password. Added to this is a notification of compromised passwords.