How often do you see the phrase 'Program not responding' in the title bar of a running program on your Chrome web browser? The message usually means that some of the programs you are running are currently frozen and might have some problems.
In such a situation, all you can do is to wait for a few minutes and check if the program starts responding again or to open Windows 11/10/8/7 Task Manager and end the program.
How to use Chrome Task Manager
Google Chrome is the first to introduce a Task Manager for browsers. Not many of us know that this browser has its own Chrome Task Manager which helps you check if a program is hogging your PC's resources. The built-in task manager of Google also lets you end the not responding program in a single click. Just a single right-click on the top-left corner of your browser, and you can launch the Google Chrome Task Manager. You can also launch the Task Manager using the shortcut (Shift+ Esc).

The Task Manager lists all the programs running on your Windows PC including the extensions and add-ons installed in your web browsers. Select the one which is consuming the system's resource the most and click on End Task. The program will be closed immediately and you re-launch it if you want.
Furthermore, the built-in Chrome Task Manager also shows other details like Image Cache, Process ID, Script cache, CSS cache, USER Handles etc for the programs running on your system. Select any program and hit the right click of your mouse, you can see the entire details in a single window.
Read:
Not everyone may know this, but the social networking websites hogs the maximum of your system's resource with the image cache, CSS cache, system memory, network usage, constant refreshing, etc.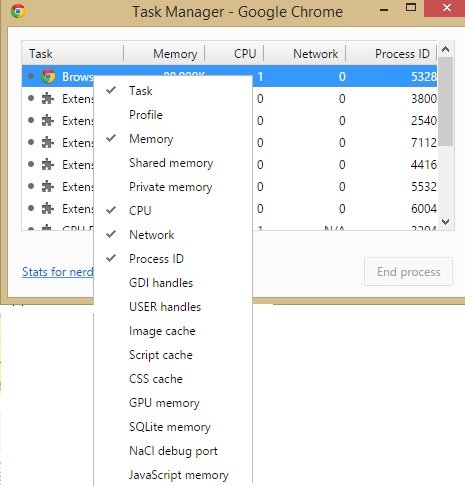 If you are a nerd, click on 'Stats for Nerds' in the lower-left corner of Task Manager and you can check the stats in depth.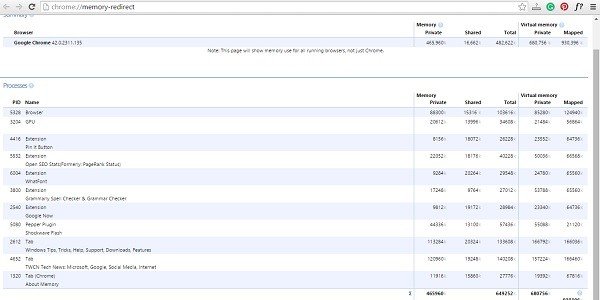 Overall the built-in Task Manager is a useful utility which helps users getting details about the programs running in their Google Chrome web browser. It helps users to check why their browser suddenly starts running slow or which program running in the background is intimidating the system's performance.
You may want to read this post if your Google Chrome is Freezing or Crashing frequently.