Do you want to know which Chrome tab is using the most memory on your Windows computer? Chrome is quite notorious for taking up a lot of system resources. In fact, if you've several tabs open in Chrome and you take a look in the Task Manager, it may show you 100% RAM, CPU, or Disk usage by Chrome.
To deal with this issue, Google is constantly rolling out new features. It has recently introduced 2 such experimental features, known as the Energy Saver mode and the Memory Saver mode, to optimize the browser for using less battery and RAM on laptops, tablets, and other battery-operated devices.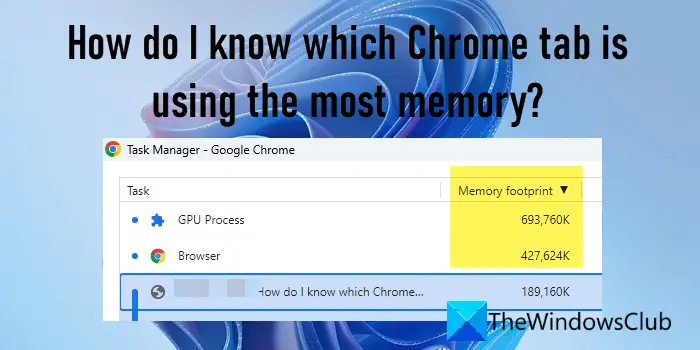 However, despite these features, it sometimes becomes important to manually close tabs to free up system resources. But the question remains – how would you know which tab is using the most memory, so that you may close those tabs and reclaim system resources? Well, this post is going to guide you on how to identify such tabs.
How do I know which Chrome tab is using the most memory?
When you install a lot of extensions in Chrome or have misconfigured browser settings, the resource usage generally goes up. Identifying the right tabs that are actually draining the memory can help you cut them off and improve system performance. Windows Task Manager is a valuable tool to know the percentage of system resources occupied by different Chrome processes. However, it only shows multiple entries of the Chrome.exe process and doesn't tell which process belongs to which tab in Google Chrome.
In this post, we will tell you how to identify tabs with high memory usage using the following 2 methods:
Using Chrome's built-in Task Manager
Using Chrome's System Diagnostic data
Let us see these in detail.
1] Use Chrome Task Manager to identify tabs with high resources usage
Google Chrome comes with its own Task Manager. It lets you know which web pages or extensions are draining your resources and allow you to close the processes associated with them. To open the Task Manager in Google Chrome, you can click on Menu > More tools > Task manager, or simply press Shift+Esc on your keyboard.
The Task Manager window that opens up will show the following information by default:
Task: This column lists all the processes that are currently running on your Chrome browser, including processes associated with GPU-accelerated content, open tabs (or webpages), extensions, and other system-level processes such as Network and Audio Service.
Memory footprint: This column tells how much RAM is used by each of the processes.
CPU: This column shows what share of CPU resources (in percent) is being consumed by individual processes.
Network: This column shows how much data is used/transferred by each process. For example, for tabs with audio or video streaming, it will show the data download rate.
Process ID: This column lists the Unique ID given to each process by your system.
Apart from this default information, you can view additional information, such as profile, CPU Time, Image Cache, CSS Cache, Process priority, etc., by right-clicking anywhere within the Task Manager window.
Now coming to the point, to know which Chrome tab is using the most memory, you can sort the list of processes by the Memory footprint column. This will bring the tab with the highest memory consumption on top. Select the row listing the tab (leave the topmost rows with system processes) and then click on the End Process button in the bottom right corner to close the tab and free up system memory.
Also Read: How to stop multiple Chrome processes from running in Task Manager.
2] Use Chrome System Diagnostic data to identify tabs with high resources usage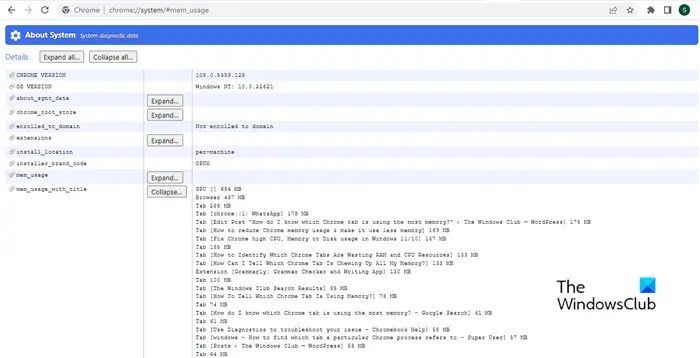 The next method involves investigating Chrome's hidden features. Google Chrome offers some hidden settings and flags that can be accessed to examine its experimental features and advanced configuration options. Apart from this, it also gives access to system diagnostic data that contains useful information about the system on which it is being used.
Open a new Chrome tab and copy-paste chrome://system/ into the address bar. Then click on the Expand button next to the mem_usage_with_title option on the left-hand side.
This will list all the open tabs in Chrome with their webpage titles and memory usage. The data is already sorted from highest to lowest, so you can see which tab is using the most memory. The data also shows memory usage by Chrome extensions and other system-related processes.
Once you find the problematic tab(s), you can manually close them to free up system resources. Apart from this, you can use these tips to reduce Chrome's resource usage.
Hope you find this useful!
Read Next: How to reduce Chrome high memory usage & make it use less RAM.