The Chromium-based version of the Microsoft Edge browser has seen some notable changes. All these changes are designed to enhance your productivity and increase the utility of the browser. There's a new 'Browser Task Manager' that has been added to Edge. Let's see what is so special about it in this post.
Browser Task Manager in Microsoft Edge
Almost all operating systems run a built-in Task Manager that lets users view & control the processes that are currently active on their system. Some web browsers like Google Chrome also feature one, to help users eliminate the troublesome processes, tabs, and extensions. Designed along the same lines, Browser Task Manager in Edge allows you to kill unwanted tasks or processes.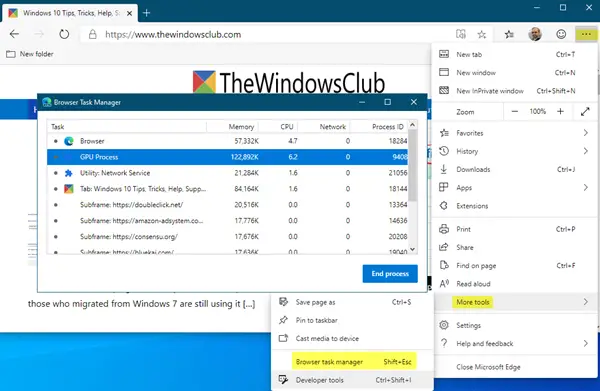 To access Browser Task Manager in Edge, all you need to do is-
Click on 'Settings & More' option
Scroll down to 'More Tools' and select 'Browser Task Manager'
Alternatively, you can use the shortcut key – Shift+Escape to launch the Browser Task Manager.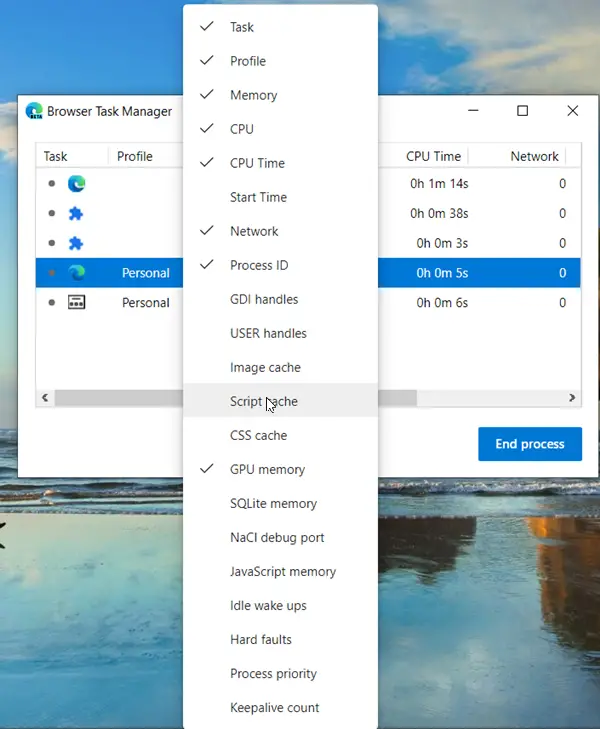 Once done, you can right-click on an entry and check its information related to one of the following events,
Task
Profile
Memory
CPU
CPU Time
Start Time
Network
Process ID
GDI Handles
User Handles
Image Cache
Script Cache
CSS Cache
GPU Memory
SQLite Memory
NaCl debug port
JavaScript memory
Idle wake ups
Hard faults
Process priority
Keepalive count.
When you try to kill a rendered engine process that populates a tab, you may get an error message in the content area informing you that the tab isn't getting any further content. This is because, the 'renderer' is already dead. Ideally, when you have ended the process, the tab should not remain open and should be gone. This may not happen.
Let us know how you like using this feature.