Google Chrome browser allows websites to send you desktop push notifications if they want to make offers, remind you of something, etc. While some may find this useful, many find it irritating. If you would like to disable or turn off these Chrome browser desktop push notifications on your Windows PC, then this post will show you how to do it.
When you visit some websites, you may see such a notification in your browser window.

If you do not want to see notifications from this site, you must select Block.
But if you clicked on Allow, then the next time you visit the site, you may see such a notification:
Now what you can do is to manage the notifications and its exceptions, or completely turn them off.
Manage or Turn off Chrome desktop push notifications
Open your Chrome browser and copy paste the following in the address bar and hit Enter to open the following setting:
chrome://settings/content/notifications
Here you can select the URL and select Allow or Block from the available options.
To go to the settings via the UI and to disable web notifications in Chrome, go to "Settings" of Chrome browser by clicking on 3 vertical dots menu button.
It shows all the available Settings. Scroll down to find Advanced settings and click on it.
Under "Privacy and Security" section click on "Content settings" button.
The "Content settings" box opens up. Scroll down till you find "Notifications". Click on it.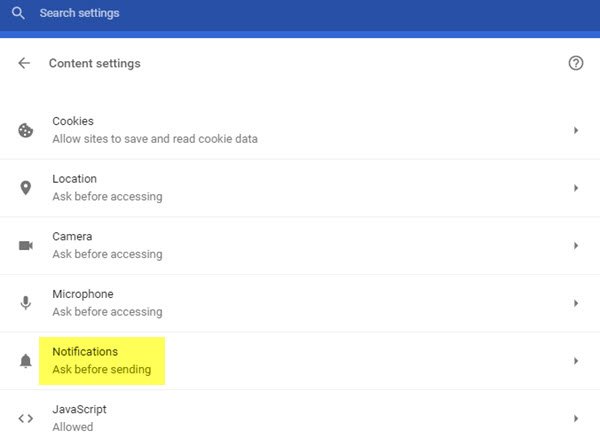 The Notifications settings will open up.You will see the default setting Ask before sending. Toggle the slider to select Blocked.
You can also manage Notifications for individual sites.
You can also manually add URLs. One done, click on the Done button and exit.
Of course, if you're browsing in Incognito Mode, you will never see these notifications, in any case.
Hope this helps.
If you are a Chrome user, you definitely want to take a look at this Chrome tips & tricks post.
This post will show you how to block web notification requests in Chrome, Firefox and Edge Browser.