With the Google Chrome version 69, Google silently added a feature wherein you automatically get signed in to Chrome browser when you log in to any of Google's services such as Gmail, YouTube, or Google Drive. Earlier it was optional and was good too. We had a choice of using our one account in the Chrome web browser and another one for the other Google services.
A lot of Google users reported this issue and thankfully, with the Chrome version 70, Google has added this option to disable Chrome auto-login. Let's learn how to do that.
How to disable auto sign-in feature in Chrome on Windows
Before we proceed with the fix, check what version of Google Chrome you are using. As mentioned above, this feature to disable Chrome auto-login was added in Chrome 70. If you are still using an old version, pls update your Google Chrome browser first.
To check what version of Chrome you are using:

Go to Google Settings > Help > About Google Chrome.

Once you have updated your Chrome browser, to disable the auto sign-in feature in the Google Chrome browser:
Click on the three dots on the top right corner of your browser
Open Google Settings.
From the left pane, click on You and Google. 
Click on Sync and Google services. 
Under Other Google Services tab, you will see, Allow Chrome sign-in feature.
Turn it Off and you are done.

Once you turn this off, you can sign in to your Gmail account and other Google services without signing in to the Chrome browser.
Related: How to sign in to Google sites without signing into Chrome.
Stop Google From automatically signing you in Android
The Chrome auto-login feature is available on Android as well. This feature, however, is to simplify our browsing but you can disable it anytime if you want. The auto sign-in in Android is basically a feature of the Smart Lock feature in Passwords. This feature saves all our passwords.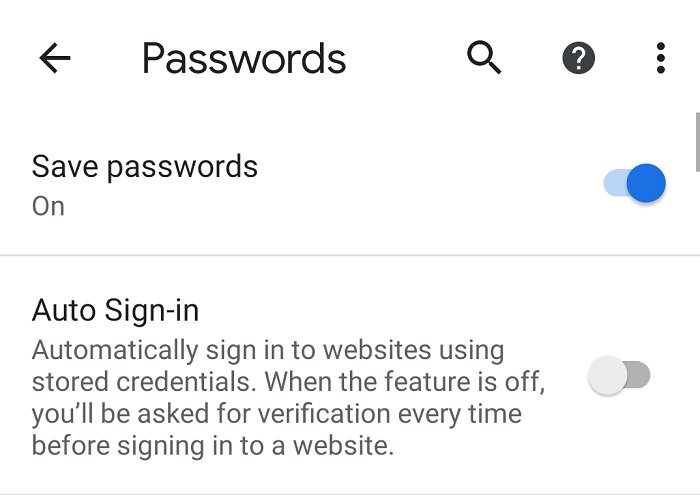 Let's see how you can Chrome auto sign-in on your Android devices.
Open Chrome on your Android device
Go to Settings.
Click on Passwords
You will see the tab Auto sign-in.
You simply have to turn it off and you are done.
Remember that after you turn off the auto sign-in feature, you will be asked for verification every time before signing in to a website.
So, if you are one of the millions of users who are annoyed by getting automatically signed in to the Chrome web browser, these steps will certainly help you out.
Read next: Disable Sign in with Google or Move to Google Account prompts in Chrome.