Many features are easy to customize on the new Microsoft Edge Chromium browser – and it follows the same standards as other browsers. One such customization is the setting up of the default Downloads folder location to download the files using the browser. Even though a minor feature, it helps if you download on a daily basis. In this guide, we will be checking out how to change the default download location for the new Microsoft Edge.
Change default Download location in Edge browser
You can change the Downloads folder vis Edge Settings as follows:
Open Edge browser >  Click the menu button (three horizontal dots)
In the drop-down menu which appears, click on the Settings menu item
It will open the Settings section of the Edge Browser
Click on the Downloads section in the left panel
Here, you have two options:
Location: It displays the current location of the download folder. There is a Change button to set the default download folder.
Ask where to save each file before downloading: You can Toggle On or Off.
Alternatively, you can directly open the Downloads settings using a shortcut. Type the below-mentioned command in the address bar of the Microsoft Edge browser, and hit the Enter key.
edge://settings/downloads
Now, if you want to choose the download location every time, toggle on the second option. But if you're going to change the default location, you can click the Change button for the first option.
This action will open a mini Explorer pop up. Navigate around and select the default location to download all the files.
Click OK, and you have set a new default location for all future downloads.
There are however other ways too, to change the download location.
Using the Downloads folder Properties
1] Open the File Explorer on your Windows 10 PC. Right-click on the Downloads in the left pane of your File Explorer, and select Properties. Go to the Location tab and enter the new path for your desired download folder.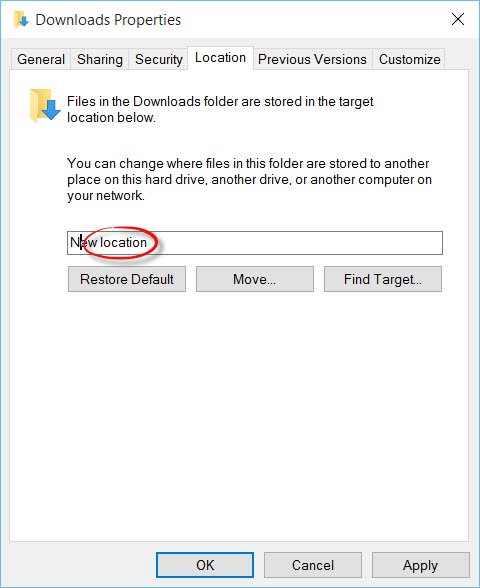 You can also move already downloaded files to the folder from here. Enter a new folder name and click on Yes to move all the files from one location to other.

Read: Enable Save As Download Prompt in Edge browser.
Using Registry
If you like to tinker with the Windows Registry, Run regedit and navigate to the following registry key:
HKEY_CURRENT_USER\Software\Microsoft\Windows\CurrentVersion\Explorer\User Shell Folders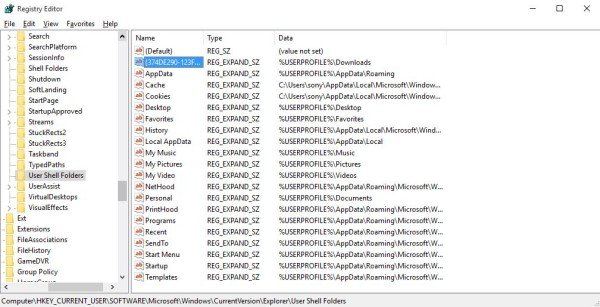 Find the key with the string %USERPROFILE%\Downloads. Double click on the string to open a small pop-up window where you can edit the string and change the default download location.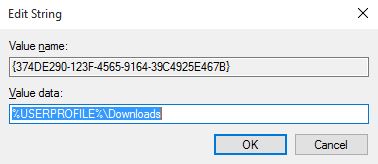 Change the Value Data and add the path of download folder according to your preferences.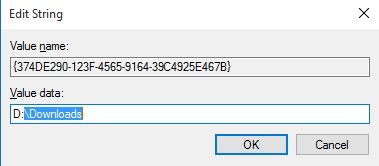 You are done! Close the Registry Editor.
Restart your PC.
I hope this guide was helpful.
See how to change download location in Chrome, Firefox & Opera.