Mozilla Firefox is one of the popular alternative browsers for Windows PC. It works great right out of the box, but you can get better results with it using some simple Firefox tips and tricks. While Firefox is good when it is about customization, features, and safety, some simple tricks can make it even faster and more efficient. In this post, we will talk about some known and some not so known tips and tricks for Firefox browser.
Firefox Tips and tricks
Here are some tips and tricks that will help you get the best out of your Mozilla Firefox browser on Windows 11/10:
Restore the Previous Version
Master Password
Share Large Files Easily
Forget Button
Switch To New Tab
Picture-in-Picture
Check if your account is affected by any data breaches
Privacy Settings
Manage Multiple Accounts
Keyboard Shortcuts
Customize Your Control Panel
Save and Organize Your Bookmarks
Open Multiple Websites
Take Screenshots
Recently opened tabs
Scroll Up/Down with Spacebar.
1. Restore Previous Session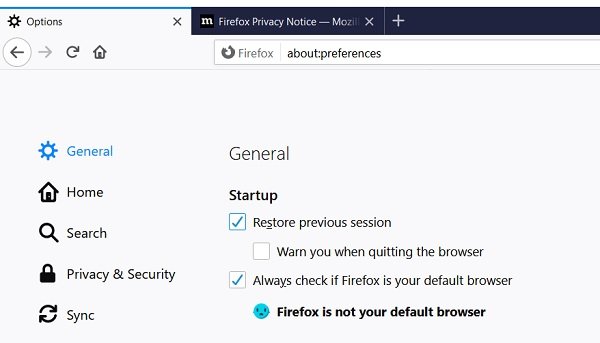 Closed the tabs by mistake? Don't worry you can get the previous session easily. Click on the three lines on the top right corner of your screen and select, Options > General and enable the Restore previous session checkbox. You can also check the box saying, 'warn you when quitting the browser' from here.
Read: How to increase Download Speed in Firefox.
2. Master Password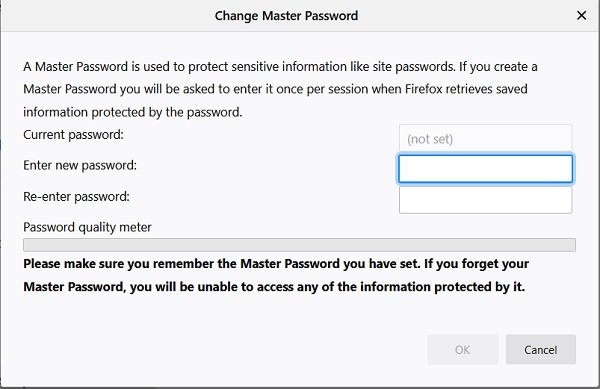 This tip is useful specifically for people using shared computers. Enabling the Master Password makes your stored passwords more secure. To create a Master Password, go to Options–>Privacy & Security. Scroll down to Logins and Passwords and check the box saying Use a Master Password. 
Alternatively, you can go directly type in about:preferences#privacy. This will open a new window where you can create your Master Password. So, to get access to the saved passwords on your PC, one needs your Master Password.
3. Share large Files Easily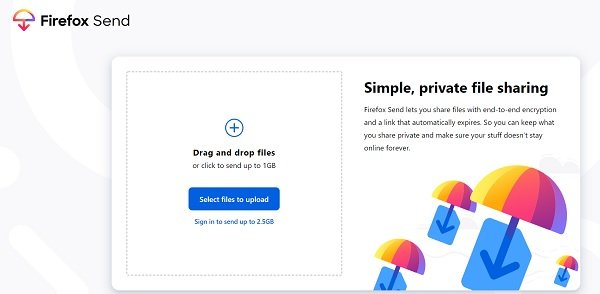 Sharing large files has always been an important concern for people who work online. Firefox Send can help you by sending the large files. It lets you send the files up to the size of 2.5 gigabytes. The files are end-to-end encrypted so you do not need to worry about security. Go to send.firefox.com  and login to your account and upload the file you want to send. The link is active for seven days and can be accessed from any device.
4. Forget Button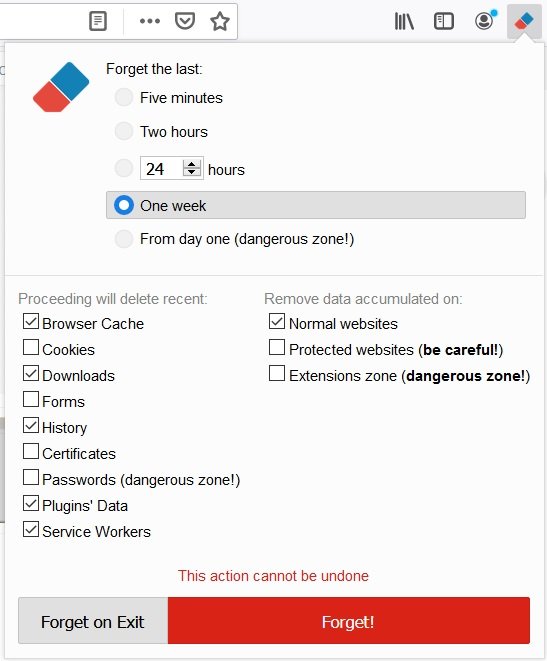 Forget Button is an extension for Firefox users which quickly erases all your browsing footprints from a specified time. You can clean all your fingerprints with just once clean. Not just the history, this add-on also wipes off the Cookies, Downloads, Certificates, Saved Passwords etc. This plugin is very useful for those who are using a shared PC.
5. Switch To New Tabs
If you are an avid computer user and often need to open a new tab quite often, this trick will be helpful for you. With a small setting, you will be switched to the newly opened tab automatically. Go to Options–> General. Scroll down to Tabs and check the box saying, "When you open a link in a new tab, switch to it immediately". Furthermore, you can also choose to show the tab previews in the Windows taskbar.
6. Picture-in-Picture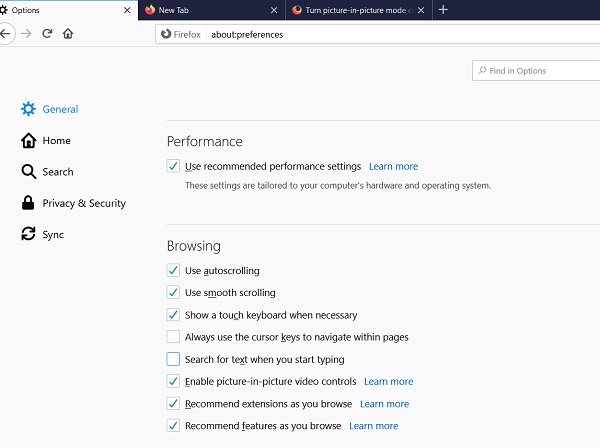 With this feature enabled in your Firefox browser, you can pop out the videos from the web and watch them in a floating window. You can now watch your favorite videos while browsing on the internet.
7. Check if your account is affected by any data breaches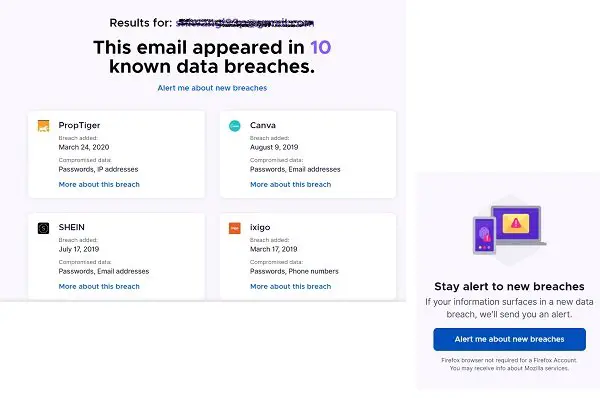 Data breaches are pretty common these days, and this feature lets you check if you are affected by any of the data breaches. Go to monitor.firefox.com and enter your email address, the program will give you the details of all the data breaches which involved your email address. You can then set an alert for your email address and the program will automatically give you an alert every time your email address is involved in any breach. You, however, need a firefox account to put the alert.
8. Privacy Settings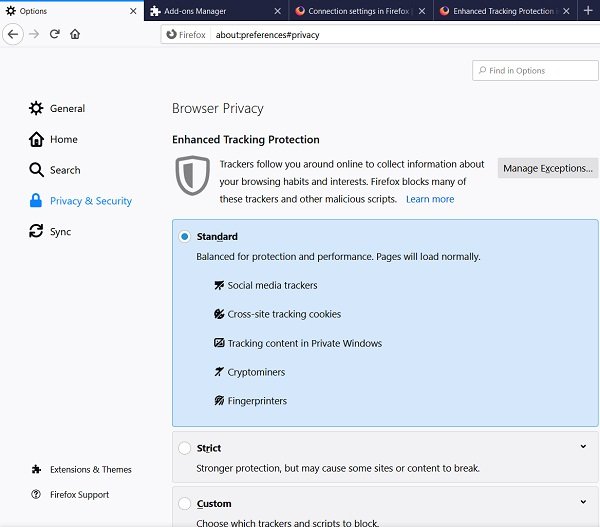 Almost every social media network tracks your browsing history but Firefox comes with some really good anti-tracking features. Go to the Options–>Privacy & Security. You can select the tracking protection to be Standard, Strict or Custom as per your own preferences.
9. Manage multiple accounts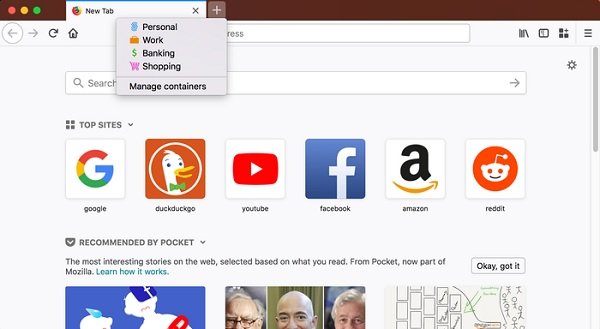 Firefox Multi-Account Containers is one of the very useful Firefox extensions. It lets you keep parts of your online life separated into color-coded tabs that preserve your privacy. Cookies are separated by container, letting you use the web with multiple accounts simultaneously. The extension lets you create a separate box for each of your online account, so you do not need to open a new browser just to check your work email!
10. Keyboard Shortcuts
Keyboard shortcuts make our work easier, you just need to get habitual to them. Here are a few keyboard shortcuts specifically for the Firefox users which you might love to use.
Ctrl+T- Open new tab
Ctrl+ W- Close tab
Ctrl+Tab- Check all tabs open
Ctrl+1-9-jump to a specific tab without using your mouse
Ctrl+F- find
CTRL+R (or) F5- Reload.
11. Customize your Control Panel
You can customize it as per your choice. Click on the Menu on the top right corner and click on Customize. You can add or remove the items just by drag and drop. There is a Themes button in the bottom which lets you change the theme of your browser screen. With the Density tab in the bottom, you can 'Enable Touch Mode' for your touch-based devices.
12. Save and Organize your Bookmarks
Firefox offers a single-click bookmarking. Just click once on the Star on your location bar and the page is bookmarked. Click twice on the Star and you can edit your settings with bookmarks. You can edit the title of your bookmark, add tags and also change the location where you want to save it. Tagging with keywords is a simple and nice way to organize your bookmarks and provides you quick access to your bookmarks. Once you add a tag, Firefox will offer it as an option whenever you save a bookmark. Once your tags are set with your bookmarks, you can visit all websites tagged with a particular keyword by just typing the tag on the location bar.
13. Open Multiple Websites in Firefox
You can open multiple websites on one go with Firefox. Go to the Menu and select Options. Under the Start Up tab, you have the option to select the Home Page, add the URLs of all websites you want to open. Relaunch the Firefox browser and you will see all those websites opening.
14. Take Quick Screenshots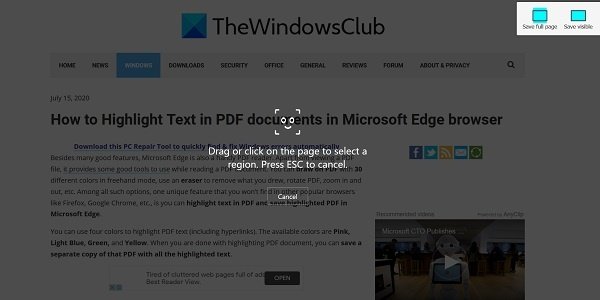 Right-click on any page on Firefox and select, Take A Screenshot. You can capture the entire page or select a specific area.
15. Recently Viewed Tabs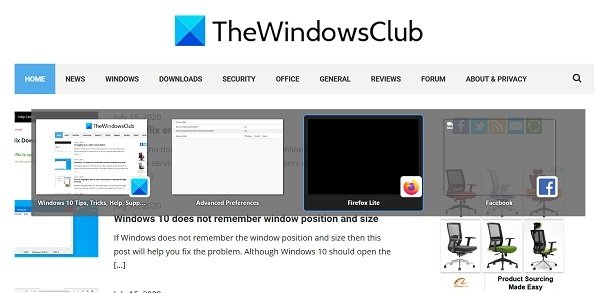 This is yet another tweak of Firefox from the about:config settings page. Go to the configuration settings of Firefox and select-
browser.ctrlTab.recentlyUsedOrder
Double click and the value will automatically toggle from False to True. Now to preview the thumbnails of recently opened tabs, click and hold Ctrl + Tab keys on your keyboard.
TIP: Use freeware ConfigFox to tweak more!
16. Scroll Up/Down With Spacebar
This is a pretty simple tweak but not everyone knows it. In Firefox, you don't need to touch your mouse to scroll down the page and enjoy the uninterrupted reading experience with the Spacebar key. The Spacebar key lets you scroll down the page and to scroll up, just press Shift +Spacebar.
These are some of the best Firefox tips and tricks for saving you time and working better. Let us know if we missed something.