While some prefer to use the default Microsoft Edge, there are many who use Chrome or Firefox browser. But apart from these, there are several other web browsers available for Windows OS, some with a specifically targeted feature set, that you may want to check out.
Best Alternative Web Browsers for Windows 11/10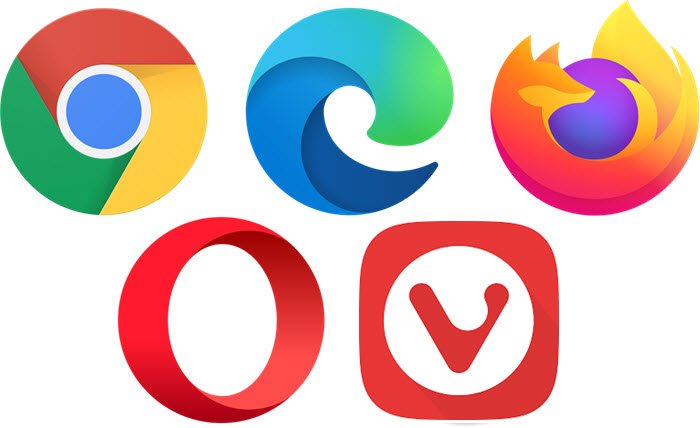 Here is the list of some of the best web browsers for Windows 10:
Microsoft Edge
Google Chrome
Mozilla Firefox
Vivaldi browser
Colibri
Iridium
Pale Moon
Etc.
We list over 50 of them here below in this post.
1] Microsoft Edge is the new default Chromium-based browser on Windows 10 systems.
2] Google Chrome – Google rethought basic assumptions about what a browser should do & stripped it down to its essentials.
3] Firefox – Mozilla Firefox has been the most successful alternative web browser. The browser traces its lineage back to Netscape.
4] Vivaldi browser – It will surely suit power users of the Internet. Not is just awesome for regular browsing, the tools that it provides will make life easier if you are using the browser for studying, researching, marking things, and more.
5] Internet Explorer – Once the default, Internet Explorer, is still popular among some businesses.
6] Waterfox is made for Windows 64-bit, based on the Mozilla Firefox code and is said to be fast.
17] Pale Moon browser is a stripped-down version of Firefox, which leaves out certain features, to focus on the speed of browsing. It has improved after each update.
8] Colibri is a minimalist Browser without Tabs for Windows PC.
9] Iridium is a Chromium-based browser with strong Privacy features.
10] Maxthon – Maxthon is an IE-based feature-rich secure Browser, which gives a great browsing experience.
11] Avant – Avant Browser's user-friendly interface brings a new level of clarity and efficiency to your browsing experience, and frequent upgrades have steadily improved its reliability.
12] Lunascape – Lunascape is the world's first and only triple engine browser.
13] RockMelt makes it easy to stay in touch with friends, search online, and get updates from your favorite websites.
14] Slim Browser – SlimBrowser is a fast-tabbed multiple-site web browser software. Also, check out feature-rich SlimBoat.
15] Sea Monkey – It is a web browser, with an advanced e-mail, newsgroup and feeds client, IRC chat, and HTML editing made simple; all your Internet needs in one application.
16] Deepnet Explorer – Deepnet Explorer is the world's first browser with RSS news reader, P2P client integration, and phishing alarm.
17] Tor is an acronym that stands for The Onion Router. While the name suggests it is a router, it is actually a browser. The Tor browser stands for anonymity and privacy on the Internet.
18] Bitty Browser at bitty.com – Bitty Browser helps you keep track of your favorite Web stuff by enabling navigable windows directly within your favorite sites — it's like Picture-in-Picture for the Web.
19] Amaya – Amaya is a Web editor/browser, i.e. a tool used to create and update documents directly on the Web. Browsing features are seamlessly integrated with the editing and remote access features in a uniform environment.
20] Midori – Midori is a lightweight web browser.
21] Browse 3D – The Browse3D web browser offers a user a visual advantage making finding and using web information more productive.  Using multiple browsing engines is made easier because each web page is represented by an image of that page, not just a generic tab.
22] Sleipnir – Sleipnir is designed to be a highly customizable browser that you can configure to suit your individual needs. With Sleipnir, you can create your ideal browser by changing the design, skin, and visual appearance. You can also add custom functionality to Sleipnir with a wide range of plugins and user scripts. It is a social, stylish, fast, and free alternative Browser for Windows. Based on HTML5 and the engine of Internet Explorer, this browser can just load any web page for you. It also supports the WebKit rendering engine.
23] Browzar is a shell browser for Internet Explorer which lets you browse anonymously without leaving any trace. Being based on Internet Explorer makes it that much more secure. It also offers a Private Search too, but you are free to set any alternative search engine of your choice. It does not support ActiveX downloading and auto-complete too.
24] Jumpto Browser offers parental controls and is good only for preschool kids.
25] Comodo Dragon Internet Browser is based on Chromium technology and offers most of Chrome's features, but with an additional level of security and privacy.
26] Comodo IceDragon Browser is a new secure browser designed and built on the core features of the Mozilla Firefox browser.
27] SRWare Iron Browser, or simply called Iron, is a browser, based on the Chromium source, offering the same features as Chrome – but without compromising on Privacy.
28] CoolNovo, based on Chromium, is a fast and lightweight browser just like Google Chrome, but with some useful extras. The browser uses a lesser amount of system resources than Chrome.
29] Firefox Light is a slimmed-down version of Firefox.
30]  Opera – Opera's newest Web browser introduces a new technology platform, Opera Unite, allowing you to stream music or share files, photos, and more, right from the browser. Take a look at ou0]  Open Neon browser review too.
31] Epic Privacy Browser. The main features of Epic are – Maximum Security, Malicious Website Warnings, Anti-Publishing Protection, Fast Browsing, and Downloads.
32] Citrio is a fast Web Browser with an intelligent Download Manager.
33] UltraSurf is a Proxy-based Privacy Tool for Risk Blogging & Anonymous Reporting.
34] PirateBrowser is a browser base on Firefox bundled with the anonymity tool Tor and is designed to help you browse all the blocked websites.
35] Slimjet is a powerful browser for Windows, Powered by Bling Engine.
36] Coowon is a Chrome-based browser for Online Gamers.
37] Baidu Spark is a free, lightweight, and Chromium-based alternative browser, that comes with amazing features, like built-in media downloader, etc.
38] ShenzBrowser – This is a customized browser for individual use. It is simple yet functional. JonDoFox Browser – Try it for private & secure browsing.
39] xb Browser for Anonymous Browsing – The main advantage compared to other anonymous web browsers is that xB Browser requires no configuration or technical knowledge in order to achieve anonymity. xB Browser is open-source, so you can feel safe knowing what goes into our code. Additionally, it is even portable on a USB stick so you can take it to work, school, or on vacation.
40] Cyberfox is an x64 bit web browser that is compiled with Microsoft Visual Studio, Windows SDK & Intel Composer XE 2013, and based on the Firefox code. Development on it has stopped.
41] PhaseOut.net – PhaseOut adds functionality to your current Internet Explorer version. Once you install PhaseOut, your version of Internet Explorer and its settings are not modified or touched.
42] Smart Bro – Smart Bro is a tabbed browser, similar to Internet Explorer, but with many new features, introduced to help you browse the Internet in an easier and more exciting way.
43] WebLock for Kids is a browser; parents can use to avoid their child's exposure to the dangerous side of the Internet. It can customize your child's homepage with included artwork, defined colors or images and apply browsing restrictions at the same time.
44] CrazyBrowser.com – It is an easy-to-use fast browser.
45] QupZilla is a lightweight, open-source web for desktop computers. It is based on the WebKit core and Qt Framework. WebKit is a layout engine software designed specifically to allow web browsers to render web pages.
46] Prism – There are two ways to use Prism; as a Firefox extension or a standalone application. Either way, you can easily turn any website into a Prism application.
47] K-Meleon – K-Meleon is an extremely fast, customizable, lightweight web browser based on the Gecko layout engine.
48] Flock – Flock is a social browser that integrates with web services for blogging, photo sharing, and bookmark sharing. Update: 13th April 2011. Flock has decided to shut down.
49] Kid Rocket – A Kids Web Browser with an Internet Filter, PC Desktop Protection & more.
50] Safari – Safari is an open invitation to innovate & claims to continuously redefine the browser, providing the most enjoyable way to experience the Internet. Update: Safari is no longer supported on Windows. Hence we can no longer recommend it.
Not all may run on Windows 11/10/8/7,  so do check the requirements.
This post will interest you if you are looking for Text-only Browsers for slow internet.
Can you use other browsers on Windows 11?
Yes, you can use other browsers on Windows 11. Chrome, Edge, and Firefox are some popular web browsers. Microsoft Edge is a built-in browser in Windows 11/10 computers. It has pretty good and unique features as compared to other browsers. While installing a web browser on your computer, make sure that you download it from the official website. Downloading software from an untrusted website can compromise your data.
Does Windows 11 force you to use Edge?
No, Microsoft does not force its users to use Edge on Windows 11. Edge is a Microsoft product. Therefore, it comes pre-installed in WIndows 11. Users are free to install and use other browsers on Windows 11. Microsft also allows users to change the default browser.
If you have any more to add or if feel any of them have been wrongly classified here, please do share in the comments below.
Read next: