In this post, we will talk about the best browsers for downloading large files on Windows 11/10. While there are so many best free web browsers out there for streaming videos, working with emails, and a lot of other stuff, when it comes to handling big files while downloading them to the system, not all browsers are as effective as they should. So, if you are wondering which browser should be used to download large files with a good speed and optimal performance, then the list covered here can be helpful.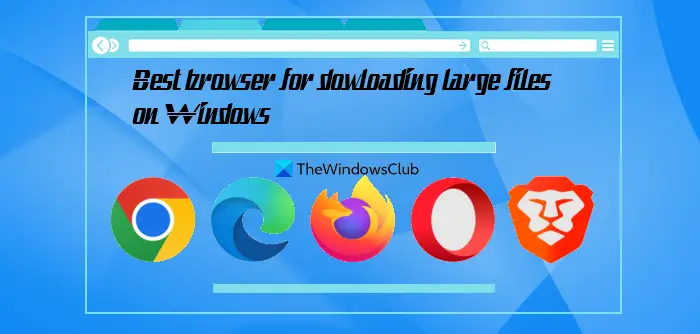 Apart from selecting a good browser, support for options like parallel downloading that downloads a single file in separate parts by establishing multiple connections, closing background processes, disabling unwanted extensions, etc., can also help download large files easily in a browser.
Best browser for downloading large files on Windows 11/10
Here is a list of best browsers for downloading large files on a Windows 11/10 computer:
Microsoft Edge
Opera
Mozilla Firefox
Google Chrome
Brave Browser.
1] Microsoft Edge
Microsoft Edge has improved a lot since it moved to become the Chromium-based browser. This built-in browser of Windows 11/10 OS has features like SmartScreen (to protect from malicious sites), Kids Mode, tracking prevention, Immersive Reader, Dolby Vision, and Dolby Audio support, vertical tabs, a built-in image editor, and much more that makes it a useful and interesting web browser.
The browser is also well optimized for better performance and a faster browsing experience. Thus, handling large files to download won't be a trouble for you using the Edge browser. Apart from that, you can even speed up downloads in Microsoft Edge to download large files faster than regular and make the download process as good as expected.
You can further use some free download accelerator or download manager add-on (if needed) available for Microsoft Edge that can boost the download speed.
2] Opera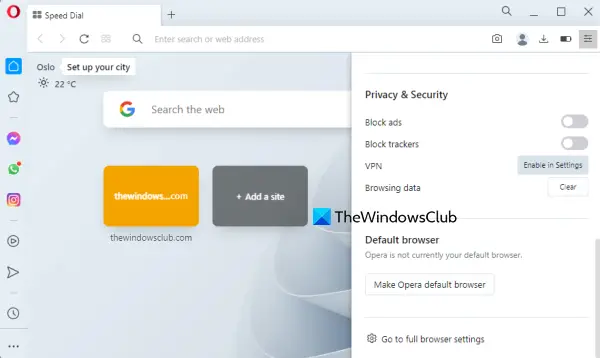 Opera browser is another option that you can consider for downloading large files. It has millions of active users on desktop and mobile. Built-in VPN, tracker blocker, workspaces, snapshot tool, battery saver, etc., are some of its key features.
It used to have a Turbo Mode feature that, once enabled, can boost the browsing speed, but that feature was removed a long time back. The browser has improved a lot since then, and downloading big files should not be an issue.
You can also enable the Parallel downloading feature of Opera and use a Turbo Download Manager add-on with multithreading support to further increase the download speed.
3] Mozilla Firefox
Firefox is a more secure browser and faster than many other traditional browsers out there. Its privacy protection features are also pretty good. It comes with Enhanced Tracking Protection (ETP) to block social trackers, ad trackers, crypto miners, and other third-party tracking cookies.
Autoplay blocking, built-in screenshot capture, fingerprint blocking, breached website alerts, toolbar customization, etc., are some of its handy features. Downloading large files with sizes in GBs with default settings can also be done without difficulty. As per my personal experience, I never had any trouble with it.
The download experience can also be enhanced with some simple tricks. It doesn't come with a parallel downloading setting, but you can enable some network-related settings on the Advanced Preferences page of Firefox, use some free download manager add-on, remove unnecessary add-ons, etc., to increase download speed in Firefox.
4] Google Chrome
Google Chrome is definitely a good browser for downloading large files. It is the all-time favorite browser with more than 60% market share and endless features. Working with multiple tabs for social media, video streaming, and fulfilling other browsing needs can be done with a smooth experience.
It is a memory hog, though, which concerns the users if that would be a good option for handling large files, there are some simple options (like hardware acceleration, disabling site isolation, etc.) that can be very helpful to reduce Chrome memory usage and make it consume less memory. So, this may also solve your problem of not choosing this browser for downloading huge files.
Apart from that, you can increase the download speed in Chrome by enabling parallel downloading, closing unnecessary tabs, etc., to further enhance the downloading experience.
Related: How to fix File Download Errors on Google Chrome browser.
5] Brave Browser
Brave browser is open-source and based on Chromium. It is a privacy-focused browser and one of the best free privacy browsers for Windows with more than 50 million active users. You can also use it in the private window with Tor connectivity that hides your IP address from ISP and websites which is a pretty good and unique feature.
Its user interface is also good (pretty much similar to other Chromium-based browsers) and other features include blocking ads and trackers, Brave Rewards, faster page load, etc. Based on their tests, it is 3 times faster than Google Chrome. And, downloading large files on Brave could also be a good experience. With the default settings, you might not feel much difference, but if you enable its parallel downloading feature, then you may increase the download speed.
In addition to that, you can also install some download manager extensions to speed up the download process. Though it doesn't come with its own store to get the extensions, you can install extensions from Chrome Web Store and any other extension compatible with a Chromium browser.
I hope this helps.
Which is the fastest browser for downloading files?
Choosing an individual browser as the fastest browser for downloading files is way more difficult because a browser alone is not the only factor that can help you download files faster. Ultimately, it also depends a lot on your network speed and other factors that can affect the download speed and browser performance. Still, browsers also play a good role in downloading files especially when it comes to downloading large files. Keeping that in mind, we have created a list in this post that includes such browsers. Check this list and see which one is good for you.
How can I download large files faster on my computer?
If you want to download large files faster on your Windows 11/10 computer, then you should use some good free download manager software that can help you download and manage large files, pause and resume the download process, boost download, etc. Along with that, you must use a browser that can handle large files without hanging or creating any trouble while working on other tabs and desktop applications.
Read next: Cannot download a file from the Internet? Do this!