Ever since Microsoft has released Microsoft Edge, it has been one of the best browsers in every aspect. It is also a Chromium-based web browser, that is well-known for its speeds. However. some users are experiencing a slow download speed on Edge. We have a few fixes for the issue, in this guide.
Fix Microsoft Edge download speed is slow
If your download speed is slow, then these tips will help you speed up download speeds in the Microsoft Edge browser on Windows 11/10.
Make sure your internet is working fine
Turn off Background processes that use the internet
Turn off Extensions
Enable Parallel Downloading flag
Reset Microsoft Edge
Let's get into the details of each method.
1] Make sure your internet is working fine
Before going into Edge, you need to make sure your internet connection is working fine at its regular speed. You need to run speed tests and find if it is working fine. If the internet connection is not working fine, you need to fix the internet problems to get full download speeds.
2] Turn off Background processes that use the internet
Another way to fix the issue is to end processes that use a lot of bandwidth in the background. They may also cause the issue. You need to open the Task Manager on your PC and end those processes which seem to be consuming the internet.
3] Turn off Extensions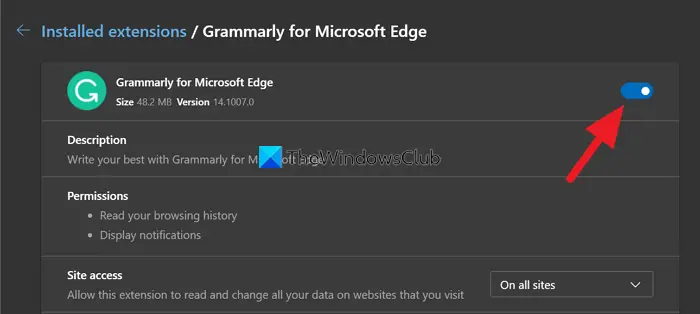 The extensions you install on your Microsoft Edge browser might also be the cause of slow download speeds. Check the installed extensions. Disable all the extensions that are installed on Edge and try downloading. It might fix the issue. Then enable each, one after the other to find out which extension is causing slow download speeds and remove that extension.
To disable browser extensions, click on the Extensions icon on the toolbar and click on Manage extensions. It will take you to the extensions page where you can see all the extensions.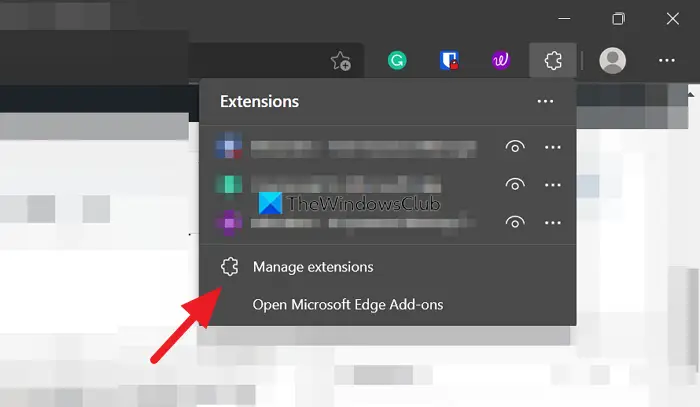 Toggle the button beside each extension to disable them.
4] Enable Parallel Downloading flag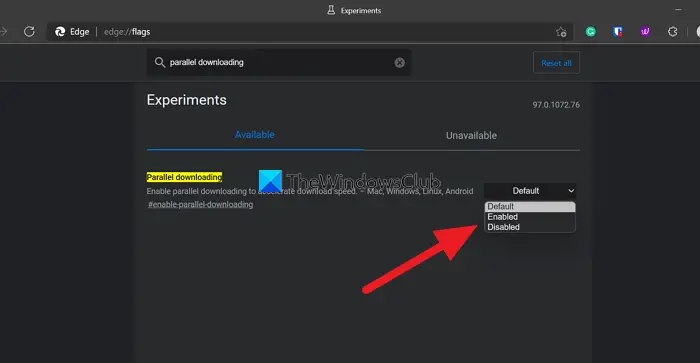 You can enable the Parallel downloading flag in Edge Flags to accelerate you download speeds on Edge.
To access flags, type edge://flags/ in the Edge address bar and search for Parallel downloading. Then, click on the drop-down menu beside it and select Enabled. Then, restart your browser to enable the changes.
5] Reset Microsoft Edge
If none of the above methods help you fix the issue, you need to reset Microsoft Edge to revert the browser back to factory settings. To reset Microsoft Edge,
Click on the three-dot button on the toolbar
Click on Settings
Select Reset Settings on the left side panel
Click on Restore settings to their default values
These are the different ways you can employ to fix the slow download speeds on Microsoft Edge.
Related: How to speed up Edge and make it load faster.
How can I speed up downloads on Microsoft Edge?
The slow download speeds on Edge can be fixed easily with the above methods. You can disable extensions, enable Parallel downloading flag, clear cache, cookies, and reset Microsoft Edge, etc.
Read: Microsoft Edge Browser Tips and Tricks for Windows.
Why is my Microsoft Edge so slow?
Over time, the cache and cookies of different sites that get stored every time you use Edge to visit websites pile up and can make Edge browser slow. You need to clear the browsing history and cache from time to time.