Microsoft Edge has come with a built-in image editor tool that lets you edit an image before downloading it to your Windows 11/10 computer. This tool is better than many basic image editor tools available over the internet. It lets you crop, rotate, flip an image, set light and color, set the zoom level to edit an image comfortably, enhance the image with different filters, and annotate it with a pen and a highlighter.
Using built-in Image Editor Tool of Microsoft Edge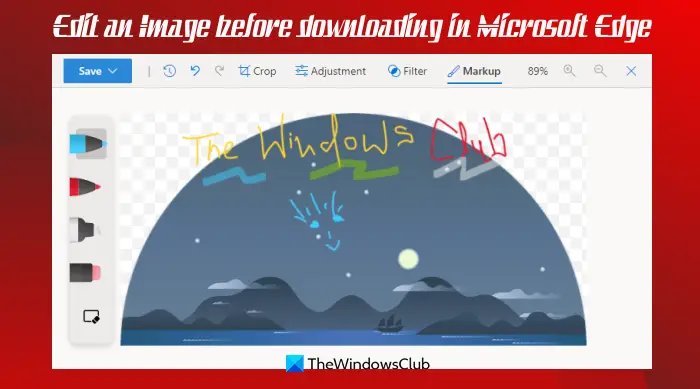 If you find some image on a webpage that you want to edit with such options before saving it, then this built-in feature of Edge browser can be a good option to try. There are many useful features like Math Solver, highlight text in PDF documents, etc., that are already present in the Edge browser, now this image editor tool makes it more helpful.
How to Edit an Image before downloading in Microsoft Edge
Before you proceed, update Microsoft Edge so that you can get this feature. If you haven't received it yet, you will get it later. It is currently available in Beta versions but should be rolled out soon to the Stable versions.
Now, to edit an image, you need to right-click on that image and use the Edit image option. Once it is done, the image editor window will pop up.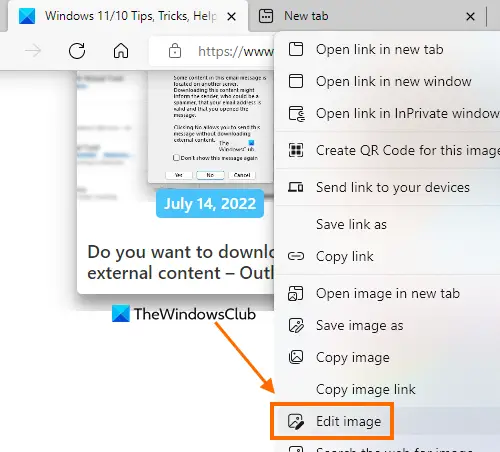 This window has four main sections that include all the important features of Microsoft Edge's image editor tool. Let's check all these sections one by one.
Crop images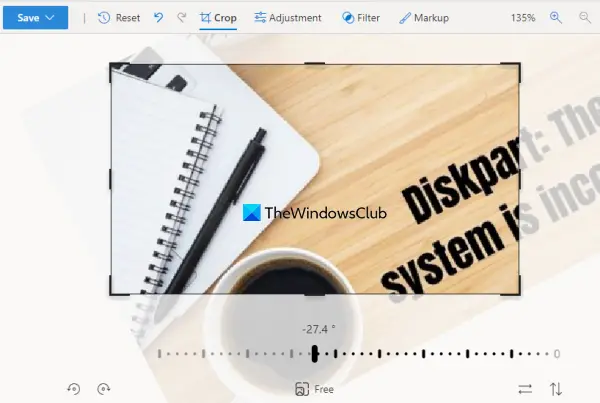 This section lets you crop the image in free-hand crop mode with desired angle (between -45 degree angle to 45-degree angle) which is one of its best options. And, if you don't want to use the free-hand crop mode, then you can also switch to aspect ratios mode where you can select any of the available aspect ratios (9:16, Square, 5:4, 3:2, 16:9, 3:4, etc.) to crop the image.
In addition to cropping the input image, this section is also helpful to rotate the image 90 degrees clockwise and counterclockwise and flip the image horizontally and vertically.
Image Adjustments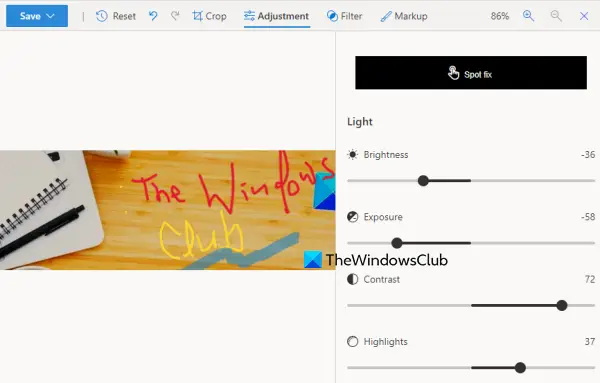 This section is handy when you want to adjust lightning and coloring for the image. There are options and sliders available for each option to make the adjustments to the image. You can adjust shadows, highlights, brightness, contrast, exposure, saturation, tint, warmth, etc., for the image. The changes are visible in real-time which gives a pretty good idea about the output image.
Related: Microsoft Edge browser Tips and Tricks
Add Filter to images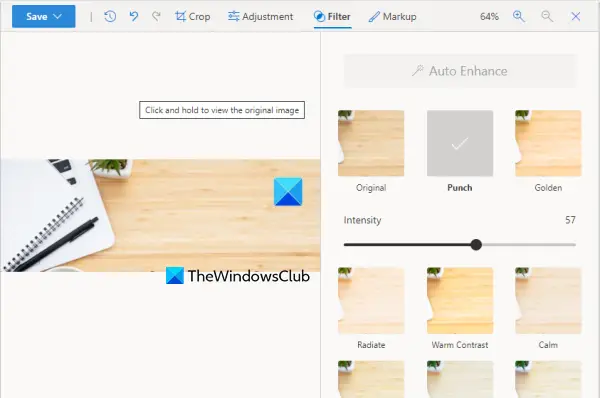 As the name suggests, this section contains different types of filters that you can apply to the image. For a selected filter, you can set the intensity level (from 0 to 100) by moving the slider available for that filter. You can also click and hold on the image to view the original image to check the difference between the input and filtered image.
An Auto Enhance feature is also present in this section but it didn't work for me. It remains greyed out. Maybe this feature is yet to come.
Markup or annonate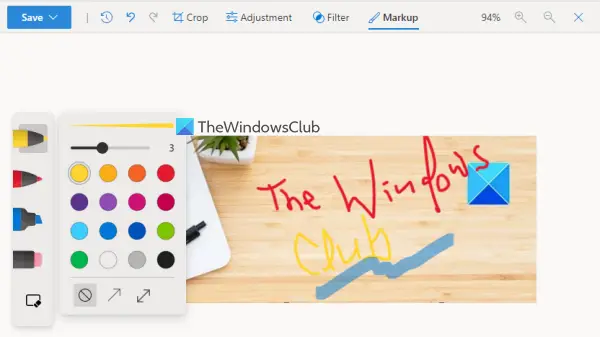 This is an interesting section where you can do the annotation work to the image. Here, you can use a pen tool with more than 15 colors for annotation, a pen with a single arrow or two arrows, a highlighter tool, and an eraser tool to remove ink strokes. All these options/tools are present in the left section of the image editor. For pen and highlighter, you can also set the thickness level and change color whenever you needed.
Use all the sections of this tool and perform the editing. You can also undo or redo your steps, zoom in and out the image, and reset the image to begin editing from the scratch anytime you want. All such options are present in the top part of its image editor.
When you are done with the editing, you can use the Save button available in the top left corner to download the image as a PNG file or save it to the clipboard.
This image editor tool works well but sometimes it got stuck and showed a blank window for the image editor while testing this feature. But overall, it is a nice addition to the list of features present in Microsoft Edge and it may also improve and support other features (like text tool, resize option, more output image formats, etc.) in the future with new updates.
Hope this helps.
How do I edit photos in Microsoft Edge?
If you want to edit an image of a webpage, then you can use the native image editor feature of the Microsoft Edge browser. Right-click on an image and use the Edit image option to start the editing. You will be able to crop, rotate, flip the image, add effects, use a highlighter, etc., and then download the edited image. This post above covers all options and details for editing photos/images using Microsoft Edge.
How do I change download settings in Edge?
To change the download settings in the Edge browser, open Settings of Microsoft Edge and access the Downloads section present on the left sidebar. Once you have accessed it, you can adjust download settings such as changing the download folder, using the toggle to automatically open Office files in the Edge browser instead of downloading, and more.
Read next: How to use Microsoft Edge Drop to Share files.