Did you know that you don't have to read messages in Microsoft Word or Microsoft  Edge by using your eyes? You can let a Microsoft feature called Immersive Reader read these messages aloud to you. The Immersive Reader helps with reading fluency and comprehension for people irrespective of their age or ability.
Can I use Immersive Reader in Word?
Yes, you can use Immersive reader in Word, especially if your eyes are tired of looking at the computer screen.
The Immersive Reader in Word has several tools, namely: Column Width, Page color, Line focus, Text spacing, Syllables and Read Aloud.
Follow the steps below to use Immersive Reader in Word and Edge.
How to use the Immersive Reader in Microsoft Word
Launch a Word document.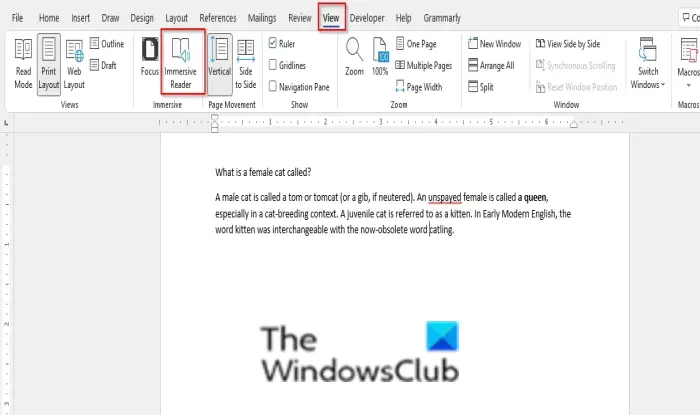 Click View.
In the Immersive group, click Immersive Reader.
An Immersive Reader tab will pop up.
Click Read Aloud to read text out loud and highlights each word as it reads.
There are other tools available, namely:
Column Width: Changes the line length to improve focus and comprehension; it consists of Narrow, Very narrow, Moderate, and Wild.
Page color: Can make text easy to scan with less eye strain.
Line focus: Moves distractions so that you can move through a document line by line. Adjust the focus to put one, three, or five lines in view at a time; it consists of One line, Three lines, and Five lines.
Text spacing: increases the spacing between words, characters, and lines.
Syllables: Shows breaks between syllables to improve word recognition and pronunciation.
To close Immersive Reader, click the Close Immersive Reader button.
Does Microsoft Edge have Immersive Reader?
Yes, Immersive Reader is available in Microsoft Edge. Immersive Reader in Edge simplifies the layout of text and images and provides amazing tools, such as Read aloud, Text preference, Gammer tools, and more. You can also use the inline dictionary to look up definitions and translate the text into different languages.
How to use Immersive Reader in Microsoft Edge
Follow the steps below to use Immersive Reader in Edge.
Launch Edge.
Then go to a website you want to read.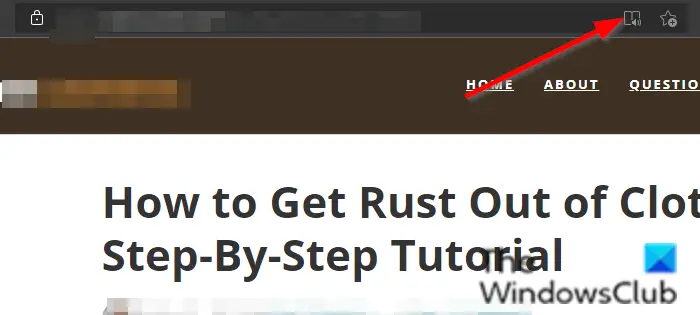 Select Immersive Reader in the Address bar or use the keyboard shortcut F9.
An Immersive Reader interface will open along with the webpage.
To allow Edge to read the webpage out loud, click Read Aloud.
You will see highlights on the text while it is reading.
A ribbon will appear after you click the Read aloud option, which contains a Play, Read the previous paragraph and Read next paragraph button.
There is also a Voice options button, where you can increase the Speed and Choose a voice in various languages.
Click the close button to close read aloud.
There are other features available in Immersive Reader Edge, namely: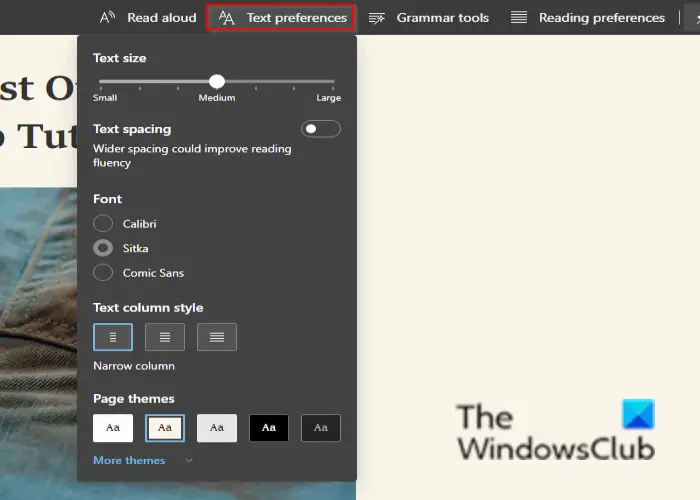 Text Preferences: You can choose a range of text and color options to enhance your reading experience using:
Text size:  Under the label Text size, move the slider right to make the text larger; move it left to make it smaller.
Font: you can change the style of the text; it consists of the fonts Calibri, Sitka, and Comic Sans.
Text Spacing: Turn on Text spacing to increase the spacing between the lines of text.
Page themes: Choose a page theme to reduce visual distraction. Click more themes to view more themes available.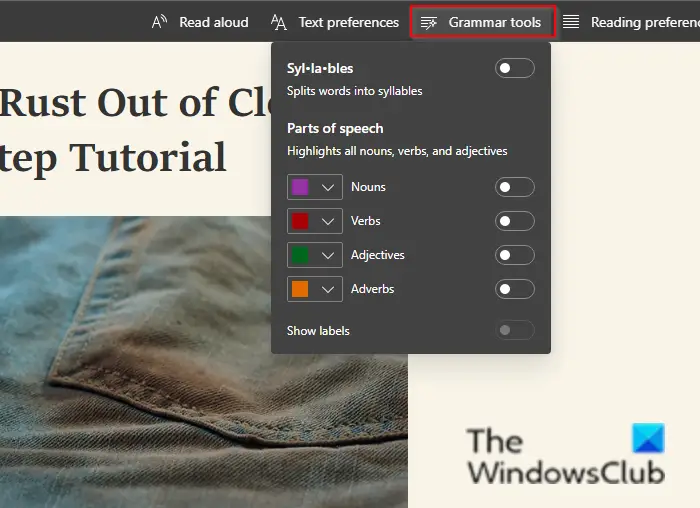 Grammar tools: This aid reading comprehension by breaking words into syllables and highlighting nouns, verbs, and adjectives.
The tools available in Grammar are:
Syl-la-bles: splits words into syllables.
Parts of speech: highlights all nouns, verbs, and adjectives.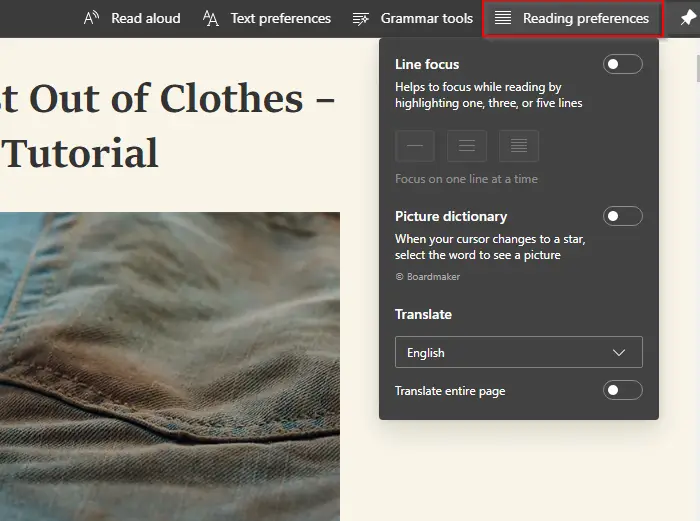 Reading preferences:  this allows you to turn on tools such as Line focus to focus on reading one, three, or five lines at a time, Picture dictionary to see a picture meaning of a word or Translate to change the language of the text.

To exit Immersive Reader, click Exit Immersive Reader in the address bar or use the keyboard shortcut F9.
We hope this tutorial helps you understand how to use Immersive Reader in Word and Edge; if you have questions about the tutorial, let us know in the comments.