If you are an avid gamer then you may want to know the best Gaming Browsers for Windows 11/10 PC. Microsoft Edge, Chrome, and Firefox are some household names that almost everyone used – but today we will take a look at browsers that will give you the best gaming experience.
Gaming Browsers for Windows 11/10
In this article, we are going through some of the best gaming browsers so that you as a gamer can use them to your advantage.
Opera GX
Microsoft Edge
Vivaldi
Coowon Browser
Mozilla Firefox
Let's get started with our first browser.
1] Opera GX
When you are searching for a proficient gaming browser, then Opera GX should be the first one to look for. Opera GX has a GX control feature that allows you to control the number of hardware resources the browser will use. So, you can make changes such that your computer has adequate resources to focus on different tasks.
Opera GX is an all-in-one gaming browser that has an in-built messaging tool so you won't have to change software or tabs for messaging and adblocker that enable websites to load instantly.
If you are a person who wants a fast downloading and streaming option then Opera GX's Network limiter feature gives you only that by freeing bandwidth.
We can consider Opera GX as one of the best gaming browsers as it has a built-in VPN protecting your security, pop-out player, and twitch integration and it claims to be dedicated gaming browsers for all gamers. You can download Opera GX from Opera.com.
2] Microsoft Edge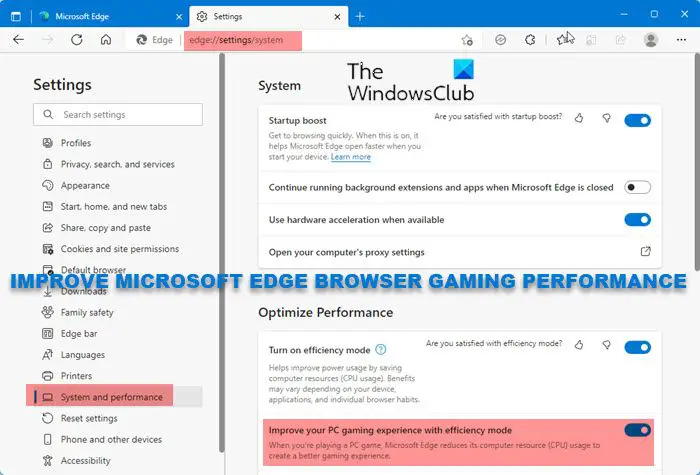 Microsoft users, most probably, have used the Microsoft Edge browser. Recently, Microsoft has completely updated Edge in such a way that it can compete with Chrome. Edge has the same web standard as Chrome, because of Chromium, and you can easily have the same experience here as it supports its extensions. It has a ton of features and all the perks of Chrome.
The new Gaming Efficiency mode helps improve PC gaming by reducing the RAM and CU the browser uses when you are playing PC games. To optimize and improve the gaming performance in the Microsoft Edge browser on Windows 11/10 PC, follow these steps to enable Gaming Efficiency Mode in Edge.
You can access Edge on Windows, macOS, iOS, and Android.
3] Vivaldi
Vivaldi is not only a good gaming browser but also a great option if you want privacy. It can handle multiple tabs without putting a lot of strain on your RAM, making it a perfect gaming browser.
Talking about its privacy, according to the company's policies, your data won't be extracted and sold. This is something we can't say about most companies.
It has a split-screen feature, tab-tree all the features to organize your tabs. So, if you think you need Vivaldi, download the application from Vivaldi.com.
4] Coowon Browser
A Google-based browser, Coowon Browser has a wide list of features for a gamer. Mouse gestures, special tabs, Floating, and translucent windows are some of the topmost features of the Coowon browser.
A gamer can perform automated tasks, have a gamepad, can control speed, and has all the bells and whistles that a gaming browser should have. If you are a web gamer, then Coowon Browser is worth your time and space. So, download Coowon Browser from Coowon.com
Read: Best Privacy browsers for Windows PC.
5] Mozilla Firefox
Another well-known browser, Mozilla Firefox is also not a dedicated gaming browser but it works exactly the same as any gaming browser. The sole purpose of Mozilla Firefox was to ensure users' privacy, transparency, and performance and a professional gamer needs that.
In comparison to the dedicated gaming browser, Opera GX, Mozilla Firefox also has a pop-out feature that lets you multitask by screening the video in a separate mini window along with the task at the hand.
If you are the kind of person who likes to arrange everything according to your taste then it has a feature that lets you select the tools, toolbars, and buttons that you need and remove the unwanted buttons.
Mozilla Firefox may not be the ideal deal for gaming browsers but it's worth checking it out. So, get Mozilla Firefox from Mozilla.org.
Hopefully, we have helped you in finding the best Gaming browser for Windows 10.
Is Opera GX better than Chrome?
Opera GX is a browser dedicated to gaming. However, Google Chrome is not a dedicated gaming browser. You can play online games in Chrome but it lacks many useful gaming features that are available in Opera GX. If you are comparing both of these browsers with respect to gaming, you can go with Opera GX, otherwise, you can use Google Chrome which is one of the best and most popular browsers for internet surfing. Also, Google Chrome has wide extension support.
Which is the fastest browser for Windows 11 PC?
There is no exact answer to this question. Chrome, Firefox, and Edge are the most popular web browsers. The speed of a web browser depends on several factors. Sometimes, extensions can slow down the speed of a browser. Also, some websites are loaded in some web browsers faster than other browsers. Moreover, your hardware compatibility also affects the speed of a web browser. If your computer does not provide enough resources required by a web browser, it will not be able to give its maximum performance.
Read next: Best Discord Servers for Gaming.