In this post, we will take a look at Comodo IceDragon and Comodo Dragon browsers for Windows PC. Comodo IceDragon is a secure browser designed and built on the core features of the Mozilla Firefox browser – whereas Comodo Dragon is a Chromium-based browser.
Comodo IceDragon Browser built on the Firefox Core
IceDragon features a sleek interface that helps you get a seamless browsing experience. In terms of appearance and performance, the browser retains same core functionality of Firefox but with some added security features such as Comodo Secure DNS and Site Inspector.
To begin with, download the setup from the download link and install the browser. During the setup itself you have to enable certain important security features such as 'Secure DNS Configuration', if needed. The feature alerts you and blocks any malicious websites automatically, when detected.
Once you have installed the browser, you can see the main interface of the browser.
It displays 5 tabs below the search field. They are:
Downloads – Shows Currents and past download records
Bookmarks – Adds bookmarks
History – Keeps a record of the websites you visit
Add-ons – Manages extensions and plug-ins and also the appearance.
Settings – Displays various options wherein you can fine-tune your privacy and security settings and do a lot more.
The site inspector on the other hand, scans a website for presence of any malicious content. It checks any website for Blacklist, Phishing, and Malicious,  in minutes.
Some basic information on the site like the IP scan, domain, register name, contact details etc., can also be collected, if required. For users' convenience, the browser allows access to Site inspector functionality via context menu too.
Well, if you think that's all then, wait! Realizing the importance of social interactions through various social networking sites, a new feature by the name 'Social media' has been incorporated into Comodo IceDragon. The feature allows users to share anything in a single click. Just click on the social networking icon in the menu bar and you're done!
Firefox lovers, you definitely want to check out the more secure and the more social Comodo IceDragon.
Comodo Dragon Chromium-based browser
The Chrome web browser's market share has been galloping in the recent past and has become a very popular browser in a short time. If for some reason you haven't liked Chrome but admired it for its potential and searched for a similar alternative then, you have visited the right place to find one.
Comodo, the popular software security developer has come up with an avatar of Chrome with better security and privacy features – Comodo Dragon Internet Browser. This browser is based on Chromium technology and offers most of Chrome's features, but with an additional level of security and privacy.
During my brief time with it, I found the Comodo Dragon Internet Browser impressive and very responsive. Here's a detail on how to set up and install the browser with screenshots provided.
Download the Dragon Browser free download link and during its installation, accept the license agreement and save the browser settings to a folder of your choice. Note that the setup requires space of 79MB.
If the nature of the websites is something that worries you a lot you can enable Comodo Secure DNS configuration feature during the setup. The free and powerful feature when enabled alerts a user and blocks any malicious websites automatically.
Once you are through, the Comodo Dragon browser icon should be visible to you (top left corner of your screen).
You will observe 3 main menus below it:
History
History means the aggregate of past events. All information about websites you visit is stored here in a clean look, ready to be displayed in a single click.
Extensions:
Extra features and functionality that can be added to Google Chrome can also be added to the Comodo Dragon browser via extensions. Great apps, games that work with Chrome should also work with the Comodo browser.
Users can manage extension-specific settings directly from the extension's toolbar button. By default, extension buttons are already added to the toolbar. To hide them simply right-click on the extension and select 'Hide button' from the toolbar.
Settings:
Here, you can adjust settings for the browser. For instance, you can
Manually add, edit or remove a search engine or make it the default one. How?
 Just click on the Comodo Dragon icon, select Settings -> 'Search' section.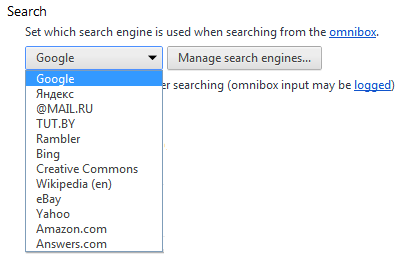 Then, click the drop-down menu to view a list of available search engines and hit the 'Manage search engines' button to open the Search Engines area and chose the desired engine as default.
You can even import data from other web browsers. To do this, click the browser icon and select 'User' section from Settings.
Then, click 'Import bookmark and settings' button.

Once done, The 'Import bookmarks and settings' dialog box will appear. Choose the browser you wish to import from and the type of data.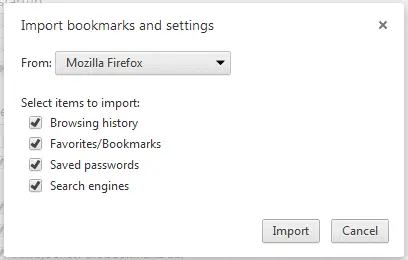 Next, click 'Import', a confirmation about successful importing process will be displayed. If seen, click OK.
Imported bookmarks will then appear as a folder in the bookmarks bar.
Likewise, you can use the browser for managing your website passwords, protecting your sync passwords, and doing more.
Comodo Dragon Internet Browser is really built for speed, simplicity, and security and stays true to its words. It boasts an interface similar to Google Chrome in appearance but eliminates potential security-compromising features.
You can download Comodo IceDragon and Comodo Dragon browsers by visiting its home page.