A fast browsing experience with complete privacy isn't hard to witness. Epic Privacy Browser, a Chromium-based web browser makes it all possible. It safeguards your privacy by encrypting the traffic coming from your IP address. It also cleans your history at the end of each browsing session, leaving behind no trail.
Epic Privacy Browser for Windows 11/10 PC
Epic Privacy browser for Windows 11/10 is completely free to download and use. It has a remarkably simple, easy-to-understand Graphical User Interface (GUI) and supports some of the same features as seen in Chrome, like opening multiple tabs, creating and importing bookmarks, printing selected pages, and more. To try the browser,
Download and install the latest version of the browser.
Launch it. The browser has an interface quite like Chrome.
Import bookmark and settings, if required.
Make the browser your default browser, if you wish to.
Use the download button in the webpage itself to download videos from favorite sites.
Click the red open socket icon to turn on Epic's built-in encrypted proxy.
If you can't visit a site, click the umbrella icon, and disable one or more settings in the browser for that site to allow it to load correctly.
By default, Epic is powered by Yahoo Search as it sustains Epic and keeps Epic free. For true and completely private search, you can subscribe to EpicSearch.in for a nominal fee of $2.50/month.
Download and install the latest version of the Epic Privacy browser.
Launch Epic Privacy browser to go to its main page. You'll find the Interface of the browser is remarkably similar to Google's Chrome.
The best part is when you type a query in the search bar, the platform neither attempts to guess what you're typing nor offers you any location-specific search results.

Plus, the platform offers a one-click proxy setting that lets you redirect your entire traffic from Epic's server to ultimately hide your IP address.
The makers of the browser reveal, Epic is always in private browsing or incognito mode so, once you close it, your entire browsing data is deleted.
Epic blocks a lot of tracking scripts and other requests. As a result, web page loading time is reduced significantly and you experience faster browsing.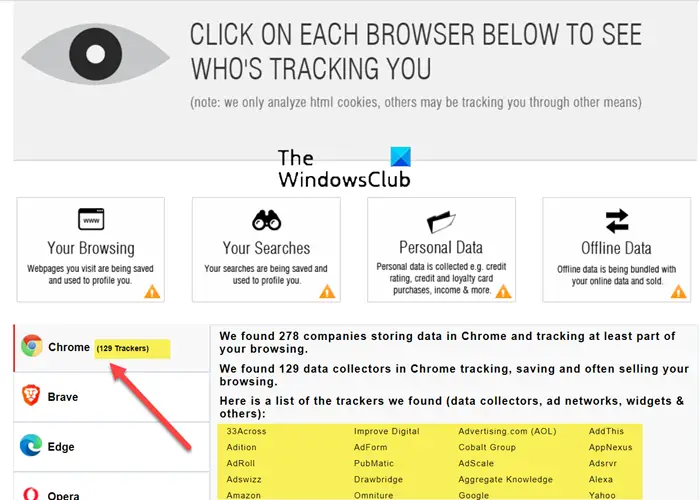 You can see who's spying on you in other browsers. Just click the link at the bottom of the screen and select the browser. It will reveal companies storing data in and tracking at least part of your browsing.
Also, the browser is by default, configured to disable Addons or browser extensions as it considers them a dangerous and a potential risk to privacy.
Apart from these, Epic does several things to protect your privacy. For example, it removes all Google services from Chromium so that your browsing does not go through Google's servers and blocks thousands of trackers and widgets from tracking your browsing and searching across the internet.
Moreover, the browser has an encrypted data preference. So, whenever possible, it connects you securely.
You can manually enable Epic's built-in encrypted proxy (basically an in-built VPN for the browser) anytime by turning ON the icon to the far right in the address bar. When done, users get access to VPN service, with servers in 8 countries from around the world capable of encrypting and routing entire traffic from a proxy location.
Thus, users can visit websites that are blocked in their region and hide IP addresses when visiting some sites. However, this method has a shortfall – you may experience slow speeds since all your traffic is getting routed from a limited number of servers.
You can download the Epic browser from EpicBrowser.com.
This post will help you if the Epic Privacy Browser is not working on Windows 11/10.
Is Epic Privacy Browser legit?
The FAQ page of Epic browser mentions, The Washington Post Company and a small group of angel investors are backing the efforts of the startup. So, yes it is legit.
Who owns Epic Privacy Browser?
The browser is developed jointly by a team based in the United States and India. The company is domiciled in the U.S., and its software development team operates from Bangalore.
If you are looking for a way to stay truly private on the web, then we recommend Epic Privacy Browser highly. Not only does it stop trackers and block ads – but it also allows you to browse in Incognito Mode with a free VPN thrown in to hide your IP address.
Post updated on Jul 15, 2021.