Epic is a free, private, Chromium-based web browser available on Windows & Mac, as well as mobile Operating Systems Android and iOS. It has slowly gained prominence as a viable alternative to the more commonly used web browsers like Google Chrome, Microsoft Edge, etc. The browser centers around user data privacy and specializes in making your online footprint as minimal and untraceable as possible. You may, however, face issues with starting this browser up on your Windows PC. In this guide, we will look at a few ways in which you can fix the issue if the Epic Privacy Browser is not working on Windows 11.
Epic Privacy Browser not working on Windows 11/10 PC
If the Epic Privacy Browser is not working on Windows 11/10 PC, here are some suggestions to help you resolve the issue:
Clear Epic browser cache
Identify and disable problematic add-ons or extensions
Reset Epic browser
Flush DNS cache using the Command Prompt
Change DNS Server
Use another browser
1] Clear Epic browser cache
The first thing you should try to remediate any issues faced while using the Epic Privacy Browser is to clear its cached data. If the browser isn't working because of corrupted cached data, then deleting it should do the trick. One thing you'll notice while accessing its settings is that the UI is very similar to that of Google Chrome (because it is based on Chrome). So, making any changes would be easier for you if you have prior experience with Chrome's settings.
Open the Epic Privacy Browser and click on the Customization icon available at the top-right corner of the homepage
From there, move to the browser settings. This will open a separate window
Now, click on the "Security and Privacy" tab from the options available to your left and select Clear Browsing Data
Click on Advanced, in order to further select all the browsing data you want to clear from your browser (cached files, cookies, web history, hosted app data, etc.)
Once you've selected that, set the Time Range to be 'All Time' and click on Clear data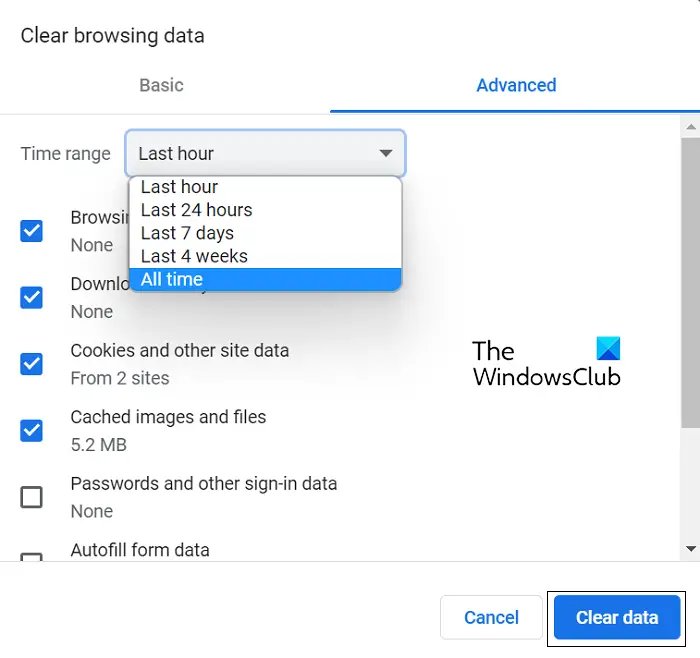 If this doesn't help you with making the browser work properly again, then the problem lies somewhere else. In that case, you should check out one of the other mentioned workarounds discussed below.
2] Identify and disable problematic add-ons or extensions
If this issue with the Epic browser is being caused by any troublesome extensions or add-ons, then the course of action is to identify and disable or remove them. Here's how that can be done.
Open the Epic Privacy Browser window
In the address bar, paste the following:
chrome://extensions/
This will present in front of you, all the browser extensions and add-ons currently functioning in the Epic browser
Locate the ones that you think are causing issues here. You can now either disable them but toggle them off, or click on Remove to completely get rid of them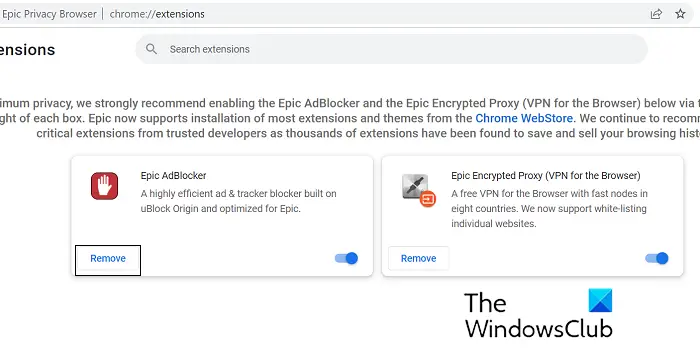 When done, restart the Epic browser and check if the issue has been resolved.
3] Reset the Epic Privacy Browser
Another possible fix for this problem is resetting the Epic Privacy Browser via the browser settings.  Here are the steps you need to follow for the same:
Open the Epic Privacy Browser's homepage and click on the Customizations icon at the top-right corner of the browser window
Click on Settings
From the tabs to your left, select Reset Epic
Now click on the "Are Epic features not working" box, which is then open a prompt as shown in the picture below
Click on Reset Epic
Once the browser is reset, reopen and check if it is working properly or not.
4] Flush DNS cache using the Command Prompt
DNS stands for the Domain Name System and its cached data keeps a catalog of the domains searched for. Sometimes, glitches faced by a browser can be traced back to some corrupted DNS cache data, in which case you can flush it using the command line. Here are the steps for the same:
Search for the Command Prompt and click to run it as an administrator
Paste the following command line and press Enter
ipconfig /flushdns
Once the requisite process is complete and existing cache data has been flushed, enter the command mentioned below:
ipconfig /registerdns
This step is to register any DNS records that you or some programs may have recorded in your Hosts file.
If this doesn't work out for you, then you're suggested to try one of the other solutions mentioned below.
5] Change DNS Server
Thirdly, you can try changing your IP address, if the problem is rooted in that. A way to do that via the Control Panel is discussed below. You are suggested to go this way only if you know your way around IP addresses and have one that you can move your computer too.
Open the Control Panel. Click on "Network and Internet" > "Network and Sharing Center"
Click on the link next to Connections
Here, click on Properties
Locate the Internet Protocol Version 4 network and open its properties
Select the option to enter an IP address of your own, enter the new IP address, and proceed by tick-marking the Validate settings upon exit option

Read: List of best alternative web browsers for Windows
6] Switch to a different browser
If none of the aforementioned solutions are of any help to you, then we advise you to switch to a different browser for your browsing needs. As discussed, the likes of Edge, Firefox, and Brave – all offer the same functionality as the Epic Privacy browser.
Is Epic browser available for PC?
If you've used the Epic Privacy browser on your mobile phone and wish to start using it on your PC as well, you can. The Epic Privacy Browser is a free, Chromium-based web browsing project, like Microsoft Edge, available for Windows and macOS PCs. Its UI is intuitive and it also packages a free VPN service.
What is the safest browser for privacy?
Privacy of user data has increasingly become a matter of utmost importance, and this is something both existing and new browsers acknowledge and have made provisions for. Several browsers now come equipped with technology to better protect our data with encryptions, VPNs, and other tools. Some of the safest and most private browsers currently, concerning the privacy of one's data are Brave, Firefox, DuckDuckGo, and Tor Web Browser.
We hope you find this helpful.