Content consumption on the Internet has gone up over the years thanks to the affordable Internet and the exponential rise in online content. It is evident that we end up finding many interesting pieces on the world wide web and end up bookmarking the same as future reads. Despite the fact that most of the browsers come with native bookmark managers they are simply not that efficient. Enter Bookmark OS, an online tool that aims at helping you sort and browse your bookmarks.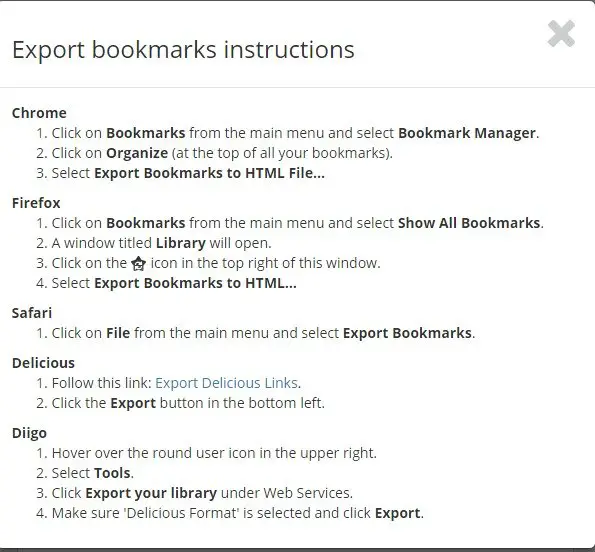 Like most of the other tools, Bookmark OS is built right into your browser, and all you need to do is download and install the extension. Unlike other utility tools, Bookmark OS is available for all the browsers inclusive of Firefox, Chrome, etc. The tool is primarily based on the premise that intuitive bookmarks with organized listing will make life much easier.
Use Bookmark OS to manage browser bookmarks
Bookmark OS looks different from the other add-ons and instead gives the impression that it is a full-fledged tool to manage your bookmarks, which it actually is. One can log into BookmarkOS by using your Facebook or Google credentials or by registering with the service.
Having logged in, the first thing I did was to import the bookmarks from the Chrome browser into Bookmark OS. To do so, one needs to head over to Settings > Import > Choose file. The tool accepts only HTML files, so you need to download the Bookmarks in HTML format from your browser and upload the same.
The user interface is simple and yet intuitive. The tool is divided into two major menu panes. On the left, one can access the Bookmark folder and the list of a folder. Clicking on the Bookmark folder will expand the bookmark in another menu. Users can choose between grid view and list view while being able to arrange the bookmarks in an alphabetic manner.
Creating a new Bookmark folder is easy, and one can also drag the toolbox to the browser tab and add bookmarks directly. Another super useful feature is the ability to search bookmarks by using tags something that will come in handy if you don't remember the bookmark title. Also, one can export all the bookmarks via a .html export feature.
The free plan offers the following features:
Unlimited bookmarks
Screenshot icons
Search
Tags
View all
Imports
BookmarkOS.com is a tool that is high on utility and will allow users to aggregate the bookmarks and arrange them methodologically. No more skimming through hundreds or even thousands of bookmarks to find the one we need. The free version offers most of the required features.
Overall Bookmark OS makes bookmarking a much merrier affair and the uncluttered user interface just makes things so much better.
Check it out and let us know what you think of this free online service.